Did you know cauliflower is packed with nutrition? Yeah, shocking I know. It's easy to be fooled by its lack of color.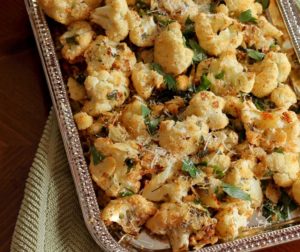 At our house we are trying to include new foods into our meals. Foods we don't always pick up at the grocery store, to get more balance and variety, to have more fun… to find new recipes.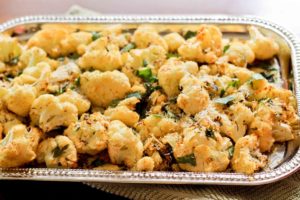 Cauliflower contains potent antioxidants that reduce inflammation making it an excellent disease-fighter. One cup has a full dose of the daily value for vitamin C, and it's a good source of fiber and folate.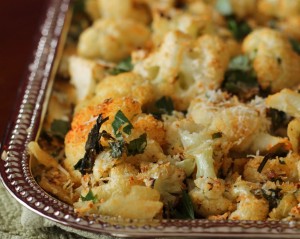 Couldn't keep my hands off these golden nuggets. Salty. Crunchy. Warm. Fresh. Light. Zesty. They would make a terrific party appetizer or weeknight sides that's a little less than ordinary.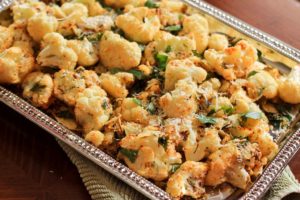 Gluten-Free Crispy Cauliflower
Ingredients
1 large head cauliflower, cut into bite sized pieces
canola oil cooking spray
½ tsp paprika
½ cup Lay's Lightly Salted Potato Chips, crushed
½ cup parsley, chopped and divided
½ cup shredded parmigiano reggiano cheese, divided
zest of 1 lemon
juice of 1 lemon, divided
freshly ground white pepper
Instructions
Preheat oven to 350 degrees F. Place cauliflower pieces on large rimmed baking sheet. Coat with cooking spray and massage paprika onto the cauliflower.
In small bowl, mix together crushed potato chips, ¼ cup parsley, ¼ cup cheese, and lemon zest. Add chip mixture to cauliflower and combine with hands until incorporated.
Before placing in oven, top cauliflower with freshly ground white pepper and juice of ½ a lemon.
Bake at 350 degrees for 25 minutes, mixing halfway to ensure even browning.
Transfer to serving dish, and garnish with remaining parsley, cheese, and lemon juice. Dig in!
"I received free samples from Frito-Lay of the products mentioned in this post. By posting this recipe I am entering a recipe contest sponsored by Frito-Lay and am eligible to win prizes associated with the contest. I was not compensated for my time."
—-
Giveaway!
Are you gluten free or know of someone that suffers from celiac disease? One lucky reader can receive a "Gluten-Free Prize Pack" shipped directly to your home from Frito-Lay. The prize pack includes: 
To enter:
Tell me why you'd like to win the prize pack by leaving a comment on this post. 
For additional entries like Love and Zest on Facebook, twitter, and follow on pinterest.
Please leave a link to your twitter, blog, email, or a way to get in contact with you if you win. Good luck!
The giveaway ends this Friday (June 1st) at 12:00 a.m. EST. I'll choose the winner using random.org.