We are Starbucks regulars, and some might say coffee addicts… but I wouldn't go that far. This girl just likes a good cup of coffee in the morning. And lately after Crossfit we've been stopping in to get a little breakfast too…not every morning because that would for sure blow the budget. But some mornings it's like a little fun treat!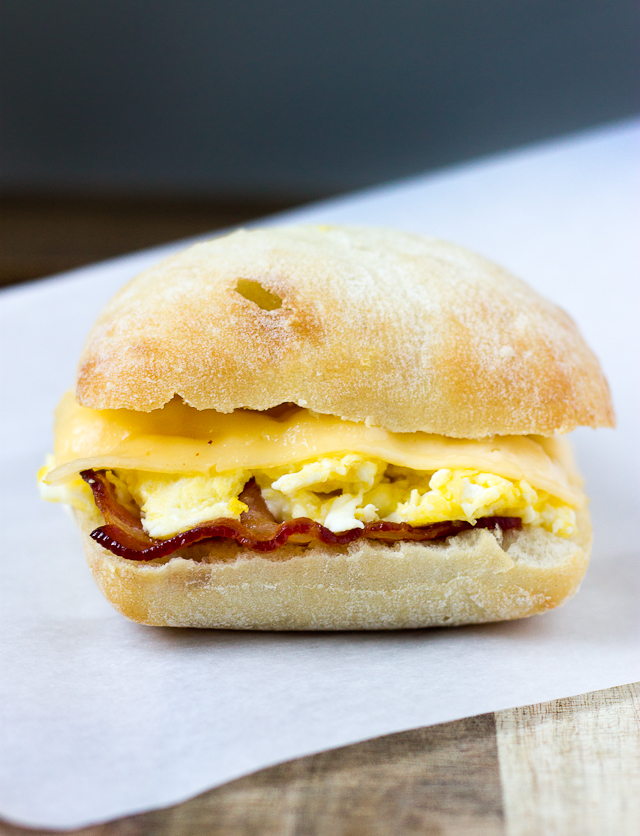 I've grown to become addicted to the Bacon, Egg, and Gouda sandwich from Starbucks. OMG, those soft fluffy eggs, oooey gooey cheese and the saltiness from the bacon make a killer combo. Eric is a big fan of the Marshmallow Dream Bar… you know he's gotta have his sweets.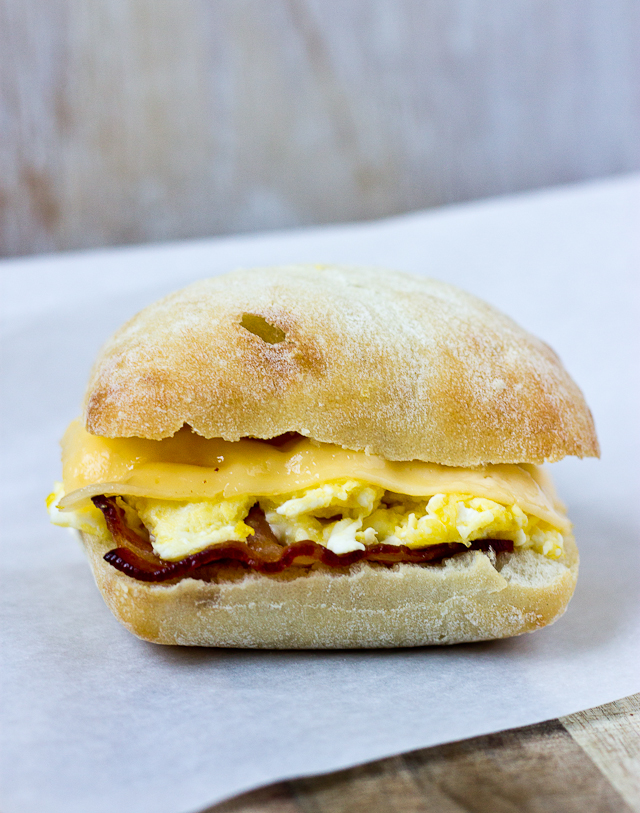 But last week when we went in, Starbucks let us down. I'm all about the pretty new pink coffee covers but the new line of products suck! Seriously! You had awesome sandwiches and sweets Starbucks, why did you change a good thing? To me there new La Boulange line is more processed and not as fresh! Packaged Marshmallow Dream Bars? Really? And the ciabatta bread on my sandwich is not as soft! Come on Starbucks!
Any one else taste the difference?? We might be Starbucks snobs, but I want my food to taste fresh! SO…I decided to recreate the sandwich at home.

Bacon, Egg, and Gouda Breakfast Sandwich
Ingredients
1 small ciabatta roll, sliced
1 slice gouda cheese
1 egg
1 slice center cut bacon, cooked
Instructions
On a non stick skillet, heat ½ teaspoon coconut oil over medium low heat.
Place egg in pan and scramble on low heat to keep egg moist. (Must do low heat to get the right texture)
Place bottom of ciabatta roll on microwave safe plate.
Layer bacon, egg, and gouda on ciabatta and top with other half of roll.
Microwave sandwich on high for 20 seconds until cheese is slightly melted.