This Apple Pie Quinoa Breakfast Bowl will make your fall weather loving life. It's spicy and topped with shredded apples, FTW.
I live in Florida, which means fall is fleeting. But the moment I can feel even the slightest change in the air, I get so excited to dive into my favorite fall flavors and autumn-inspired recipes (like all things pumpkin spice).
One of the most versatile and delicious ingredients is the apple. I can't get enough!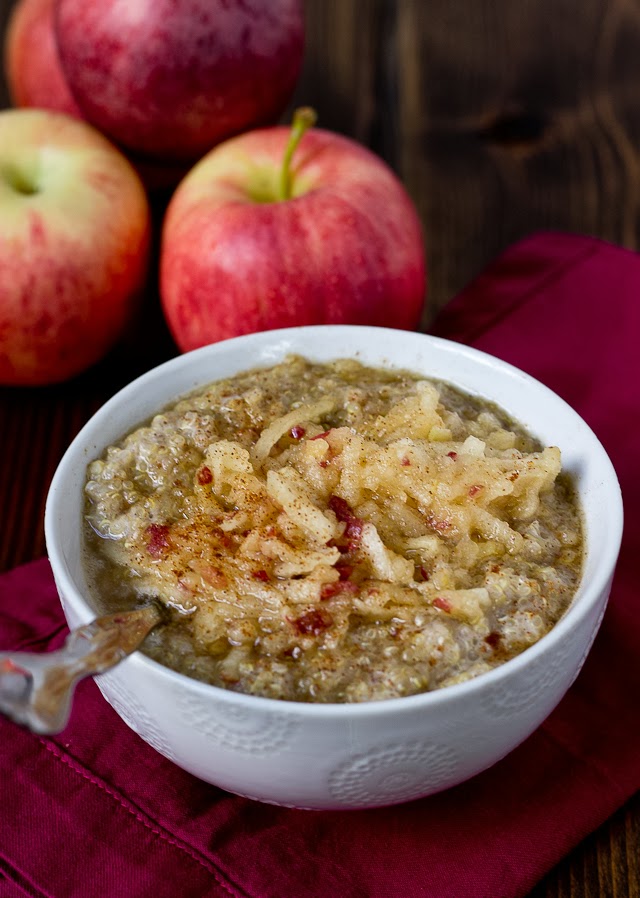 They are so tart and crisp and sweet. I love the many different varieties of apples and how they are so versatile in how they can be prepared. A little cheese and apples for snack, pressed into a quesadilla or shredded on top of oatmeal. We have even roasted them with Brussels sprouts. So yummy!
When I meet with people to talk about their nutrition, I've appreciate how much learn from my clients. Not just about what has shaped their eating habits, but also about new ways to prepare food.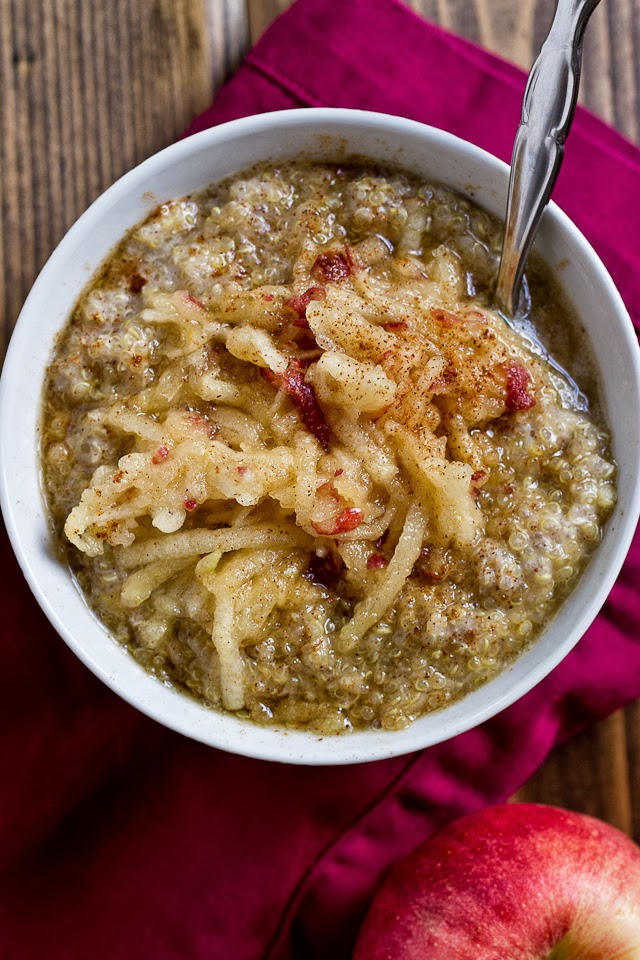 I'd never thought to shred apples or pears on top of oatmeal, I usually just toss on blueberries and strawberries. But one of my clients swore this is the best way to eat oatmeal so I've been wanting to give it a try. Girl was she right!
It brings a unique twist to traditional oats and blends really well into the oatmeal. Have you ever made quinoa "oatmeal"? It's so so good and filled with lots of fiber and protein to keep you satisfied all morning!
Apple Pie Quinoa Breakfast Bowl
This Apple Pie Quinoa Breakfast Bowl perfect for that crisp fall morning!
Ingredients
1 cup quinoa, rinsed
2 cups unsweetened vanilla almond milk
¼ cup unsweetened applesauce
½ teaspoon apple pie spice
¼ teaspoon vanilla extract
pinch of salt
2 medium apples, shredded
100% pure maple syrup, optional topping*
Instructions
Bring quinoa, almond milk, and applesauce to a boil in medium pot.
Reduce to simmer and continue to cook for 15 minutes until liquid is absorbed.
Stir in apple pie spice, vanilla and salt.
Pour into bowls and top with shredded apples and a drizzle of maple syrup if desired.
*Note: Optional topping not included in nutrient analysis.
Nutrition Information
Serving size:
¼ recipe
Calories:
230
Fat:
4g
Saturated fat:
0g
Carbohydrates:
43g
Sugar:
11g
Sodium:
125mg
Fiber:
6g
Protein:
7g

Because we all need a little more comfort food in our lives…