Eggs Benedict BLT with Avocado Hollandaise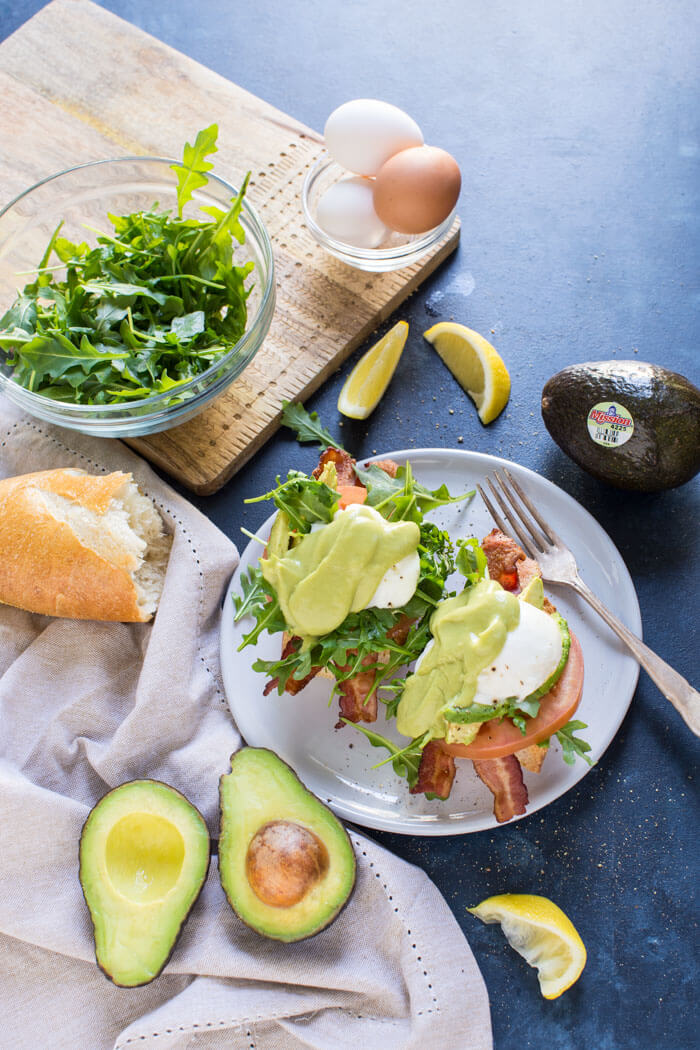 Eggs Benedict BLT
8 slices center cut bacon
4 cups arugula
2 teaspoons lemon juice
Freshly ground pepper, to taste
4 eggs, poached
4 halves baguette or english muffin, toasted
4 slices beefsteak tomatoes
½ Mission Avocado, sliced
Avocado Hollandaise, for topping
Avocado Hollandaise
1 Mission Avocado (½ cup mashed and packed)
1 lemon, juiced (3 tablespoons lemon juice)
1 tablespoon olive oil
3 tablespoons water
⅛ tsp salt
⅛ tsp cayenne pepper
Preheat oven to 400 degrees F and line baking sheet with parchment paper. Arrange bacon evenly on sheet and bake for 15-20 minutes until crispy and fully cooked. Remove from oven and place bacon strips on plate lined with paper towels to soak up drippings.
In small bowl, toss together arugula and lemon juice until greens are coated. Season with freshly ground pepper.
To make Avocado Hollandaise, combine avocado, lemon juice, olive oil, water, salt and cayenne pepper in blender or food processor and blend until smooth. Set aside.
Assemble Eggs Benedict BLT by layering baguette with bacon, tomato, arugula, avocado slices, poached egg and top with avocado hollandaise.
To poach eggs in microwave, crack one egg into a microwave safe mug. In small bowl or measuring cup, combine ⅓ cup water and ½ teaspoon vinegar. Pour water mixture into mug with egg. Microwave egg on 50% power for 60 seconds. Pour out onto slotted spoon to catch the egg.
Recipe by
love & zest
at https://www.loveandzest.com/eggs-benedict-blt-avocado-hollandaise/