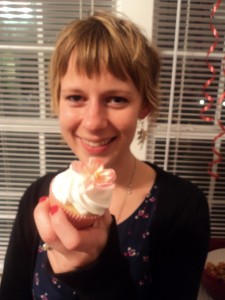 When a lifelong friend of mine (hi Anna) had a birthday, her husband, Nick, threw a surprise get together to celebrate. He had everything planned so precisely…and he gave me some hints to her favorite flavors.
The only request that he had was that the cupcakes had to be pink to go with the "Hello Kitty" theme 🙂 I pulled out my recipes…and found a lemon bread recipe that my granny use to make. I tweaked the recipe a little bit so I was very nervous that it was going to flop… however it was an absolute hit! The cakes were light and fluffy, with a tangy bite. Just perfect.
My husband kept raving about them…and said they were delicious even without frosting. Anna doesn't really like traditional frosting, so her mom would always make a 7-minute icing for her birthday cakes. (Thanks to Nick I was able to get this piece of info).
I had actually never even heard of 7 minute icing before, but Google filled me in. I went with a cross recipe between Paula's and Martha's. It was very good. The icing had a "marshmallowy" texture, and wasn't overly sweet…it truly complimented the lemony flavor of the cupcake. I'd say these cupcakes are a must bake!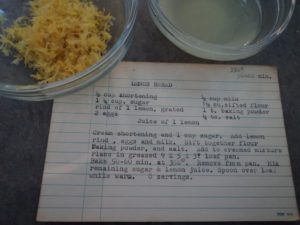 (That's Granny Barnhill's original recipe!)
Print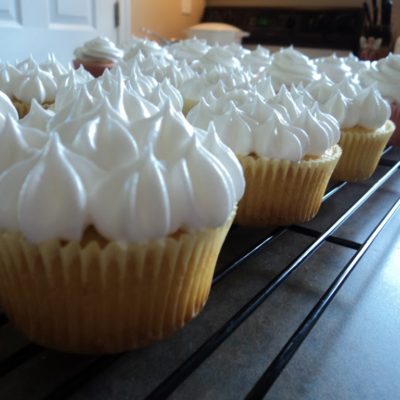 Lemon Cupcakes
---
Prep Time:

15 mins

Cook Time:

20 mins

Total Time:

35 mins

Yield:

12 cupcakes
Description
These lemon cupcakes have a delicious and quick frosting and are great for any special celebration.
---
Ingredients
1/2 cup butter, unsalted, softened
1 cup sugar, + 1/4 cup sugar (for syrup)
1 1/4 cup flour
2 eggs
zest of 1 lemon and juice (for syrup)
1/2 cup buttermilk
1/4 teaspoon salt
1/4 teaspoon baking soda
---
Instructions
Cream butter and 1 cup sugar.
Add lemon zest, eggs, and buttermilk.
Sift together flour, baking soda, and salt.
Add to creamed mixture.
Scoop batter into muffin cups and bake 18-20 minutes at 350 degrees F.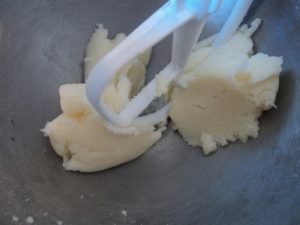 Mix remaining 1/4 cup sugar and lemon juice together.
Let cupcakes cool 5 minutes in pan on wire rack. Poke holes in cakes with toothpick; brush lemon syrup on cupcakes while still warm. Remove cakes from tin and let cool completely on wire rack.
7 minute frosting:
Makes 8 cups
1 1/2 cup sugar + 2 tablespoons sugar
1/2 tsp cream of tartar
1/8 tsp salt
2/3 cup water
3/4 cup liquid egg whites
1 1/2 tsp vanilla extract
Mix 1 1/2 cups sugar, water, cream of tartar, and salt in small sauce pan over medium heat. Cook and stir occasionally until sugar dissolves. Bring to a boil and cook until mixture reads 230 degrees F on candy thermometer.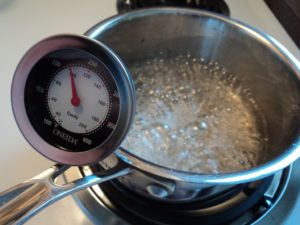 Whisk egg whites with mixer on medium speed until soft peaks form. Add remaining sugar while mixer is running. Add vanilla extract. Turn mixer to medium-low. Pour sugar syrup in a slow steady stream down side of bowl. Increase speed to medium high and whisk until stiff peaks form and mixture is cool, ~ 7 minutes.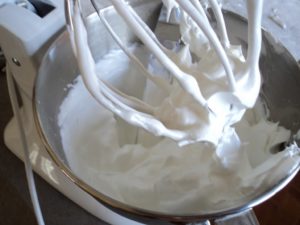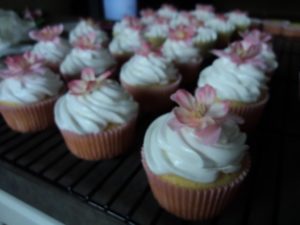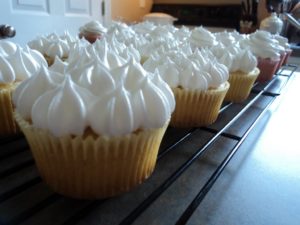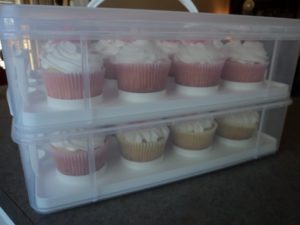 Hi I'm Kristina LaRue, millennial mom of two active and hungry boys, which makes me an around the clock milkmaid and cheerio picker upper. Here on Love & Zest, I share (mostly) healthy recipes to fuel the whole family and real life stories of modern motherhood.
Did you make one of my recipes?? Leave a review in the comments and tag @loveandzest #loveandzest on Instagram!
If you're a modern mama– I'd love for you to join my Facebook group A Modern Motherhood Collective!