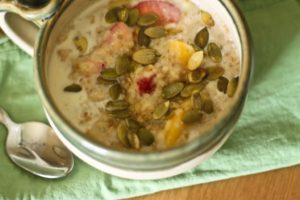 Do you like to start the morning off fresh? I do, I do! I usually have toast and eggs or oatmeal with the typical toppings… berries, pumpkin seeds, and peanut butter, but this morning is different…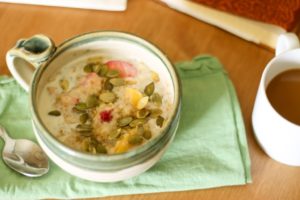 I had a little extra time to make breakfast, so I took advantage. (Note: this recipe can be created in a flash, if you just do minimal prep the night before.). But, I didn't 'cause I thought of this combo as I was making my coffee.
Creamy steel cut oats with warm peaches + coffee + scripture reading = a morning of goodness.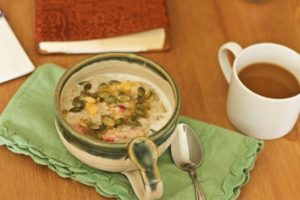 "What a beautiful thing, God, to give thanks, to sing an anthem to you, the High God! To announce your love each daybreak…" Psalm 92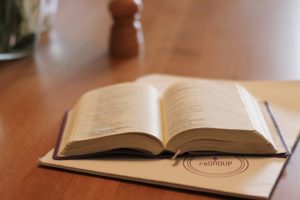 I am planning my day and will be off to experience it very soon. Let's enjoy the blessings that this day brings, together!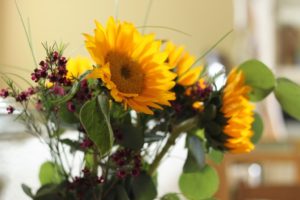 1 banana, fresh or frozen
1/4 cup strawberries, fresh
Toppings: drizzle of honey, splash of milk, and pumpkin seeds!
Bring first 5 ingredients to boil in medium sauce pan over medium-high heat. Reduce to simmer uncovered for 20 minutes, stirring occasionally. Add vanilla extract, peaches, and strawberries and cook for 10 more minutes.
In a hurry in the mornings? Simply combine all ingredients the night before. Bring to a boil for 1 minute, then cover and refrigerate. In the AM, cook oats for about 8-10 minutes. Enjoy!