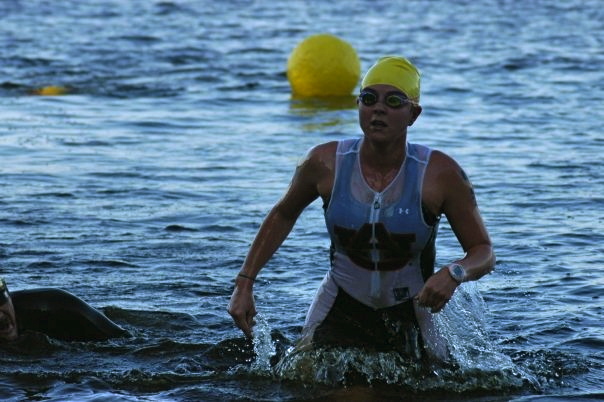 Sports have always been a big part of my life. Growing up I danced, cheered, played softball, basketball, and tennis. Tennis was my sport; I trained daily and played tournaments on the weekends. After a mentally tough senior season, I switched gears in college and stopped playing competitive tennis. That is when I found triathlon and joined the Auburn Triathlon team. My first race was an Olympic relay in which I did the run. I met my best friends in college through triathlon and we traveled the southeast together doing races. Gosh, I have the best memories from college triathlon… a time of endless training because what else is there to do in college? Study?! I raced with the tri team from 2007-2010.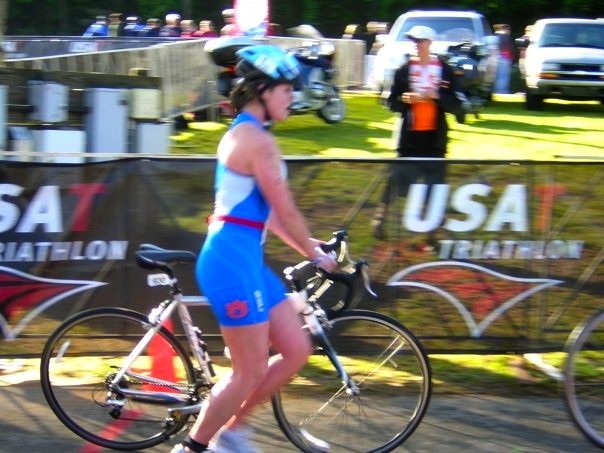 Things changed up again after graduation, marriage, and the move from small town Auburn, AL to big city Orlando, FL. The roads were new and I didn't have my group of college buddies to ride and train with. Eric and I joined a marathon group and I signed up for my first marathon that fall. Eric ended up getting injured so he couldn't finish the training, but he did run the last 9 miles with me holding my hand across the finish line.
It's not the runner's high that got me hooked to races, but the encouraging spirit of the endurance athlete. It's not uncommon to hear fellow runners/triathletes to cheering you and pushing you to race your best while they are running next to you. That camaraderie is inspiring. Racing is my own, and it allows me to push my body to new limits. Racing connects me to myself, to nature, and to community. It's my happy place.
With all this endurance talk, strength training has long been  overlooked in my book. Currently I'm incorporating CrossFit a few times a week to balance out my fitness routine. I have to say, I'm getting hooked.
Race History:
2007
Hickory Knob International Triathlon (Hickory Knob, SC)
Rebel Man Sprint Triathlon (Oxford, MS)
USAT Collegiate National Championship (Tuscaloosa, AL)
Moss Park Sprint Triathlon (Orlando, FL)
Marineland Olympic Triathlon (St. Augustine, FL)
Calloway Gardens Sprint Triathlon (Pine Mountain, GA)
10K Run/22mi Ride Chewacla State Park (Auburn, AL)
Mountain Lakes Sprint Triathlon (Guntersville, AL)
Hickory Knob International Triathlon (Hickory Knob, SC)
Auburn Classic Half Marathon 13.1 (Auburn, AL)
Waldo Olympic Triathlon (Waldo, Florida)
USAT Collegiate National Championship (Lubbock, TX)
Calloway Gardens Sprint Triathlon (Pine Mountain, GA)
Mountain Lakes Sprint Triathlon (Guntersville, AL)
USAT Collegiate National Championship (Lubbock, TX)
Inaugural Atlanta Half Marathon 13.1(Atlanta, GA)
Hickory Knob International Triathlon (Hickory Knob, SC)
USAT Collegiate National Championship (Lubbock, TX)
Jacksonville Bank Marathon 26.2 (Jacksonville, FL)
Bike MS 150: The Citrus Tour (Lake Wales, FL to Orlando, FL)
Warrior Dash 5K (Lake Wales, FL)
Dick Bachelor Run for the Children 5K (Orlando, FL)
2013
Winter Park Road Race 10K (Orlando, FL)
Tower of Terror 10 Miler (Orlando, FL)
OUC Half Marathon (Orlando, FL)
2014
Disney Princess Half Marathon (Orlando, FL)