I wake up this morning, and Eric says, "Can you smell that?".
I look at him confused and ask, "smell what?".
He says, "Football. It's in the air."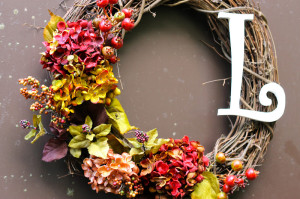 I just roll my eyes. To me, there is nothing like the spirit of Auburn and a good tailgate party with friends and family. I grew up around Auburn football, but I just don't get into watching other teams.
But Eric, lives and breathes football season. He's one of those that watches old games from the prior season during the spring in anticipation of the new football year. It doesn't matter who is playing, "the game" is always on. It cracks me up.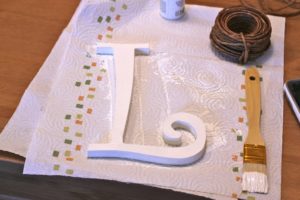 So in the spirit of September 1st, and fall, and the kick off of football season, I busted out the crafts and got the fall candles burning through the house. While he is watching "the game", it's a perfect time for me to do my projects.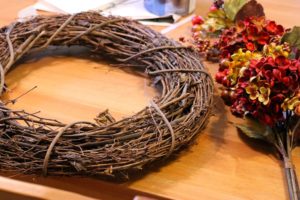 I made a fall wreath and added our monogram. This project took me about 20 minutes to finish.
Supplies
stick wreath
monogram wooded letter
white paint
paint brush
fall flowers
hot glue gun
wire cutters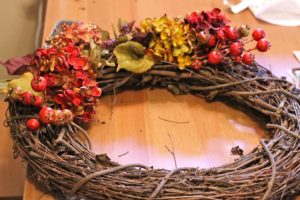 I painted the wooden letter with white paint and allowed it to dry while I worked on the flowers. I bought the flowers in one stem, and used wire cutters to trim each flower and leaf off the main stem. Then simply arranged the flowers on the wreath like I wanted them; feeding the mini stems through the wreath so they would stay put. Finally I hot glued the painted monogram onto the wreath.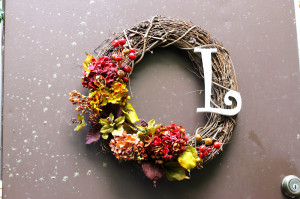 Happy Fall, yall!
Hi I'm Kristina LaRue, millennial mom of two active and hungry boys, which makes me an around the clock milkmaid and cheerio picker upper. Here on Love & Zest, I share (mostly) healthy recipes to fuel the whole family and real life stories of modern motherhood.
Did you make one of my recipes?? Leave a review in the comments and tag @loveandzest #loveandzest on Instagram!
If you're a modern mama– I'd love for you to join my Facebook group A Modern Motherhood Collective!