Happy Sunday! Here's my week of eats and fitness in review. If you're meal prepping today, I hope you can find inspiration in this post. Hope you have a healthy week!
Sunday: Southwestern Chicken Salad at TGI Fridays for Eric's dads 63rd birthday. We had a busy weekend in our home town celebrating both of our brothers' upcoming weddings in September and October. On Sunday night we met up with Eric's side of the fam to celebrate his dad's birthday. Forgot to take a photo of my meal.
Monday: Mediterranean Salad Bowl at Olea Mezze Grill in Maitland.
Olea is one of our absolute fav fast casual restaurants. It's a build your own Chipotle style Mezze bowls. I get a mix of greens, rice, gyro meat, hummus, tzatziki, beans, cucumbers, tomatoes and LOTS of pickled onions (omg these are the best). The whole thing topped with feta and pita croutons.
Tuesday: Enchiladas and Roasted Broccoli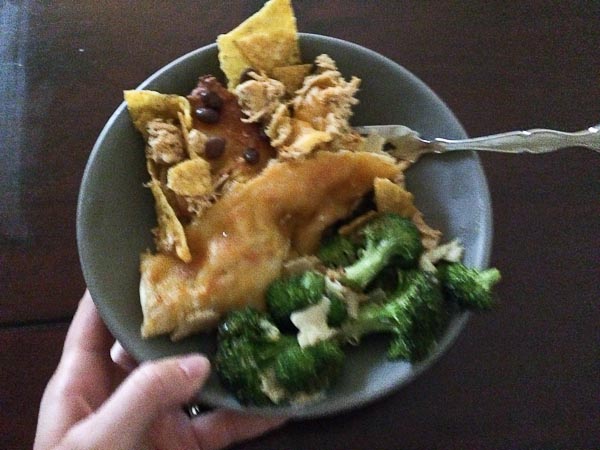 My friend Ashley and I met up at the Y to take a Body Combat class. This was my first time in the class so I didn't know what to expect. Y'all this class was fun in a 'don't take yourself too seriously' kind of way. There was like two people in the class that were amazing (and they were both instructors), and the rest of us looked a bit silly. Glad to step outside of my comfort zone with this workout. I was definitely sweating.
Tossed together
enchiladas
with leftover
shredded chicken
(I keep this in the freezer for quick dinners) and roasted
broccoli
. Oh and this photo is embarrassing y'all. Parker was fussing and I was starving so I obviously couldn't hold the iPhone still enough.
Wednesday: Chicken Pasta with a bunch of veggies.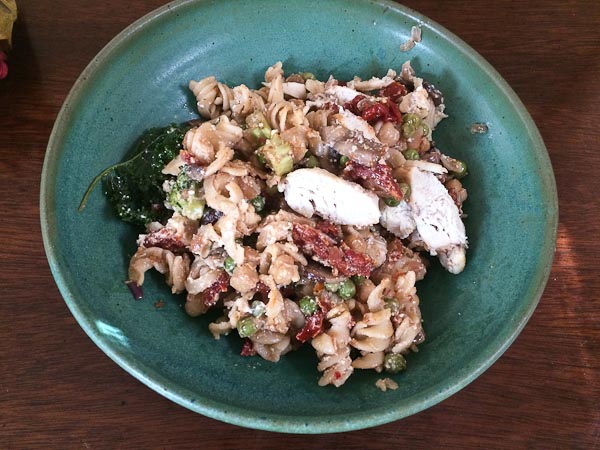 I heated up olive oil in a skillet and sautéed garlic, mushrooms, and onions. Added fresh peas, sun dried tomatoes, broccoli, and kale greens. Meanwhile I cooked the noodles and roasted chicken in the oven. Once the pasta was cooked I tossed it all together, added some balsamic vinegar and stirred in ricotta cheese and added the chicken. This dinner was super flavorful! Parker thought so too.
I didn't workout today, my neck was killing me. I thought maybe I slept wrong initially but realized it may have been from the Body Combat class yesterday.
Thursday: Leftover Pasta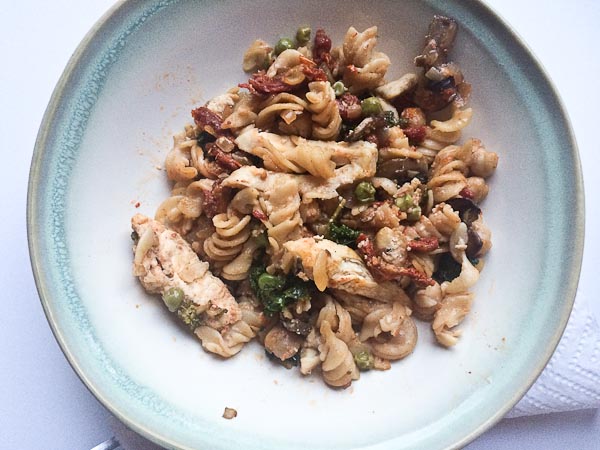 I spent most of the day trying to finish up deadlines, and working with my
Nutrition
Coaching clients. It was one of those days that felt like a rat race. My neck was still really hurting me so I booked a last minute massage in the evening and got away from the house for a little R&R. It felt really nice. Eric warmed up some leftover pasta for us to have for dinner.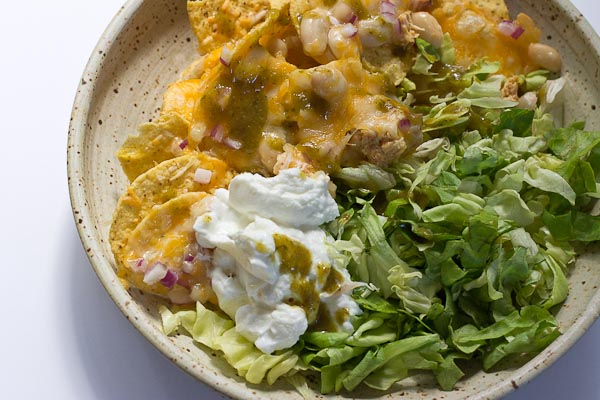 I spent the day doing recipe testing. I know it was Friday but it didn't really feel like it to me. Eric and I took a stroll around the block with Parker before dinner. We had leftover s
hredded chicken
and quickly made nachos with white beans, onions, chicken, enchilada sauce and cheese, and served it with lots of lettuce and plain Greek yogurt.
Saturday: Roasted Lemon Pepper Chicken from Trader Joes with Garlic Butter and Ricotta Pasta + Brussels and Zucchini al Gratin.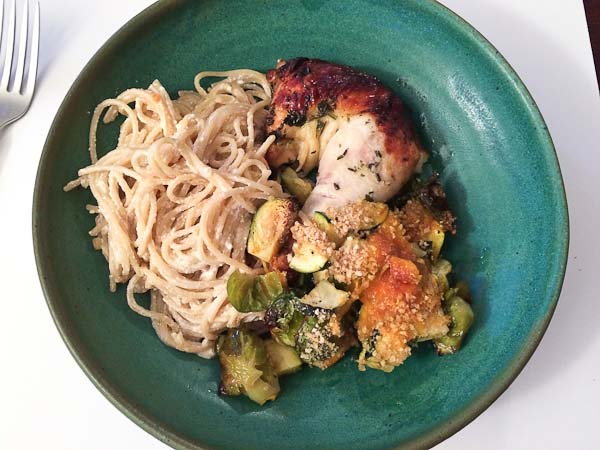 Y'all this dinner was so good and I know it sounds all gourmet. But it was very simple to prepare!! I just roasted the chicken that was already in a marinade from TJs. And to make the al gratin veggies, I sliced up zucchini and brussels sprouts, added curry powder, Italian seasonings, salt and pepper, and then tossed in cheddar cheese, bread crumbs and butter. Everyone loved it.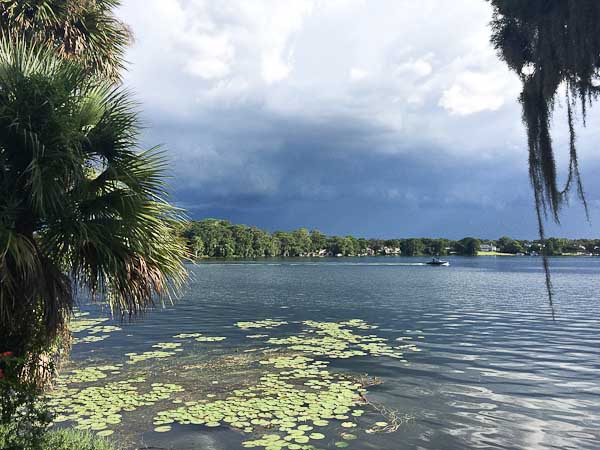 I met up with my friend Layne who's baby is 3 weeks younger than Parker and we did 3.8 miles in walk/run around Winter Park. We grabbed
coffee
afterwards and chatted it up while our men were at home babysitting 😉 So you know your a mom when you forget you ran in the AM and go for a double dip with the hubs in the PM. Eric and I did a quick 2 mile spin around Winter Park with Parker before the storms set in for the night.
Hi I'm Kristina LaRue, RD (registered dietitian nutritionist), Peloton addict and mama to two active and hungry boys. On Love & Zest, you'll find healthy-ish recipes that fuel the whole family. I'm all about veggie-filled breakfast, meal prep recipes, healthier sweets, and easy weeknight dinners made in the Instant Pot or sheet pan.
Did you make one of my recipes?? Leave a review in the comments and tag @loveandzest #loveandzest on Instagram!
If you're a modern mama– I'd love for you to join my Facebook group A Modern Motherhood Collective!