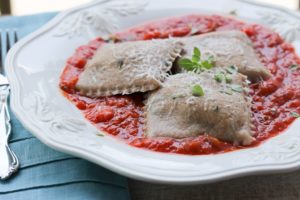 Spelt, have you heard of it? It's a whole grain that's pretty ancient dating back to more than 8,000 years ago. The rich history of spelt attracted me… it's even talked about in the bible. Since I've been dying to make homemade pasta using this pretty little ravioli stamp, I decided to give spelt a rendezvous in ravioli.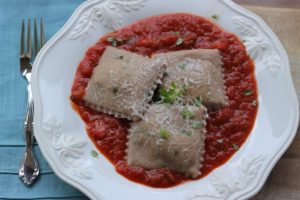 Cabot's 75% reduced-fat cheddar made this new-to-me whole grain even tastier. I'm pretty skeptical of reduced-fat cheeses because they usually make a rubbery and flavorless mess. To be honest, I was surprised that even though Cabot's cheese is 3/4 the fat of regular cheddar, it still melts into gooey-oooey-goodness. It's almost like magic in your mouth.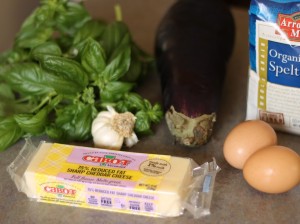 To top it off, it doesn't leave my stomach in knots cause it's lactose-free, yo. Gotta say, my husband's happy about that one.


Eggplant Spelt Ravioli
Serves 4-6
Ingredients
Pasta
3 cups spelt flour
4 large eggs
1 teaspoon kosher salt
1 T olive oil
1/4 cup basil, chopped (about 20 big leaves)
4-6 tablespoons water, divided
Filling
3 cloves garlic, minced
1 medium eggplant, shredded
1- 8oz block Cabot 75% reduced-fat cheddar cheese, shredded
1/4 cup basil, chopped
marinara sauce, heated
freshly grated parmigiano reggiano and basil, garnish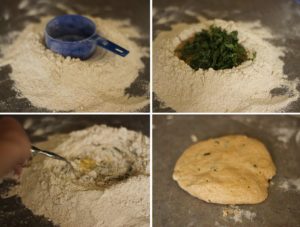 To make the pasta, pour spelt flour onto clean surface. Make a hole in the center of the flour using a measuring cup. Add eggs, salt, oil, and basil into the hole and begin to whisk with a fork. As you incorporate the flour underneath the hole, begin to include the flour on the outside, adding water as needed. Knead the dough until it is smooth. Cover dough with plastic wrap, and let rest for 30 minutes.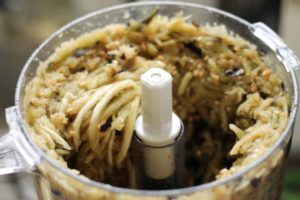 Using a food processor with small grater attachment (or hand grater), shred the garlic and eggplant. Heat teaspoon of oil in pan over medium-high heat, and saute eggplant mixture until water evaporates. Let cool.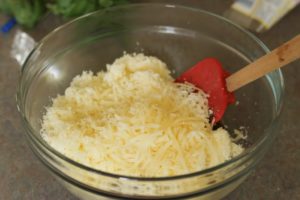 Rinse and dry the food processor. Using the same attachment shred the cheese. In a medium bowl, add cooled eggplant, cheese, and basil and stir until combined.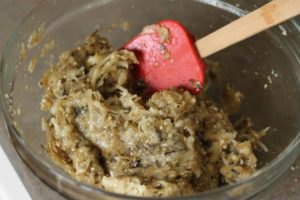 To prepare ravioli, divide the dough in half and roll it out very thin. (Put your muscles into it. It may feel like a workout, but it's worth…)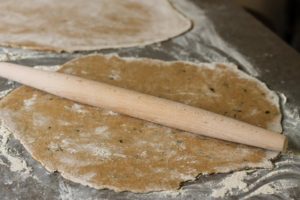 Spoon small-ish balls of filling into one side of dough, and then place the second sheet on top.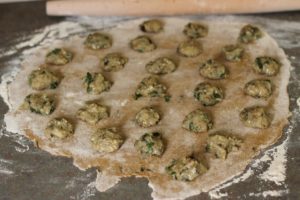 Using the ravioli press, stamp out your ravioli. And smile, cause they sure are cute!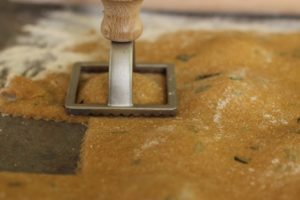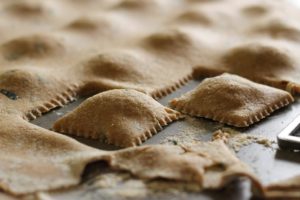 Let ravioli rest for 10 minutes, and boil salted water in a large pot. Cook ravioli for about 5 minutes, or until they swim up and float to the top. (You can freeze extra ravioli before cooking for an easy weeknight meal.)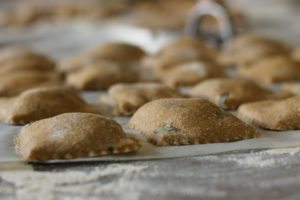 While the pasta is cooking, heat up your favorite marinara sauce. Lay ravioli in a bed of marinara and garnish with parmigiano reggiano and fresh basil. Dig in!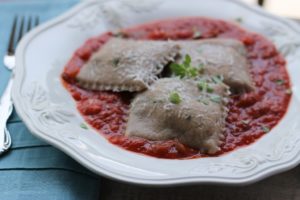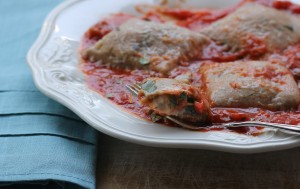 Disclosure: I received free samples from Cabot Creamery of the cheese and giveaway items mentioned in this post. By posting this recipe I am entering a recipe contest sponsored by Cabot Creamery Cooperative and am eligible to win prizes associated with the contest. I was not compensated for my time.
Want to experience Cabot's lighter side of delicious? Enter to win a FREE cheese board, knife, an awesome coffee mug, and 2 coupons to try any reduced-fat Cabot product absolutely FREE!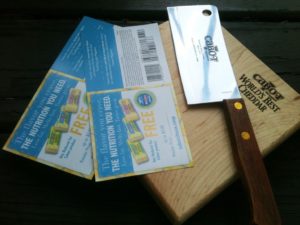 To enter: LIKE the Love and Zest Facebook page and leave some love (and a way for me to get in touch with you). Winner will be chosen at random on April 7th! I'll contact the winner by email or Facebook message. 
Hi I'm Kristina LaRue, RD (registered dietitian nutritionist), Peloton addict and mama to two active and hungry boys. On Love & Zest, you'll find healthy-ish recipes that fuel the whole family. I'm all about veggie-filled breakfast, meal prep recipes, healthier sweets, and easy weeknight dinners made in the Instant Pot or sheet pan.
Did you make one of my recipes?? Leave a review in the comments and tag @loveandzest #loveandzest on Instagram!
If you're a modern mama– I'd love for you to join my Facebook group A Modern Motherhood Collective!