Cabot Creamery selected me to be on their Cabot Fit Team and sponsored my trip to run the Beach to Beacon 10K in Maine. I was not compensated to write this post and all opinions are my own.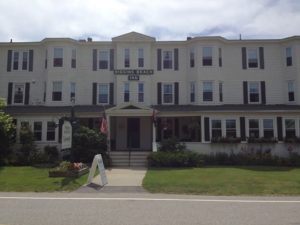 What a weekend! If you're following me on Instagram, Facebook, or Twitter, you may have noticed some of these gorgeous pictures of trip in Maine with Cabot Cheese. I wanted to recap our weekend for you, and in case you missed my last post you can get caught up about the trip here.
We stayed at the Higgins Beach Inn. It's in a great location, the owners and staff were very kind to us, and the restaurant has delicious food!

One of my absolute favorite aspects of the trip was on Friday when we took a tour of the Ridley farm, a family owned farm who makes Cabot's cheese so delicious and special. Cabot is cooperative owned by 1200 farm families throughout New England and New York, and 100% of the profits go to the farmers! What's not to love?

The cows were so friendly and gave Katie's arm lots of big licks and shockingly urinated on my legs! An experience to remember. 

The baby goats were very special and cried out for attention, litterally. I didn't know goats were so lovable… I now want need one. Could they be any cuter!?
This little farm cat was playing around in the grass… very sweet kitty! Of course, Eric fell in love.
Here is our whole team! Check out their blogs too, they are awesome food and fitness bloggers.
Sara from Cabot Creamery
Monica from Eat Run Repeat
Anne from fANNEtasticfood
Carrie from BakeaholicMama
Carolyn from All Day I Dream About Food
Robin from Knead to Cook
Katie from Health Seasonal Recipes
Gina from Running to the Kitchen
Becky and her sister from the Ridley Farm
The Beach to Beacon 10K was a very scenic yet hilly course, at least for these Florida kids. But the weather couldn't have been better, a slight drizzle on the course and a little chill in the air. Eric was offered an entry into the race which was super special. "Patricia" [note bib] had fun and placed 5th in her age group with a 48:00 @ 7:44 pace. I was happy with my race too and finished 56:23 @ 9:05 pace, although my watch said 9:00 which was my goal 🙂
Then we went to the beach to soak in the gorgeous landscape and views! The beach was walking distance from the inn.
Ate some lobsta!
And on Sunday we went to Boston to tour the city!
I had to see the Boston Marathon memorials while we were there. Will never forget and will forever be #BostonStrong!
Many thanks Carolyn for driving Eric and I to and from the Boston airport!! Thank you Cabot for your generosity, commitment to health and fitness,  and the unforgettable experience! I loved getting to know your team, farmers, and the lovely bloggers that you supported on this trip.