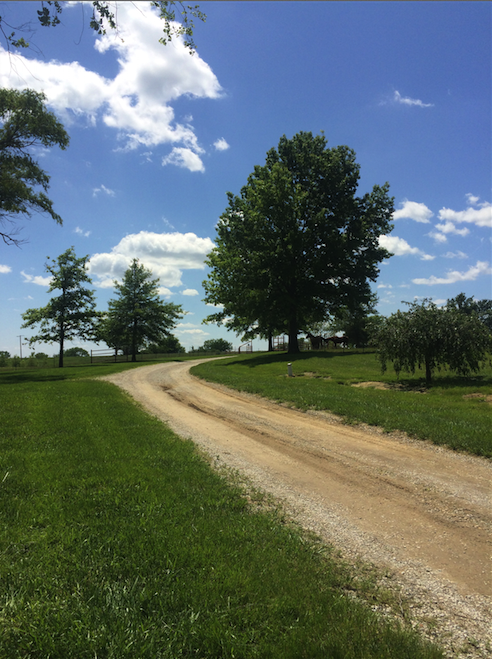 How is it June 1st already?? We had a really busy May– which was super exhausting at points. We moved into our new house and traveled every weekend– for baby showers, Mother's Day, the beach house, press trip, and our gender reveal party. I was glad to have Memorial Day and a shot week last week to get back to normal. This past weekend was our first full weekend in the new house and we were able to really get settled in. Only a few more things to do to set the house up! Home tour coming soon.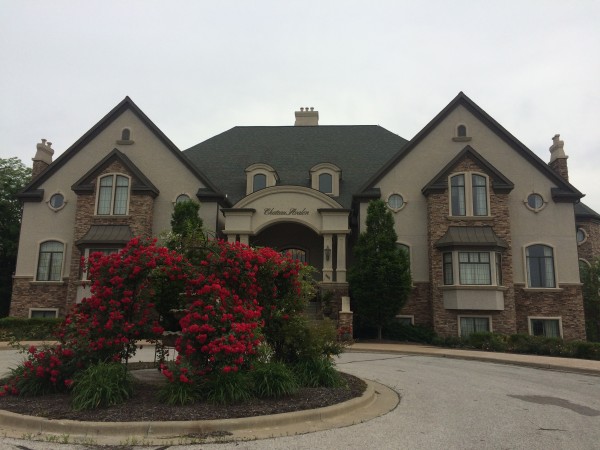 Two weeks ago, I went on a press trip with the Kansas City Beef Council. We stayed at the Chateau Avalon in Kansas City and each room was an "adventure". I stayed in the Venetian which was a lovely and luxurious room that was well appointed to. One of my favorites about the hotel was the breakfast delivery. The night before you marked a card with your breakfast selections that you placed on the outside of the door and they would deliver it at your specified time– coffee, tea and all. I would order the breakfast strata with fruit and the freshly baked cinnamon roll. Now that cinnamon roll is a must. How often do you get a warm freshly baked cinnamon roll delivered to your room upon waking. The life I tell ya. I wish I had a picture to show you but by the time I remembered the cinnamon roll was gone.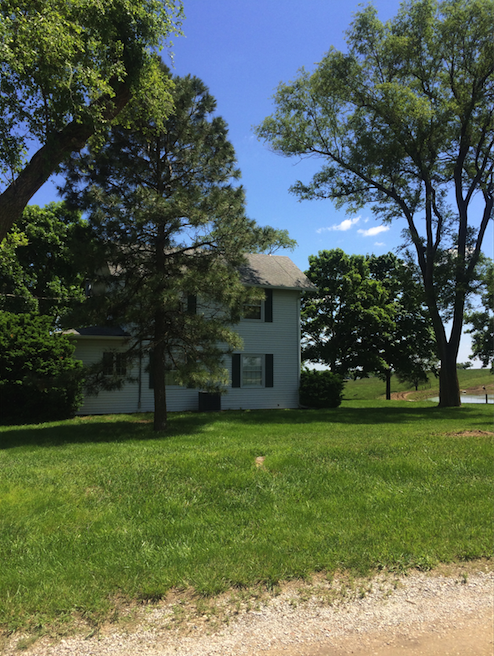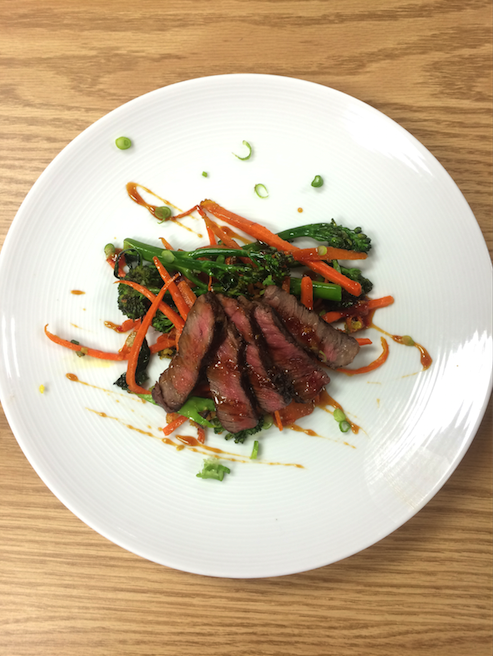 From the moment we arrived our schedule was packed– on Wednesday morning, we learned all about beef nutrition, cuts of beef, and culinary applications and they showed us around the Sysco facility. We were all divided up into teams of four and were challenged to create a meal from a mystery basket in under 40 minutes and were judged on our creations… a lot like the show chopped. It was so fun. Our team created a Ginger Beef & Veggie Stir Fry with a Sweet Chili Reduction.. it was so good!! We didn't win but I think it tasted pretty darn good. We ended the night with a beautiful steak dinner.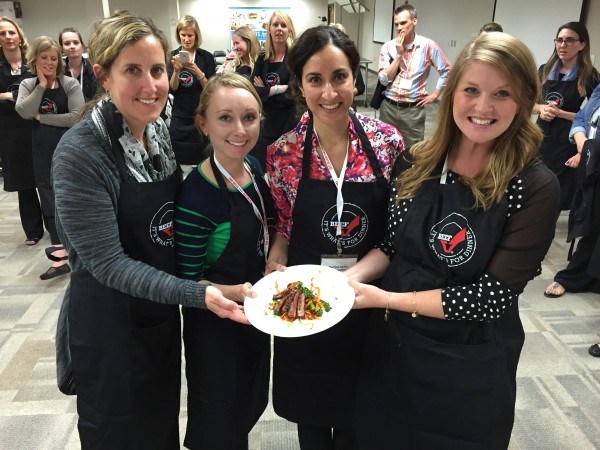 The next day, we were able to learn about the latest research in beef nutrition. I really enjoyed the talk and discussion because it was all about protein (which happens to be one of my favorite nutrition topics)— a lot of the research is similar to the post I wrote on "Leucine: Shedding Light on Protein".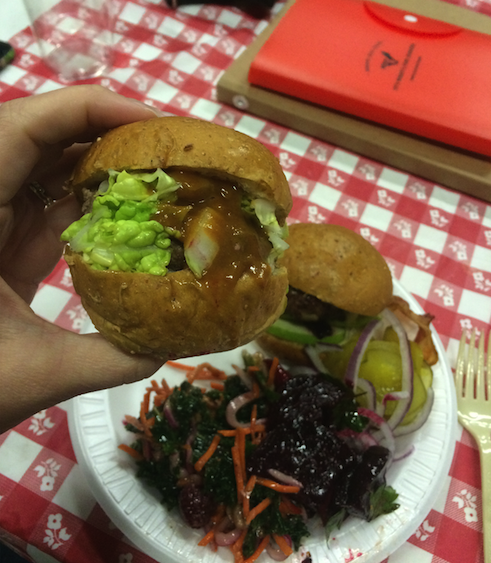 After lunch, we toured a ranch and had a Q&A session with a rancher, feed handler, and distributor. It was a very interesting discussion and I came away from the conversation more informed about the beef industry.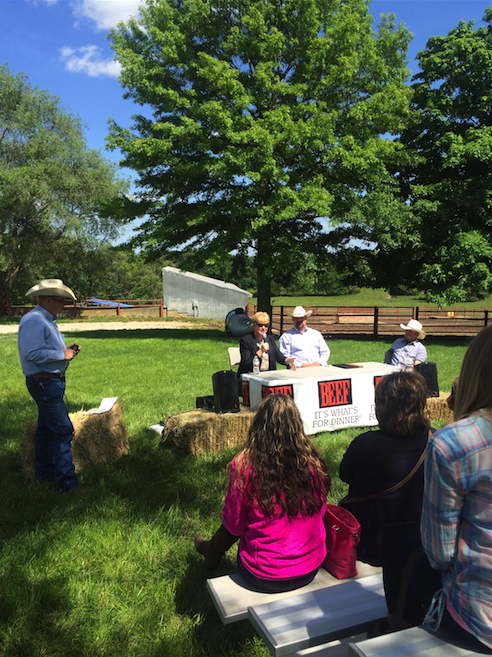 After the cocktail hour that evening, a group of us decided to have a "blogger" girls night in. We ordered flatbreads and chatted about blogging, nutrition communications, and worked on our computers. It was a grand old time. Loved spending time with Katie @ Mom to Mom Nutrition too!!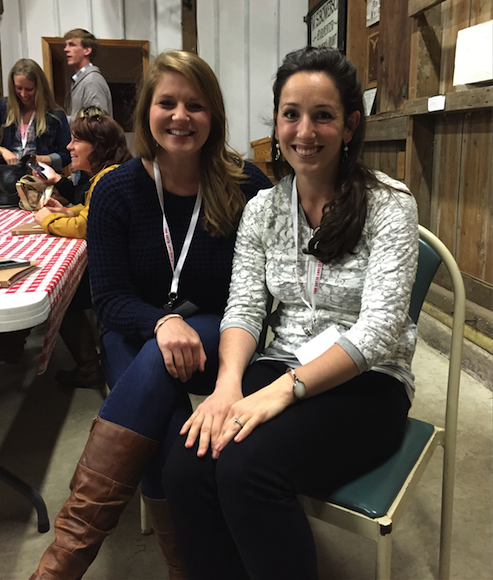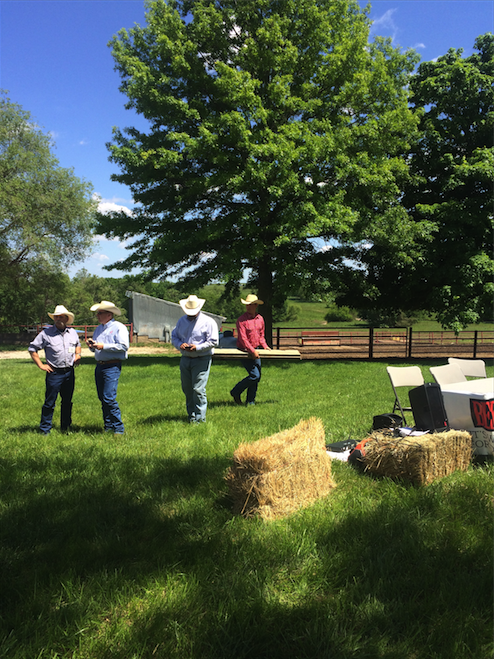 My two main takeaways from the trip–>
1. Each cut of beef requires a different cooking method. I don't usually branch out too much with beef as I usually buy it ground, pot roast to go in the slow cooker, or pre marinated steak tips for grilling. I realized the reason I don't experiment too much is I'm not super confident with cooking it. But there is an Interactive Butcher Counter resource on Beef It's What's For Dinner's website that allows you to explore the cut of meat you are purchasing and the best cooking method with recipes!! I will for sure be using this!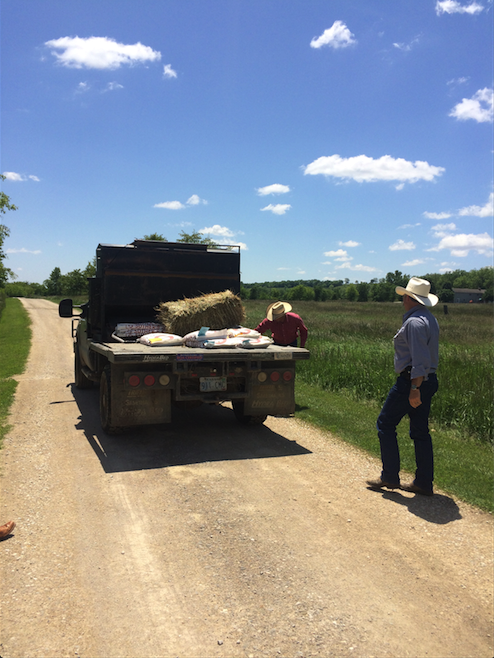 2. When purchasing beef, look for quality cuts first. The beef industry is tightly regulated and everyone in the supply chain from the rancher to the distributor care for their cattle (it's their livelihood).
All cattle are grass fed when they are with the rancher (the majority of their life), and then they either continue with grass fed or are finished with grains for 3 to 6 months. Also, grass fed is not a well defined term, meaning some grass fed cattle may actually have been fed grains for 5 months and then "finished with grass" for the last month.
Organic meat has never been treated with antibiotics even if sick. Any sick once organic cattle is treated and then raised conventionally. All beef is antibiotic and hormone free because it has to be according to the USDA. All cattle is tested for any residual residues before processing.
To me, buy what you can afford but I think conventional quality cuts of beef is the way to go (especially if you are on a budget).
Also, if you have a question about beef or the industry that I didn't answer in this post, leave it below- I'll be sure to get the answer to you 🙂
Big thank you to Florida, Kansas and Nebraska Beef Councils for the awesome trip!
Hi I'm Kristina LaRue, RD (registered dietitian nutritionist), Peloton addict and mama to two active and hungry boys. On Love & Zest, you'll find healthy-ish recipes that fuel the whole family. I'm all about veggie-filled breakfast, meal prep recipes, healthier sweets, and easy weeknight dinners made in the Instant Pot or sheet pan.
Did you make one of my recipes?? Leave a review in the comments and tag @loveandzest #loveandzest on Instagram!
If you're a modern mama– I'd love for you to join my Facebook group A Modern Motherhood Collective!