Whew. I'm writing to you beat and exhausted. Monday's are a really long day for me, but totally worthwhile. Coming home late at the start of the week just knocks it out of me.
I'm not complaining though. I love my jobs, and feel blessed to be doing exactly what I love and feel called to do.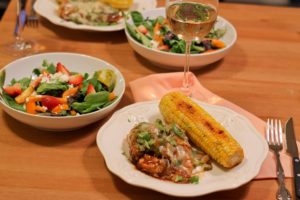 Along with a completely packed work life, we are in the process of finding a new home. Who am I kidding? You guys that know me know that we've been "looking" for a new place for a while. Not because we don't love our tiny garage apartment and truly have the best landlord, but because we are really excited about having a home, a yard to plant a garden, a kitchen to fit all my dishes, and an extra room to have guests over, and maybe even a washer and dryer. No that last one is a must, a washer and a dryer is in our future, it's been tough guys.
But now, we think we are finally ready. Eric has graduated, and we find out his results in a few weeks!! We are excited about this new phase. The house hunt has not been without its challenges—they go like hot cakes around here. It's available one day, and taken off the market the next which has taken a bit of a toll. I am trusting that there is a house out there for us.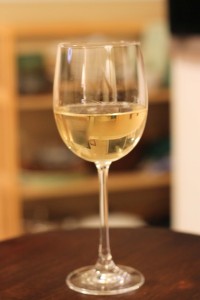 I came home from group tonight to find my husband in the kitchen cooking dinner. He told me to please sit down, poured me a glass of wine, and changed the channel to Barefoot Contessa. (Ina is one of my all time favs. She is a wealth of knowledge; I learn so much from watching her show.)
On the Menu: Smothered BBQ Chicken with Roasted Corn and a Fresh Salad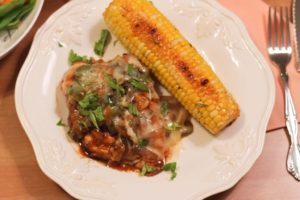 I was so impressed with his creativity, the chicken was nice and moist with lots of flavor, and that is the way to do corn!! Way to go E.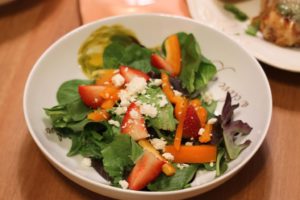 I value the consistency in how you love me, I always have. You teach me new ways each day to love you more. I really appreciate the night off. Thanks for cooking a warm dinner for us.
Hi I'm Kristina LaRue, registered dietitian and millennial mom of two active and hungry boys. Here on Love & Zest, you'll find (mostly) healthy recipes to fuel the whole family and real life stories of modern motherhood. I'm all about veggie-filled breakfast meal prep recipes, healthier sweets, and easy weeknight dinners made in the Instant Pot or sheet pan.
Did you make one of my recipes?? Leave a review in the comments and tag @loveandzest #loveandzest on Instagram!
If you're a modern mama– I'd love for you to join my Facebook group A Modern Motherhood Collective!