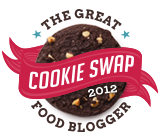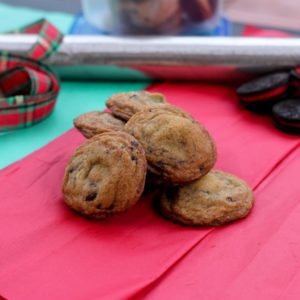 Each participant sent out a dozen cookies to 3 people, and we each received cookies too :) It was so fun finding packages of cookies on my doorstep! I received some amazing biscotti and chocolate chip cookies in the mail. Eric was happy to say the least.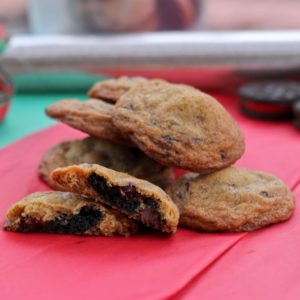 When you say cookie, I immediately think of my
favorite chocolate chip cookie
. The recipe had to be new to the blog, so I made it a little festive for the holidays. These cookies are sweetened with mint chocolate chips and stuffed with Oreo cookie truffles. Hello YUM!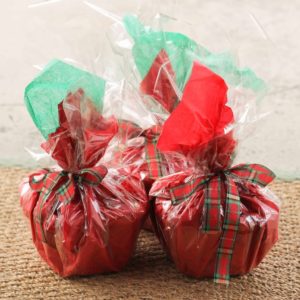 Cookies all ready to be shipped :)
I bet Santa would love these cookies. Happy baking!
Oreo-Stuffed Mint Chocolate Chip Cookies
makes 24 cookies
INGREDIENTS 
Cookie
1/2 cup (1stick) unsalted butter, room temperature
1 cup + 2 tablespoons all purpose flour
1/2 cup sugar, granulated
1/2 cup brown sugar
1 egg
1 teaspoon vanilla extract
1/2 teaspoon kosher salt
1/2 teaspoon baking soda
3/4 cup mint and dark chocolate chips
Filling
20 double stuffed oreos
2 oz cream cheese
DIRECTIONS
Preheat oven to 375 degrees F.
Cream the butter and sugars in large mixing bowl; add in egg and vanilla extract.
In separate bowl, whisk or sift flour, salt, and baking soda. Slowly add dry ingredients to mixing bowl and mix until just combined.
Stir in chocolate chips; making sure not to over mix.
Line baking sheet with parchment paper, and spoon dough into uniform balls. Press thumb into dough.
In mixing bowl, combine oreo cookies and cream cheese until well combined. Roll into small balls and place in center of cookie dough, forming cookie dough overtop.
Bake for 10 minutes. Allow to rest 2 minutes, and finish cooking on wire rack.