It's about time another roasted veggie made it to the blog. Many times over I've pronounced my love for roasting to you. You've seen sweet potatoes, cauliflower, brussels sprouts, tofu.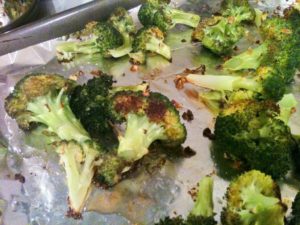 Well, add broccoli to that list.
Go roast your broccoli. Make it garlicky. End of story.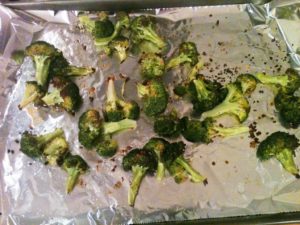 Roasted Garlicky Broccoli
serves 2
1 fresh head of fresh broccoli, cut into pieces
1 clove garlic, minced
light sprinkle of red pepper flakes
1/2 lemon, juice
pinch of kosher salt
Heat oven to 425 degrees F. Line rimmed baking sheet with parchment paper or aluminum foil. This is not a recipe that needs to be exact. Go with it. Cut up the broccoli, lightly toss broccoli in olive oil and add garlic and red pepper flakes to your liking. Roast broccoli for 20-25 minutes until tops are a little brown and crispy. Add squeeze of lemon and salt to broc while warm. Dig in while they're hot!