Wanted to share with you a special book I received a while back from Beth.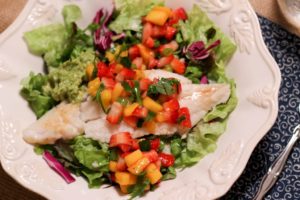 She is a fellow dietitian that has a love for sweet treats and God's word. Her book Fruit Lovers' Devotions to Go is just that, a little pocket devotional filled with fruit-inspired recipes and truths for the soul.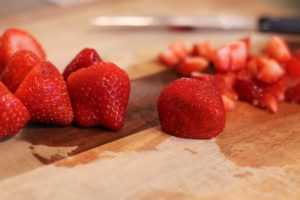 I've really enjoyed your book Beth! Thanks for sharing it with me. I think all fruit lovers would enjoy this book! Here's a sneak peak at one of her recipes that I'm sure you'll enjoy.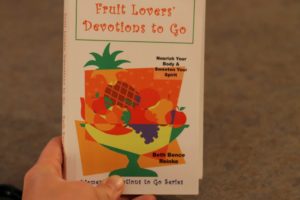 Strawberry-Mango Salsa
created by Beth Bence Reinke, Fruit Lover's Devotions to Go
1 lb strawberries, diced
1 large, firm mango, diced
1/4 cup thinly sliced green onions
2-3 tablespoons fresh cilantro, chopped
2 teaspoons lime juice
2 tablespoons orange juice
1 teaspoon balsamic vinegar
1/4 teaspoon salt
Place fruit, onion, and cilantro in medium bowl and stir together. Mix juices, vinegar and salt in liquid measuring cup and blend well. Pour over fruit mixture and stir well to blend. Server with tortilla or corn chips. Makes 3 cups. Use within 1-2 days.
Disclosure: I did not receive payment for this post; all opinions are my own.
Hi I'm Kristina LaRue, millennial mom of two active and hungry boys, which makes me an around the clock milkmaid and cheerio picker upper. Here on Love & Zest, I share (mostly) healthy recipes to fuel the whole family and real life stories of modern motherhood.
Did you make one of my recipes?? Leave a review in the comments and tag @loveandzest #loveandzest on Instagram!
If you're a modern mama– I'd love for you to join my Facebook group A Modern Motherhood Collective!