Friends, happy Monday! Eric and I are knee deep in packing up our life and moving it down across town on Friday. We are excited about this new space but sad to leave our first home. It was a busy weekend for us to say the least.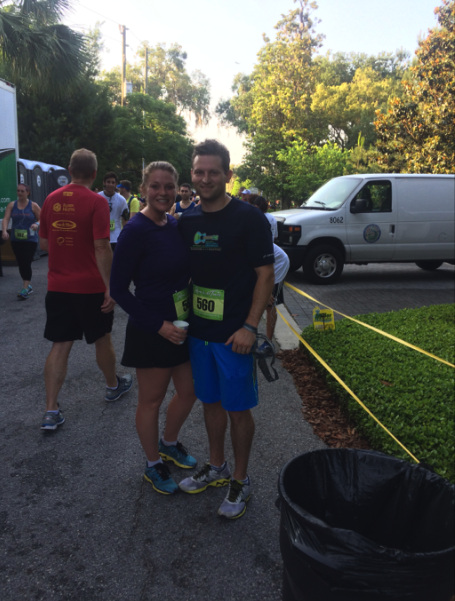 On Saturday morning Eric and I did the Run for the Trees 5K hosted by Track Shack in Winter Park which was so fun… race recap to come. Grabbed a quick breakfast and then made it back to the house to pack before we drove home to go to an air show with his family which was fascinating.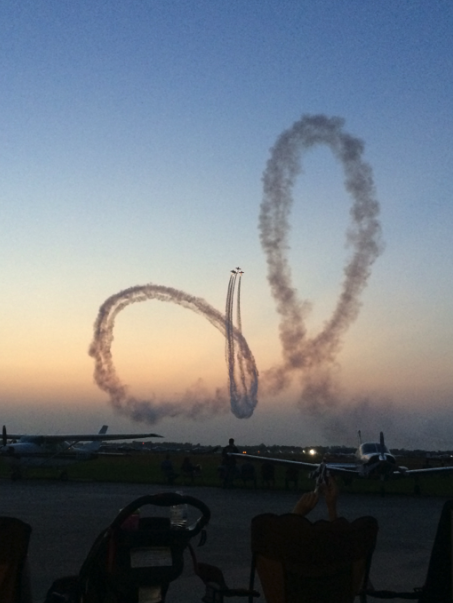 I don't know how those pilots drive a plane like that. They would fly super fast and close to the ground, and then fly straight into the sky and do crazy flips. Serious talent and bravery.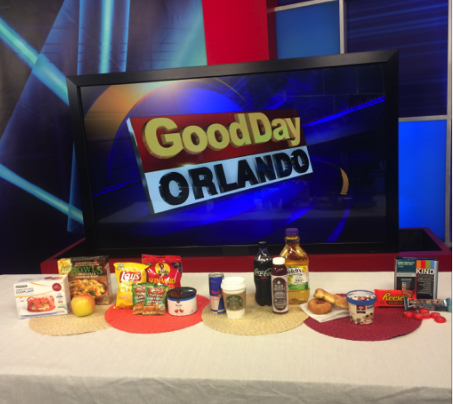 First thing on Sunday morning we headed to Fox 35 for a TV segment. I love it when Eric get's to go with me to help set up and just be there for support. It's the best. The segment was on The Desk Diet where I discussed the best foods to eat at the office and which ones to avoid.. aka the title of this post. So without delay… here are my tips for simple swaps at the office.
The Desk Diet
1. Instead of going out to eat, bring a frozen meal! Yes, frozen meals can be a healthy choice and they are a great way to shave calories and keep portions in check. It's easy to get way to many calories eating out. Some of my current favorites are Amy's Broccoli and Cheese Bake and CedarLane Baked Stacked Eggplant made with pesto and 4 cheeses! Can you tell I love cheese. Both of these choices have 16 and 14 grams of protein respectively and that's a heck of a lot of protein for a vegetarian meal. The CedarLane eggplant entree is only 230 calories! I pair it with a side salad or a piece of fruit for staying power and more fiber. So good y'all! In fact, this is what I'm eating for lunch today.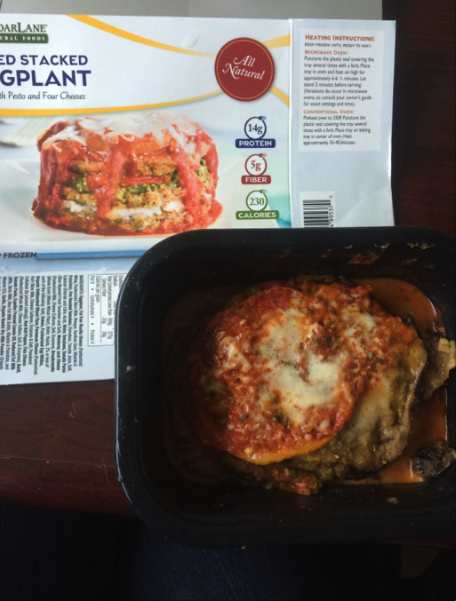 2. Dried Fruit & Nuts vs Chips. If you like that salty crunch of a chip, try switching to salted nuts which will give you a lot more nutrition! Research has shown that people that eat a handful of nuts a day tend to eat less at meal time and fewer calories overall. This is likely because nuts are super satiating. Instead of eating empty calories from chips, snack on nuts and pair with dried fruit if you like the sweet and salty combo like me.
3. Choose a latte instead of energy drinks. Instead of sipping on sugary energy drinks, get a natural dose of caffeine from coffee. I think lattes are a great choice (as long and they are unsweetened), because of the milk proteins which keep you fuller longer.
4. Ditch soda and opt for 100% Fruit Juice. If you are tired of drinking water, the second best option is 100% fruit and vegetable juice. Not only are they yummy tasting, 100% fruit juice is just fruit squeezed. Some of my favorites are Welch's Grape Juice and cold-pressed Suja Juice.
5. Say no to the donuts and grab instant oatmeal. Instant oatmeal makes a convenient breakfast option, pass on the sugary donuts and opt for fiber rich oatmeal that will give you energy that will last all morning. Top your oatmeal with fresh fruit, nuts and nut butter for even more stain power.
6. Munch on a KIND bar or Dark Chocolate Squares over a Candy Bar. You all know my love for KIND bars, not only do they satisfy my sweet tooth and are super convenient, I love that I can see exactly what's in the bar just by looking at it– whole fruit and nuts. If you love your chocolate, savor a dark chocolate square or two instead of hitting up the vending machine for a candy bar.
Hi I'm Kristina LaRue, RD (registered dietitian nutritionist), Peloton addict and mama to two active and hungry boys. On Love & Zest, you'll find healthy-ish recipes that fuel the whole family. I'm all about veggie-filled breakfast, meal prep recipes, healthier sweets, and easy weeknight dinners made in the Instant Pot or sheet pan.
Did you make one of my recipes?? Leave a review in the comments and tag @loveandzest #loveandzest on Instagram!
If you're a modern mama– I'd love for you to join my Facebook group A Modern Motherhood Collective!