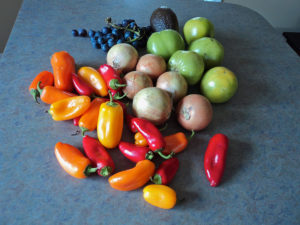 Morning started off with a trip to the farmer's market. This is the bounty we brought back.
Yes.. look at all those beautiful MUMS!!—one of my favorite things about fall!!
Guess I was able to convenience him to let me bring one home 😉
Munched on some lunch after the farmer's market…love concord grapes and the sweet peppers!
Mums are nestled on our front doorstep.
Beginning to bring out the fall decor. I love the warmness the season brings to a room.
Found this awesome fabric the other day at Joann's… I like the brightness of the harvest colors.
Say hi to our little friend…(no, she isn't ours).