I mentioned on Friday
that I've recently had to change up my diet. For the past 4 years, I've struggled with tummy troubles which made me feel really nauseous, especially at night. A few times I've found myself doubled over in pain and thought Eric was going to have to take me to the hospital. I was never able to pinpoint a particular food that was making me sick. I thought I had issues with dairy, but I now
see that it's what I was eating with the dairy that was making me sick…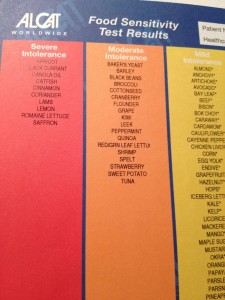 I had food sensitivity testing done which showed that I was reactive to lots of foods that I would eat often. Most notably canola oil, gluten grains, and yeast. In fact it's quite possible that I ate these three foods multiple times a day.
The results showed that I'm reactive to other foods, but the one's listed below are the foods that I am focusing on because I would include them in my diet frequently. I've eliminated the severe and moderate foods from my diet. The mild intolerance foods, should be avoided if eaten frequently or put them on a rotation diet, I'm focusing on not eating them every day, but allowing myself to have most of them every so often.
SEVERE (avoid for 6 months)
Canola Oil
Cinnamon
Lemon
Romaine Lettuce
MODERATE (avoid for 3 months)
Baker's Yeast
Barley
Black Beans
Broccoli
Quinoa
Red and Green Leaf Lettuce
Shrimp
Spelt
Strawberry
Sweet Potato
MILD (avoid if eaten frequently)
Gluten/Gliadin (Wheat, Malt, Rye)
Corn
Egg Yolk
Mango
Orange
Pineapple
Soybean
Tomato
White Potato
It hasn't been easy to remove canola oil. It's at every restaurant and in most foods… good luck finding a dressing without canola! Aside from the fact that most 'processed' food contains barley/malt, avoiding gluten hasn't been too hard for me because there are so many gluten-free products on the market. But finding foods that are yeast-free is a challenge. I'm such a fan of yeast-y foods especially pizza, breads, bagels, and doughnuts… but right now I have to switch things up to allow my gut to heal. There is a local bakery, "Deland Bakery", that has some AWESOME bread that is gluten-free and yeast-free!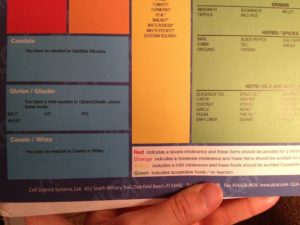 Honestly, I was not surprised that broccoli and black beans were on my reactive list. I always feel icky after eating those foods, which is sad because I like them!
After getting the testing, I was overwhelmed with the results and trying to figure out how to make it work. But after the initial shock, I've been able to sort through it all. Since I've begun this new way of eating, I can really tell how my body is responding to food. If I eat something that I'm reactive to I have symptoms almost immediately and it leaves me feeling bloated for a day or two. For the most part I stick to my plan, but there has been times where I forget about a particular food or have a bite or two of something.
The rashes on the back of my arms (KP) have gone down, with less bumps and less redness. I'm hoping this goes away completely after following the plan for a few months.
Thanks for all your comments and support when I announced I had to make changes to the way I was eating! I appreciate you!!
As for the blog, I'm going to be experimenting with new grains, and it's likely that you won't be seeing the ingredients listed above in future recipes. I hope you can understand. If you have any questions about the testing, or interested in getting tested email me at loveandzest@gmail.com.
Do you know if you have any food sensitivities?
Hi I'm Kristina LaRue, RD (registered dietitian nutritionist), Peloton addict and mama to two active and hungry boys. On Love & Zest, you'll find healthy-ish recipes that fuel the whole family. I'm all about veggie-filled breakfast, meal prep recipes, healthier sweets, and easy weeknight dinners made in the Instant Pot or sheet pan.
Did you make one of my recipes?? Leave a review in the comments and tag @loveandzest #loveandzest on Instagram!
If you're a modern mama– I'd love for you to join my Facebook group A Modern Motherhood Collective!