This morning started out with a bowl of oats, topped with 1/2 plum, coconut, dried cranberries, walnuts, and a spoonful of peanut butter.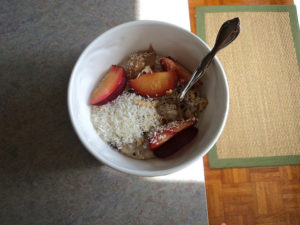 Oiled in sunscreen and squinty-eyed in need of some sunglasses.
Entering the shaded canal.
…and an Orange Creamsicle. Phenomenal! The creamsicle cupcake was so unique; it was our favorite. It was served on a precious bunny plate, too.
Now off to the bookstore to blog, study, and prep for the week. Enjoy your weekend.