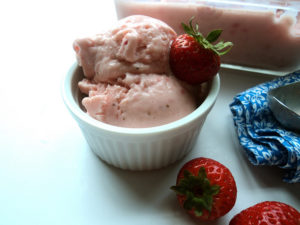 It's so hot outside this weekend which means it's fro-yo time in our house. I love making frozen yogurt at home because it's super simple, and I know what is in it. This recipe actually makes a pretty healthy treat–loaded with protein and antioxidants.
These were the only ingredients I used..and let me tell you, it makes a delicious combo for a frozen snack.
Pulverize them in the blender.
Mix all ingredients together.
Freeze a little more in the freezer.
I'm so excited to be posting this blog with the Recipe Redux. We are a group of bloggers that create recipes with nutritional benefits to give healthy alternatives to old school recipes. Check out these other cool blogs to see what frozen treats they are enjoying.