Our Best Kitchen Gadgets and Tools + kitchen organization strategies that work for busy moms that don't have a lot of time to spend in the kitchen.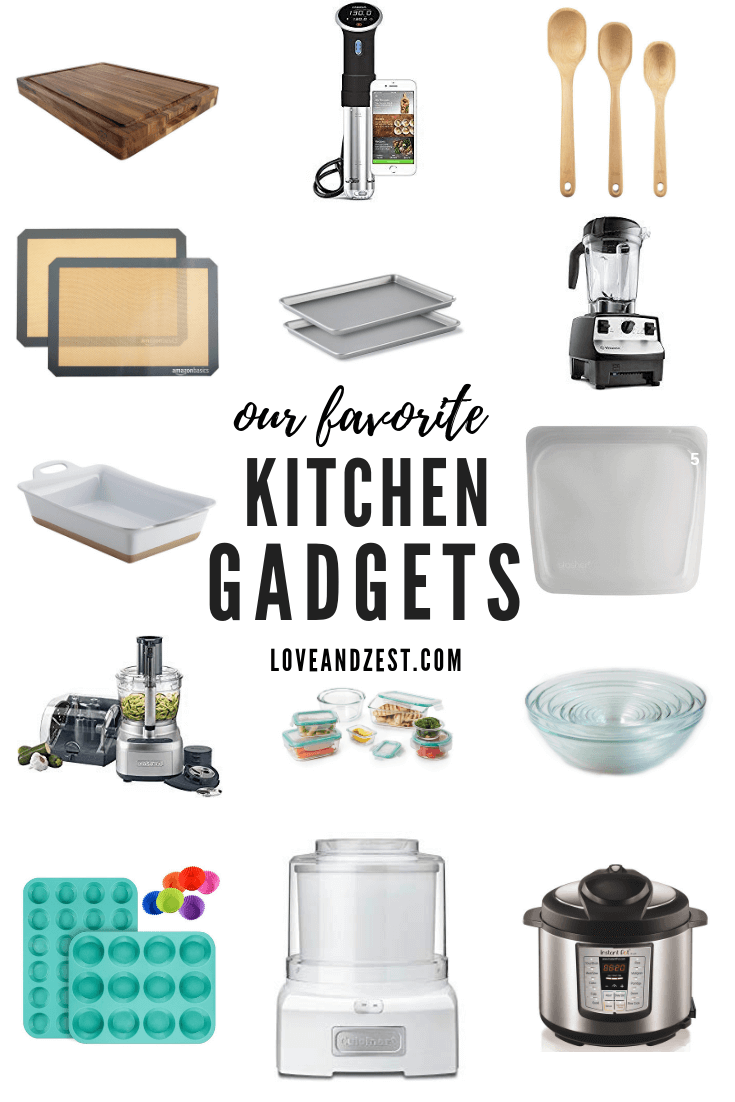 Head straight over to Love & Zest Amazon Shop if you want a quick and easy one stop shop, for all of our recommended kitchen products.
I'm a firm believer in the fact that your kitchen organization determines your cooking experience – show me your cabinets and I'll show you your cooking experience, right? Okay, maybe not that extreme! I'll be the first to tell you I haven't always been organized. I love things to be streamlined but always struggle with the execution. But lately I've found a system that works for our kitchen! Woot woot.
But, really your kitchen organization and gadgets are either adding to or taking away from your time in the kitchen.
As a busy mom of two little boys, I'm all about saving time in the kitchen through organizing the kitchen cabinets, refrigerator, pantry and using kitchen appliances and tools that get the job done for me QUICK.
Because efficiency is the name of my game! If it takes more than 15 minutes to prep a meal, I'm out.
Of course, some of these things have to be determined by trial and error but thankfully guides like these are a great place to start. At the end of the day, do what's best for you and your fam.
I'm excited to show you what is currently working for us, and teaming up with a group of bloggers sharing their favorite kitchen gadgets too! These tools are the ones that I use on the daily or weekly and others I use roughly once a week or so depending what's on the menu.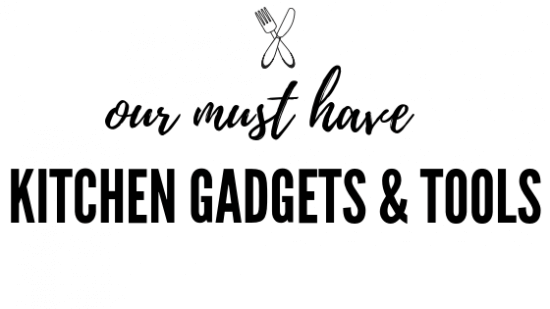 Okay, I'm taking this to another level by organizing this list by essentialness, so we've numbered them so you can see our most favorite and most used items. All of the kitchen tools on this list are daily, or multiple days a week use in our house.
Keurig. Because coffee. I'm sure most kitchens have this kitchen appliance at this point or something similar. We love our Kerig.
Rimmed Baking Sheet.

AKA the sheet pan, for all of those sheet pan dinners that are seriously the easiest recipes you'll ever make! I can't dream of an easier clean up than sheet pan dinners and rimmed baking sheets are the only tool you'll need to crush the sheet pan dinner game 🙂

Instant Pot Pressure Cooker.

Currently my weeknight dinner kitchen gadget obsession! This baby takes the stress out of weeknight dinners, like this

IP Shredded Chicken

, and you can have a meal on the table in just 30 minutes. It undoubtedly is what keeps me sane during the craziness of the work week!

Large Wooden Cutting Board.

What cutting board dreams are made of! Eco-friendly, reversible and even has those deep grooves to keep any liquids from running off.

Best Kitchen Knives. I've used these kitchen knives since we got married nearly 10 years ago! They are Eversharp and I do stick them in the dishwasher (AHHH, I know)– they've held up really nice, and they have NEVER been sharpened. My mom recently got some Japanese kitchen knives for Christmas that were recommended by a professional chef and I'm like OMG, it's like cutting soft butter with them– so amazing but they better be because they are legit expensive… if you're in the market for the best kitchen knives, get some made with Japanese steel.
OXO Leakproof Glass Storage Containers.

Having glass storage containers is a must for my fam because I can see exactly what's in these containers – grab and go baby, that's what I'm all about.

Wooden Cooking Spoons.

A non-stick cooking gadget great for baking and serving casseroles. Non-stick cookware makes for such an easy clean up.

Large Cast Iron Skillet.
Stacking Glass Mixing Bowls.

Seriously use these glass mixing bowls alllll the time! Pretty sure there isn't another kitchen gadget as versatile and essential as these. If you're looking for reliable and durable mixing bowls, these are just what you need, mama!

Vitamix Blender.

People seem to either be team Vitamix or team Ninja these days and I'm personally all aboard the Vitamix train. This blender is so powerful and works wonders for

shredding chicken breast

!

Large Bowl Food Processor.

Definitely use this on the daily for so many different things like soups, salsa, guacamole and my

spinach blender muffins

!

Stainless Steel Measuring Cups.

Can't think of a single day that I've gone in my cooking life without using measuring cups. The biggest bang for your buck kitchen gadget out there!

Silicone Baking Mat.

I vow to never use a baking sheet without it lining first with a silicone baking mat or parchment paper. This creates a non-stick surface and easy clean up!

Muffin pan. From silicone muffin tins to non stick muffin pans– we have both and they they are both essential. The silicone pan works great in the instant pot and if you're making healthier muffins.
Stasher Bags.

These bags have an airtight seal that keeps food extremely fresh which great for pre-chopped veggies and fruits. I love using these for my little one's snacks on the go too.
Honorable Mentions: the kitchen tools we use less often, but still keep around for the days we need them.
Casserole Baking Dish.

One of the biggest kitchen essentials if you cook for 4+ people! I love using my casserole baking dish not just for dinner but for breakfast casseroles and desserts because desserts are LIFE people!

Anova Sous Vide.

Like the Instant Pot, this gadget basically takes all of the thinking out of cooking. Pair with your phone via Bluetooth and allow the precision cooker to produce the best cooking results for all of your meats, vegetables, and more!

Ice Cream Maker. For all you ice cream lovers out there, this gadget is a must have! Because hello, homemade ice cream.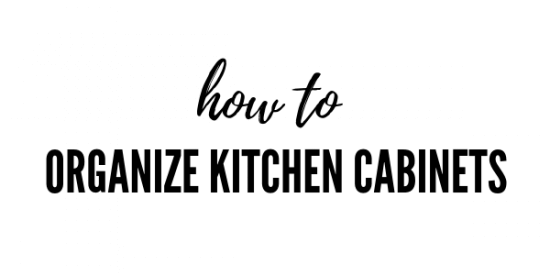 Along with these most helpful kitchen gadgets, we believe that designing and organizing your kitchen (even if you're in an apartment or temporary living situation) is so key to your healthy living journey because it makes cooking much more streamlined.
No more digging and searching, mama! You're several steps away from having healthy eats at your fingertips! By tidying up your kitchen and making it look glamorous, you'll want to get in there and cook up a storm!
How to organize kitchen cabinets:
Assess your space and choose storage solutions that work in your space

. The more categorization and grouping of similar items you can do the better visual appeal and functionality your space will have.

Purge your pantry, fridge and freezer

. Get rid of items that are out of date or if you haven't used it in 6 months and can't commit to using it in the next month or two, it's time to donate or toss it (this goes for kitchen appliances and cooking utensils too).

Wipe down your cabinets and fridge and freezer

. Baby wipes work great here!

Create a place for backstock

. This is a spot where you will keep bulk items or appliances you don't want to donate, that you only use a few times of year. No sense in it cluttering up your functional kitchen.

Group like items

. Pastas and rices together, group cans together, put all of meats in same spot, wrapped, and in lowest spot in fridge. Use lazy susan for condiments and white bins for treats to disguise them and put them in the highest point of the pantry.

Streamline your storage solutions. Organize

bins in your pantry and kitchen in a pattern that makes the most sense for functionality and also aesthetic.

We love using clear bins for things you want to have easy access to and white bins for items you don't want to see.

To streamline your kitchen cabinets, pantry and fridge and make it more efficient, check out these storage solutions for kitchen organization. And if you want a one stop shop, head on over to our amazon shop for your kitchen makeover.
Use acrylic storage bins for eggs and leftovers so each is visible (make these easy to reach).

Use white or woven baskets and bins for foods you want to keep hidden (think chocolate or snacks)– we also store these at the top of the cabinet.

Store prepared fruits and veggies in clear storage containers or stasher bags.

A crisper magnet is great if you need an extra crisper drawer for produce.

Lazy Susan works great for oils and vinegars.

Store fresh herbs in a mason jar of water to keep fresh longer
Best Kitchen Tools from my blogging friends.
Head on over to my girls posts for all of their favorite kitchen tools and hacks for making healthy living easier. Enjoy!
Hi I'm Kristina LaRue, RD (registered dietitian nutritionist), Peloton addict and mama to two active and hungry boys. On Love & Zest, you'll find healthy-ish recipes that fuel the whole family. I'm all about veggie-filled breakfast, meal prep recipes, healthier sweets, and easy weeknight dinners made in the Instant Pot or sheet pan.
Did you make one of my recipes?? Leave a review in the comments and tag @loveandzest #loveandzest on Instagram!
If you're a modern mama– I'd love for you to join my Facebook group A Modern Motherhood Collective!