My super easy hair routine plus the DL on how we are slowly making the switch to more natural hair care products. This post is a part of our natural beauty series.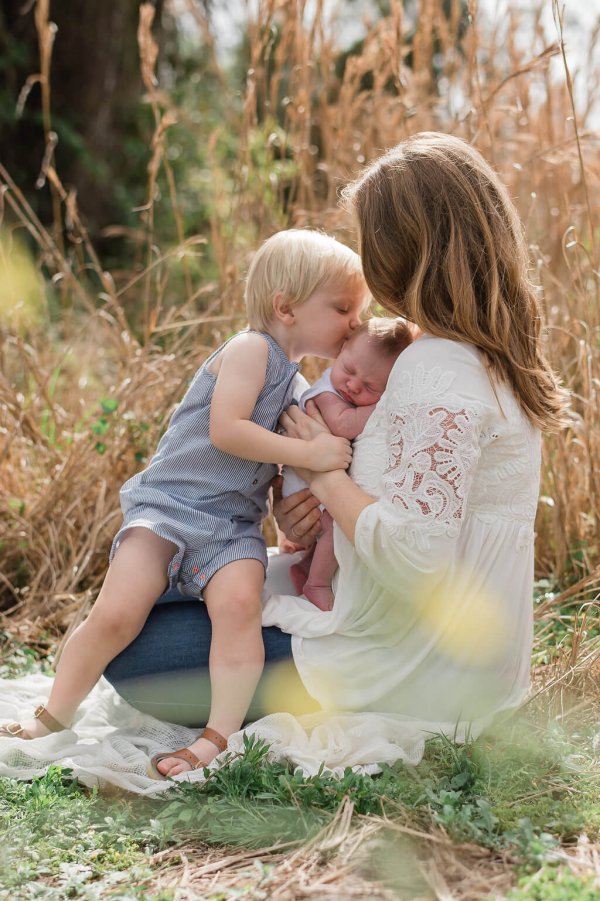 Best Natural Hair Products for Straight Hair
True confession from a work from home mom: I legit don't do my hair…
maybe because I don't really have.. I have straight hair that dries pretty quick or maybe it's because I don't look in the mirror too much, #momlife.
Either way my routine is pretty simple, I've never colored my hair, and get it cut a couple times a year.
I've recently started to work on upping my hair game as part of a Sunday self care routine but TBH, I'm a pretty plain jane person. I do love a good blow out and when I travel for business I try to pop into a drybar for a style that will last for days.
And this is actually what turned me on to this whole idea of not washing my hair every day!
Do you wash your hair every day?
I use to be one of those girls (you too?) My whole life I'd wash my hair on the daily, partly Florida sweat, partly that's all I knew… but after getting professional blow outs, I realized I was using the wrong hair care products that would gunk up my hair and make it feel like a grease ball.
The frustrating part of this whole equations is I was trying to be more conscientious about the products I buy. I wasn't spending a ton on hair care products but I didn't buy the cheapest– in fact I was using ORGANIC hair wash.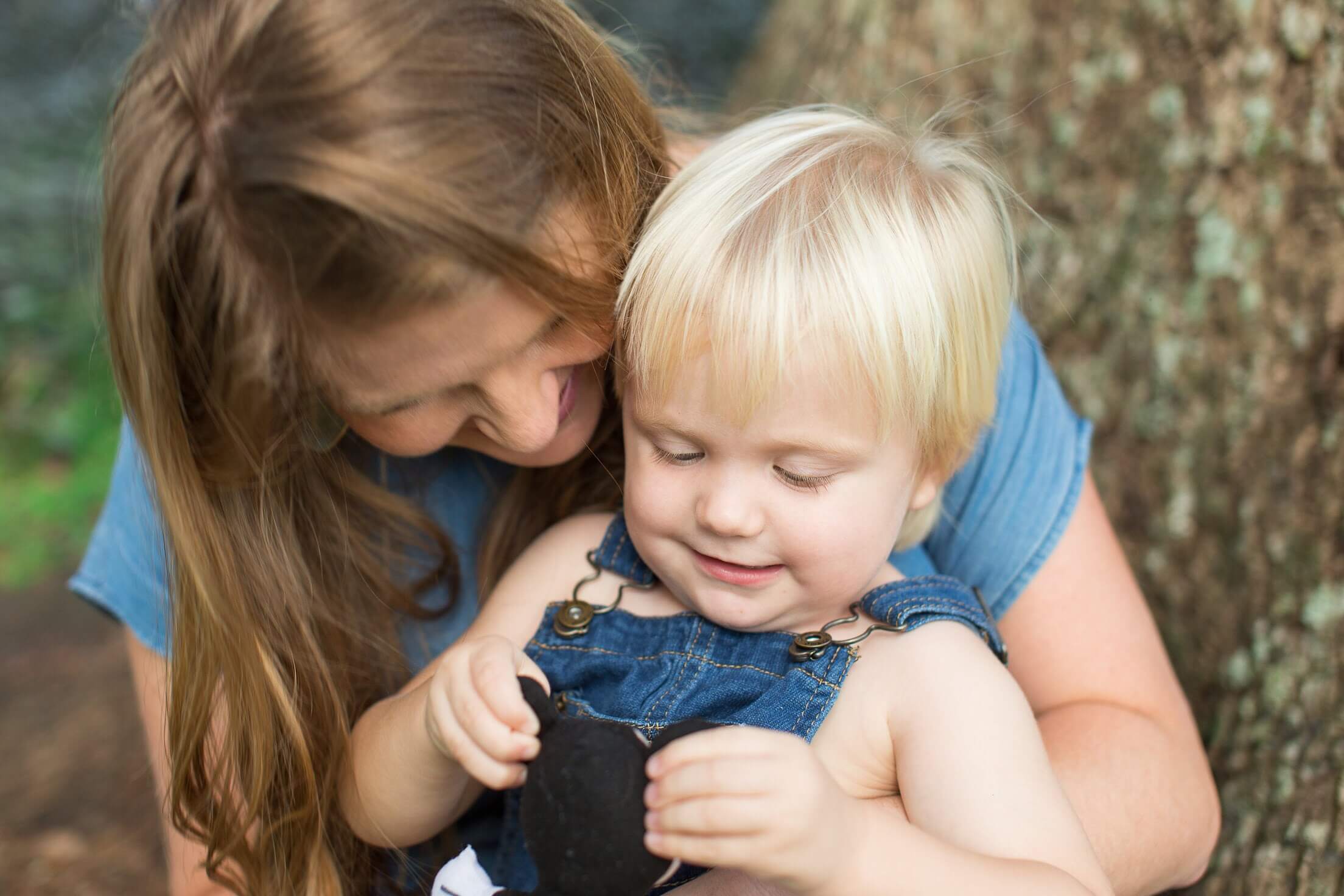 My hair care routine:
I know I'm not a beauty blogger or know all there is to know about safer beauty products so that's why I've teamed up with this group of bloggers and consulted my friends on their favorite products.
I wash and condition my hair 2 times per week.
1-2 of those times I will let my hair air dry.
About 25% of the time I will blow dry my hair and then style it with Kristin Ess Styling Wand. I don't get too crazy with this but it's a way to help bump my hair with a little beachy wave.
Not only does this routine work for me because like I said I'm pretty simple– I've heard that not using heat treatments on my hair helps to give it that more natural look and shine, since too much heat can damage hair.

Why I started using more natural beauty products?
I started using more natural skin care products after having my first baby. I was turned on to this whole idea about natural beauty products from my friend who is very educated in this area.
But also because I was spending money on higher quality safer products for baby, and then realized why I wasn't doing the same for myself?
Part of this whole better beauty mission was also intensified after my breast cancer scare which I haven't really disclosed about on the blog before, but it was literally the scariest week of my life… my precious babe was only 4 months old at the time, and life got really real.
Thus I evaluated everything I was doing in the name of prevention and caring for my body in the best way I can.
How to find non toxic beauty products?
Friends, this is the whole annoying/frustrating/eyeroll part of safer beauty to me. Like that title of "non toxic" just rubs me the wrong way. The beauty industry needs a lot of work IMO. I don't know if you feel this way, but for me so much of the marketing on safer beauty uses scare tactics and seems a little misleading– it's so hard to find those better for your beauty products.
Everyone is trying to sell something, including your neighbor and friend at the gym who has their MLM biz, and it's hard to figure out what to believe.
I was chatting with a friend about this and we both agreed that we find this whole part super annoying, and though we spent our good money on organic or "natural" products, after more research they don't life up to the hype and actually contain "harmful" ingredients.
But how harmful are these ingredients? Does it really matter to buy non toxic beauty products? How much research is there in this area? Although many marketing campaigns might be convincing/make me nervous, I'm still over here in the camp that maybe we don't really have all the info yet.
But that doesn't mean I'm going to wait around until we find out all the answers. I'm going to do the best I can right now for me and my family.
My whole perspective on this better beauty movement is similar to my nutrition philosophy.
I believe in eating well and balanced and doing the best you can, and that can mean different things in every stage of life.
When it comes to food, eating more plant based, loads of fruits and veggies is top priority, and when you can, buy better products that are organic and contain less additives. I don't like to stress or freak out about the food my family eats, we strive for balance and getting better every day.
So switching to more natural beauty products isn't an overnight process. It takes time, but we are going to do the best we can and try to find some answers and figure out what works for us.
Helpful Hair Care Apps
Think Dirty is an app that I decided to give a try. I love how easy this app makes it to rule out toxic beauty products by ranking them based on potentially harmful ingredients. Simply scan the barcode of a product and the app ranks the toxicity of that product – the lower the number, the better!
EWG's Skin Deep is another helpful app if you're trying to make the switch to more natural hair care products. Like Think Dirty, the EWG app examines and potentially toxic ingredients in beauty products.
Best Natural Hair Products
Because I'm definitely not an expert in the area of natural beauty products, I reached out to my friends for their support in this initiative. I've teamed up with some amazing green mamas that know a thing or two about how to live more natural when it comes to beauty.
I was chatting with Morgan (who works behind the scenes on all things L&Z) about this upcoming blog post and learned that she has really been embarking on natural hair care so I thought I'd bring her on today to share her process and the best natural hair products with you guys!
Morgan's Natural Hair Care Routine
I had a massive hair care routine revelation this time last year. I was one of those gals that spent over half of my life washing my hair everyday – my thick, fine hair that took at least an hour from start to finish to get it looking exactly how I wanted it to.
A loathing, never ending hair care routine was all I knew for years. So when I began making the switch to non-toxic beauty products, I was introduced to an overwhelming number of different brands, products, and people that advocated for more natural hair products.
Jasmine Rae Hair Co. is a deep well of knowledge who introduced me to the concept of scalp treatment, the idea that the health of your hair and how often you wash it stems from the health of your scalp. She provides endless tips and tricks on scalp care that has saved me hours upon hours on my hair care routine!
Seeds Phytonutrients has never left my scalp or hair feeling so clean! I used to think that spending more money on organic shampoo meant that I was doing well for myself and my hair. But the organic shampoo I was using for years would leave my scalp oily and my hair heavy and matted down to my head.
After a bit of trial and error with different shampoos, I hit the jackpot with this brand that uses nutrient rich seed oils to make their products!
O Way is a non-toxic, eco-sustainable hair care line that I discovered through my hair dresser. I use their finishing product, glossy nectar, on wash days that shines and rebuilds my hair while also protecting it from the sun!
By no means is my hair care routine fancy. This is a routine that has been developed by trial and error and a whole lot of research!
The combination of Jasmine Rae Hair Co. hair training videos, Seeds Phytonutrient shampoo, and O Way Glossy Nectar has paved the way to developing my natural hair care routine. From an everyday washer to a 2x/week washer, I'm here to tell you it's possible!
Want more?? Check out my friends natural hair routines!
Hi I'm Kristina LaRue, RD (registered dietitian nutritionist), Peloton addict and mama to two active and hungry boys. On Love & Zest, you'll find healthy-ish recipes that fuel the whole family. I'm all about veggie-filled breakfast, meal prep recipes, healthier sweets, and easy weeknight dinners made in the Instant Pot or sheet pan.
Did you make one of my recipes?? Leave a review in the comments and tag @loveandzest #loveandzest on Instagram!
If you're a modern mama– I'd love for you to join my Facebook group A Modern Motherhood Collective!