Eric and I did not wake up for our AM run.. I didn't even hear the alarm clock. It's been real hard for us lately to get moving in the morning. In the beginning of the week we get up at a decent time, do a little breakfast, run or lift weights together, and get some nice quiet time…but getting close to the weekend it gets tough. Eric started his last semester of law school this week, guess the night classes are catching up with us already.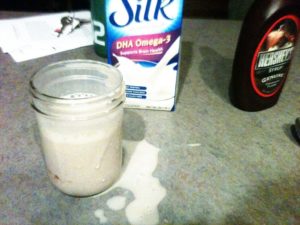 So plans changed, and I decided to go for a run after work. It was a beautiful night to be out too. The weather was absolutely perfect.. high 60s… I was pushing a nice and easy pace and ran as the evening turned into night. The sky was gorgeous as the sun set behind the buildings downtown.
I made it around the lake once, and contemplated going around again.. I was feeling pretty good, but decided against it. As I headed back home, I ran into the downtown Y runners. I've talked about running with them in the past, but never made it out.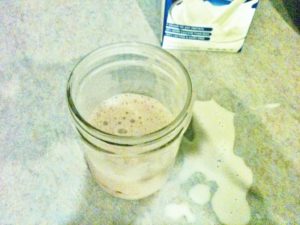 They talked me into going around with them again. And I'm so glad I did. It's just over a mile around the outside sidewalks of the lake. Those guys really pushed my pace. As we made it back around, I thought I was headed home. But after we took a little breather, I was ready to go around again.
What a fun night. It was invigorating. Thought I was going to put in about 2 miles, and I ended up doubling it. It's awesome, what we can do with the help of others. That's what I love about endurance sports. To all you runners, cyclists, triathletes out there… thanks for supporting one another. What an awesome community to be a part of.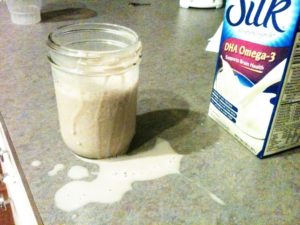 Spilled
Sipped on 1.5 glasses of my favorite silk soy + chocolate. E got home from work and we headed to the gym for a quick 30 minutes of weights. I did a little weights, and a lotta stretching. Just finished up with dinner and watching GLEE! Thanks Nick and Anna.. we are hooked.
We were not made to live life alone, do life together, do it in community!
Hi I'm Kristina LaRue, RD (registered dietitian nutritionist), Peloton addict and mama to two active and hungry boys. On Love & Zest, you'll find healthy-ish recipes that fuel the whole family. I'm all about veggie-filled breakfast, meal prep recipes, healthier sweets, and easy weeknight dinners made in the Instant Pot or sheet pan.
Did you make one of my recipes?? Leave a review in the comments and tag @loveandzest #loveandzest on Instagram!
If you're a modern mama– I'd love for you to join my Facebook group A Modern Motherhood Collective!