Today's breakfast was so yummy. Tart and sweet caramel apples nestled in a warm bowl of oats, just in time for a crisp fall morning.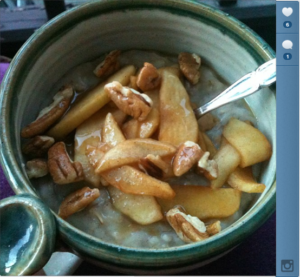 It's fall in a bowl. Caramel gave a nice sweetness and autumnish touch.
Caramel Apple Oatmeal
serves 2
Granny smith apple, peeled and sliced
squeeze of lemon juice
dash of cinnamon
light sprinkle of brown sugar
1 tsp butter
caramel drizzle
chopped pecans
Prepare classic oatmeal. In small bowl or plastic bag, combine apples, lemon juice, cinnamon, and brown sugar and toss to coat. In small skillet, melt butter over medium heat. Add apples and allow to cook until softened and warmed about 8-10 minutes.
In serving bowl, add oatmeal, top with apples and pecans, and drizzle with caramel sauce. Enjoy!