Hello spicy mac, you sure know how to warm up my oven and mouth.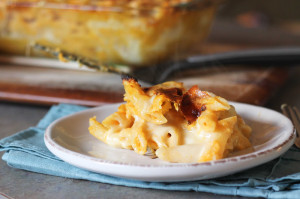 Was that a little too much, too soon?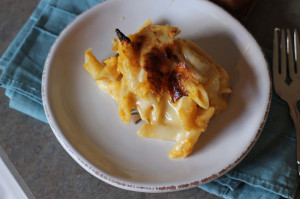 Please excuse me. I do apologize.




Honestly mac, you are much tastier with some heat and creamier with butternut squash.
Melt in my mouth good.
….and nutritious I must add :)

Round 2?
Jalapeño Mac
serves 8
8oz Cabot* jalapeño Light cheddar, shredded
1 medium butternut squash, roasted, peeled and puréed
2 cups milk + more if needed
1 teaspoon ground mustard
Salt and pepper to taste
1/2 teaspoon minced garlic
16 oz Rigatoni pasta, cooked
Preheat oven to 450 degrees F. Cut butternut squash into even pieces. Gently sprinkle tops with olive oil and place on lined baking sheet. Roast in oven for 45 minutes, or until softened. Allow to cool enough to handle, and peel skin from squash.
Puree squash using a blender (I used my Immersion blender, here), adding the milk to reach a creamy consistency. Blend in seasonings. Mix in the noodles, until sauce is incorporated. Adding extra milk if needed.
Preheat oven to 350 degrees F. In 9in square, greased baking dish, layer 1/3 noodles, 1/3 cheese, and repeat. Bake macaroni for 20 minutes or until heated through. If you'd like to brown the cheese on top like I did, broil for 2 minutes at end of baking.
*Disclosure: Thanks Cabot for sending these yummy cheeses to taste! Love the new look :)