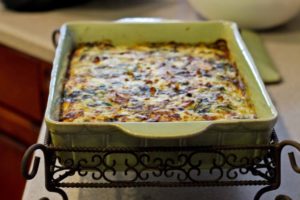 Christmas morning, my family gets going early. Some may say a little too early.
Of course not before coffee. As you can tell, Eric and I were a little sleepy…
Which is why I vote on strata on Christmas morning. It can be made ahead, serve a crowd, and it just sounds Christmasy and festive. You can get the recipe here from Cooking Light. We doubled the recipe, meaning 10 cups of spinach.. talking about veggie packed, and the little bro still ate it!
The shirt our lawyer is sporting cracks me up. What's your vote- naughty or nice?
I guess he wasn't too bad this year. Thanks Dad for the grill, equipped with a bottle opener to Eric's excitement. Oh the things that make men happy…
If you follow me on Instagram, you might have seen teddy got a few gifts too. I just love this pup. Too stinkin' cute, huh?
It was a fun Christmas at home with family. We know we are blessed with more love that we deserve, and there's only One we can thank for that! Merry Christmas all year long!
PS- Strata would be fantastic on New Year's Day too!