I've always hated carrots.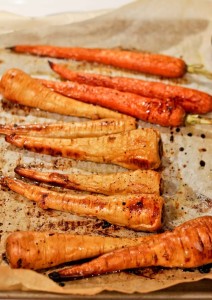 But the tables are turning. Hey, it's a new year anyway!
Yes, this is yet another roasted vegetable "recipe". Maybe my obsession with roasting centers around the fact that it's new to me? I didn't grow up eating roasted vegetables, we usually had canned or steamed veg with dinner.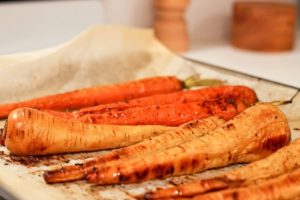 I'm experiencing vegetables in a whole new way now. Roasting adds an exciting element and brings out the complex flavors of food, especially vegetables! It's like an tasty explosion of flavor!
Give roasting a try!

Wondering, are you a fan of the carrot? If so, how do you eat them?

Honey Roasted Carrots and Parsnips
serves 4-6
1/2 pound of carrots,
1/2 pound of parsnips
1 tablespoon olive oil
1 tablespoon butter, melted
drizzle of honey
sprinkle of cinnamon
pinch of kosher salt
Preheat oven to 425 degrees. Line rimmed baking sheet with parchment paper and place vegetables on pan. Drizzle oil, butter, honey, and cinnamon over vegetables and massage with hands to coat. Bake 15-20 minutes until carrots and parsnips are tender and caramelized. Sprinkle with salt and serve!