Happy Friday! Today I'm here with a recap of sorts highlighting some of my favorite moments from our beach trip last week. We spent 5 days and 4 nights at Eric's family's beach house in Indian Rocks Beach, Florida. The house has been in their family for over 50+ years and one of the few "historic" houses left with beach front as most have been turned into high rises or mansions.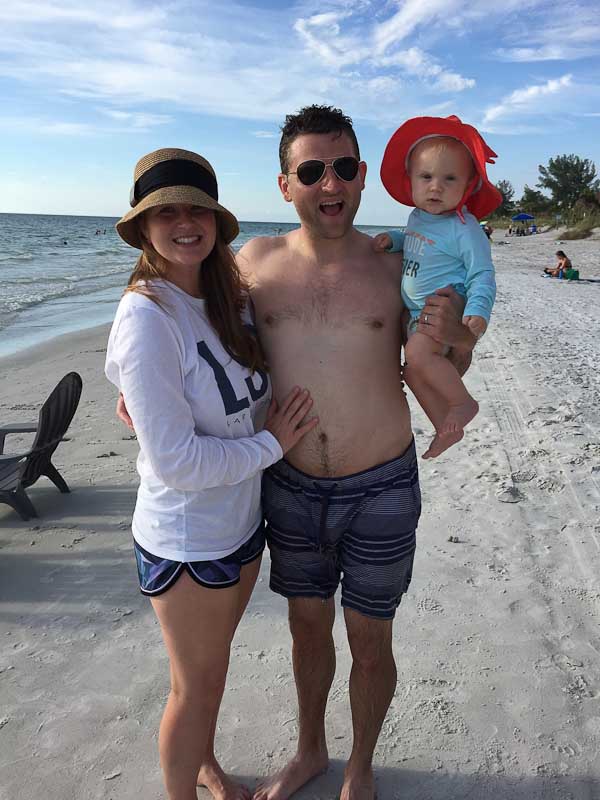 We visit every year with his family but this year we stayed a bit longer than we usually do. Vacation hasn't always been a big priority for us but this year we are embracing it in an effort to slow down, disconnect, and live more fully. While it wasn't particularly "restful"… because my 9 month old doesn't sleep. It was definitely nice to get our of our usual routine and live the beach life with the whole big fam– all 14 of us.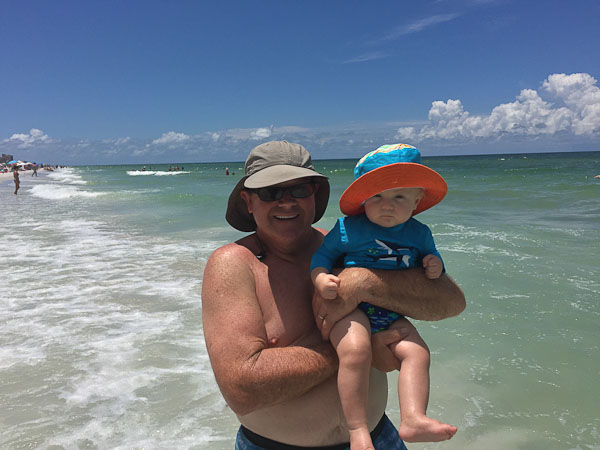 My parents visited for the day. The beach house is about 2 hours from Orlando and maybe an hour 15 from our parents' houses (we're from the same home town); so they came over to spend the day with us Parker. Let's be real, they love that little boy of ours. It was really nice to have both grandparents with Parker on his first trip to the beach.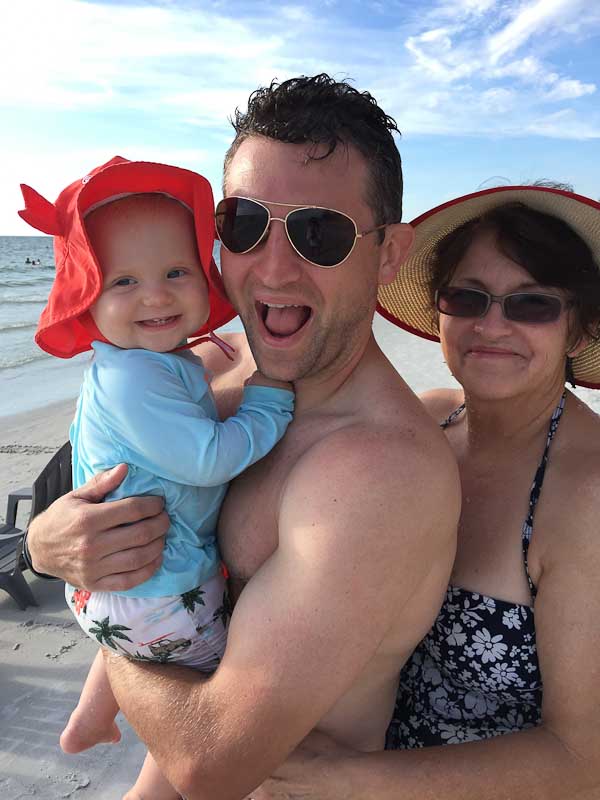 Parker, Eric and Kiki (Eric's mama)… Dada is always the funniest.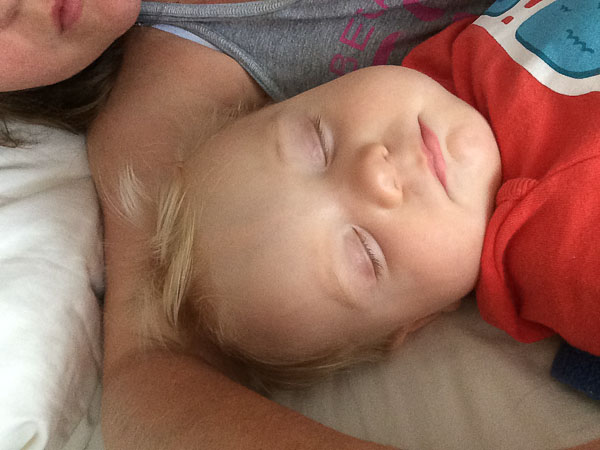 Sleepy walks on the beach. I know, I said my baby doesn't sleep. Well he does under certain conditions, if he's moving– i.e., stroller, car rides, and while you're rocking him in your arms. He fell asleep literally every time we took a walk, it was the sweetest thing ever. Priceless moments.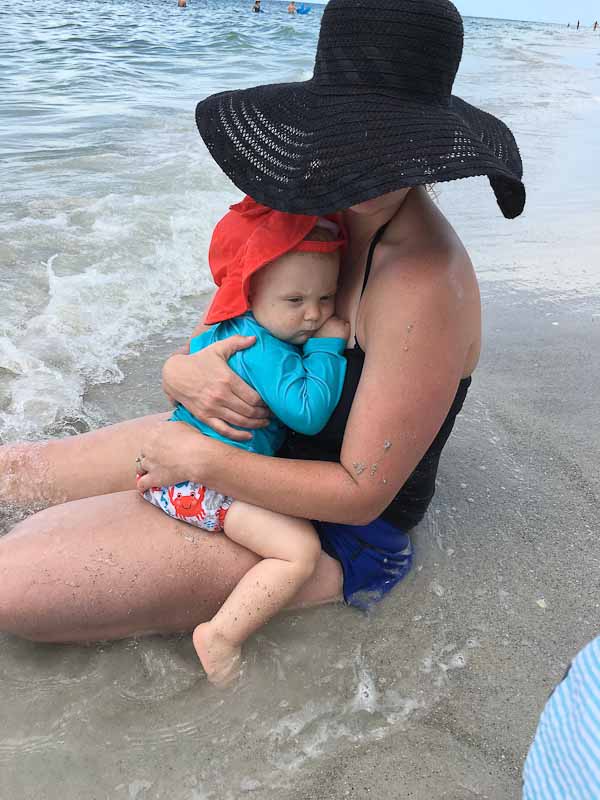 Soothing waves. The waves truly soothed this little boy of ours. After a little play time in the sand, he wanted to snuggle. We sat on the shoreline and he snuggled me for over two hours, while the waves crashed on us. Ahhh, I want to remember this moment forever.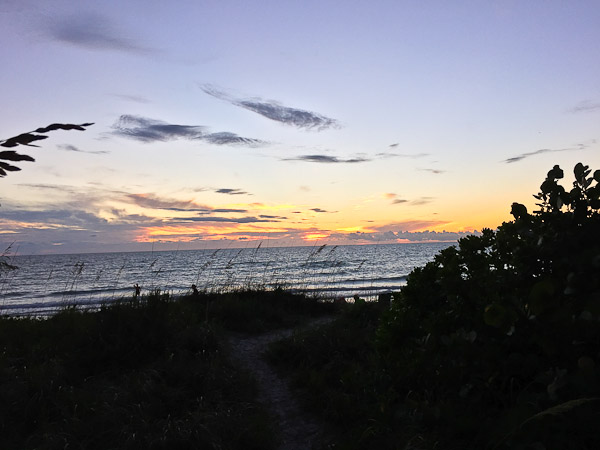 Sunsets. While we didn't get to "enjoy" the sunset like the olden days because the sun sets so late in the summer months (8:30pmish), Parker was ready to be done for the day and was often sleeping napping.
Pina Coladas. For realz these are the bomb dot com. I'm bummed I don't have a good picture of them, but I didn't have my phone with me most of the time (since I was trying to unplug and all). So I'm living with what Eric captured. But this recipe is a LaRue favorite, and Eric is the king of the blender. The secret ingredient is pineapple sherbet mixed with coco lopez, frozen pineapple, pineapple juice, coconut rum and ice. Ya'll can we go back to the beach and drink pina coladas?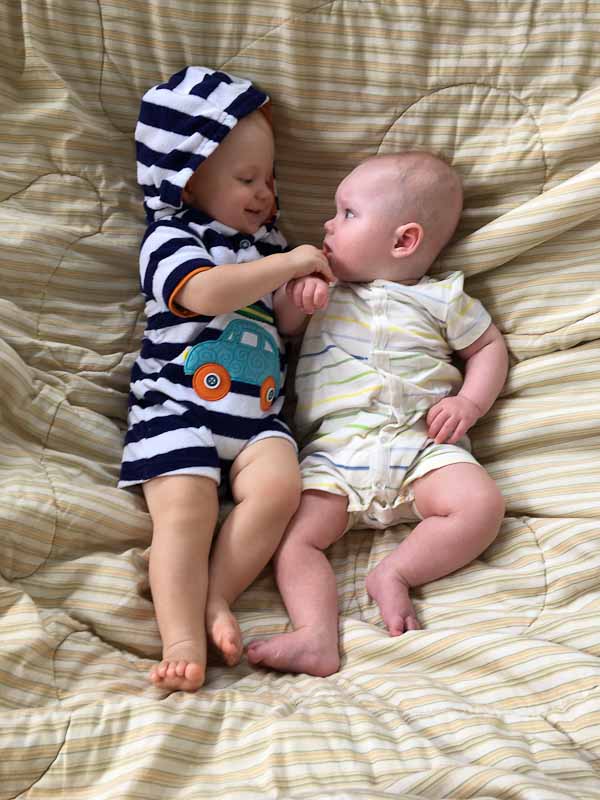 Cousin love. Eric's sis's and I all had baby BOYS last year within 6 months of each other. On this trip we had an 8, 9, and 14 month old babies and a 4 year old. Parker LOVES playing with his cousins and all of their fun toys, and laughing with his oldest cousin Jack Henry. He loves bigger kids. We don't get to see Sarah and baby Joseph (8 months) very often since they live in South Carolina.
Lots of beach weekend fun was had!
Hi I'm Kristina LaRue, RD (registered dietitian nutritionist), Peloton addict and mama to two active and hungry boys. On Love & Zest, you'll find healthy-ish recipes that fuel the whole family. I'm all about veggie-filled breakfast, meal prep recipes, healthier sweets, and easy weeknight dinners made in the Instant Pot or sheet pan.
Did you make one of my recipes?? Leave a review in the comments and tag @loveandzest #loveandzest on Instagram!
If you're a modern mama– I'd love for you to join my Facebook group A Modern Motherhood Collective!