Here's a look into my weekly dinner time eats and fitness, I started this Eats and Fitness in Review series last week to share what we are eating during the week and my fitness efforts. Also to answer some questions from last week about my portions. I'm eating based off hunger and fullness, it's intuitive. Some nights I have more of an appetite than others so I just listen to my body by eating when I'm satisfied and stopping when I'm full. To read more about this style of eating, check out my blog post on MyFitnessPal– The Simple Tool That Can Help Prevent Overeating.
Sunday: Sheet Pan Chicken and Veggies.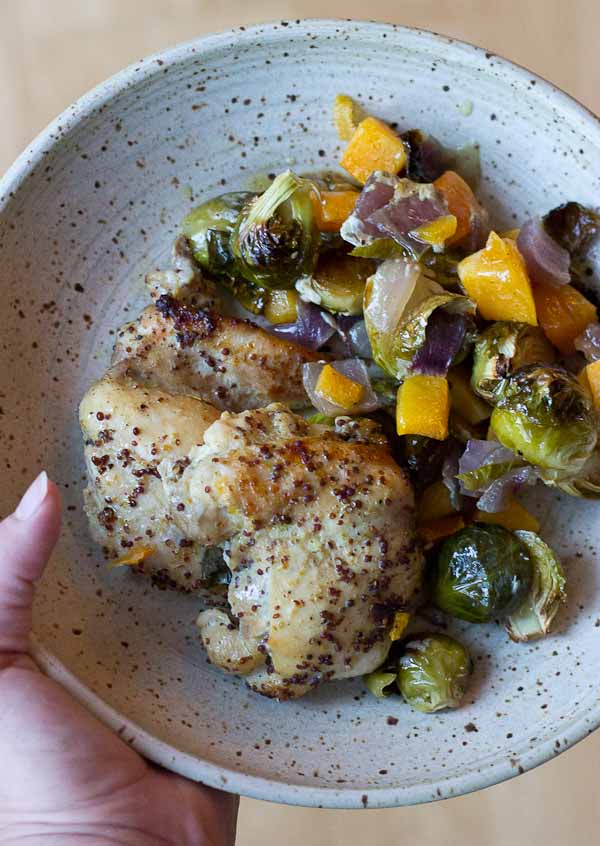 Last week was a struggle with our sleep schedule after our vacation and he finally decided to go down around 7:30pm, which is his usual routine. Eric and I ended up taking dinner outside on the patio to enjoy some fresh air and baby free time. This dinner was perfect and the best part is there's only one pan to clean up!! Get ready for this recipe this week!
Monday: Roasted Spaghetti Squash and Marinara Meat Sauce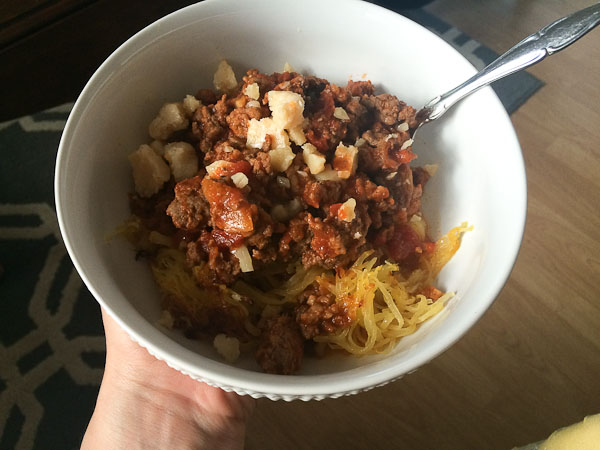 The key to a good spaghetti squash is
roasting
! Isn't that the key to all delicious veggies? I added onions and lots of mushrooms to this meat sauce for extra veg.
For fitness I met with my friend Ashley who had a baby boy eight weeks ago!! We drop the babies off at the Y kid care took a body pump class together.
Tuesday: Taco Tuesdays
I love being a stay at home and work from home mama but sometimes it really wears me down. We did lots of errands this morning and by the afternoon Parker was just extremely fussy so we went out for a LONG walk. He's always so happy outside and often falls asleep right away. I was really sore from Boot Camp the day before so was great to just be out and about at the end of a tiring day.
Eric was hangry on his way home from work so he picked up dinner for us at Tijuana Flats. I was out on my walk with Parker and he didn't want to wait for me to get home to cook. The struggle is real. Not sure where this picture went…sometimes my phone is dead and I take pics on Eric's iPad or phone. Oh well, y'all know what Taco Tuesdayz looks like.
Wednesday: Pulled Pork Sandwich and Fried Okra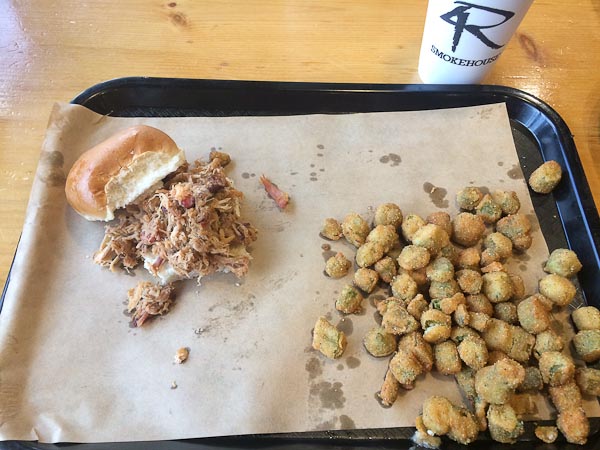 After Eric got off work, we packed up and headed to the Y. I took a boot camp class and he lifted weights while Parker played in the kids care center.
Post workout we hit up
4Rivers Smokehouse
and I got the kid's pulled pork sandwich with fried okra. Parker had a big appetite and ate some mashed sweet potatoes and baked beans. It was so good, and as you can see, Parker wanted more!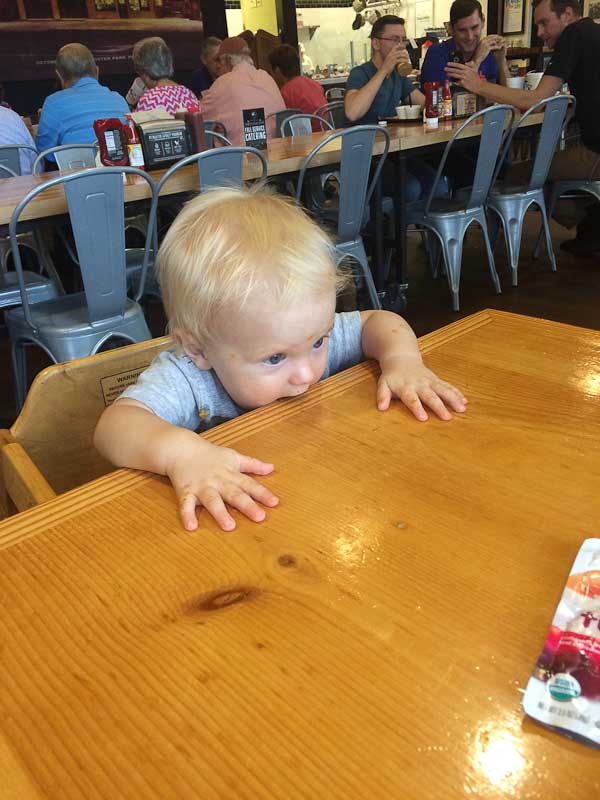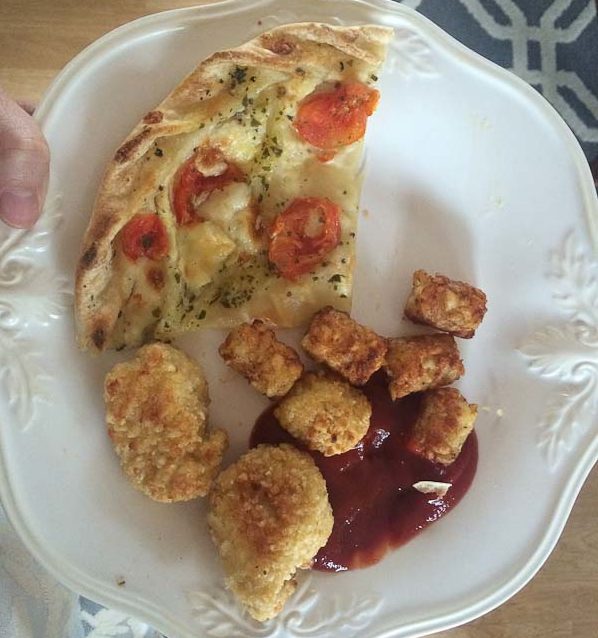 I totally ate like a kid this week. Sometimes nights are a challenge at our house so I like to keep frozen food on hand for those nights when we just don't feel like cooking. I get all of these at Trader Joe's.
Eric and I went on a long walk after dinner!
Friday: Salmon, Roasted Potatoes, and Asparagus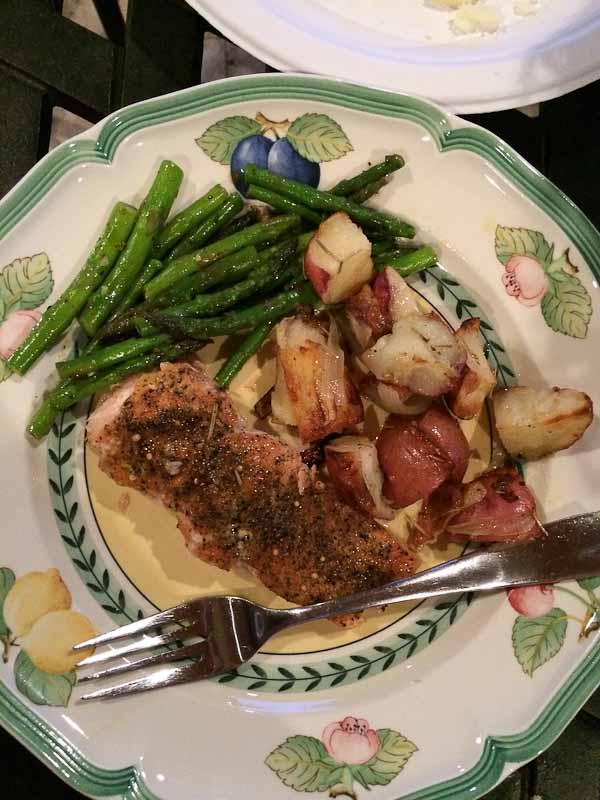 Friday night we went home to stay at my parents's house because we had two showers to attend. My brother and my brother in law are getting married within a month of each other so it's wedding season in our family with lots of festivities. My mom cooked dinner for all of us which was nice to have a home cooked meal after our last few days of eating.
Saturday: Sweet Potato
On Saturday morning, my BFF Ali and I went to her gym, Habitat for to get a little sweat on. It was a HIIT workout with lots of jumping and running! I'm sore today!
My future sis-in-law had a wedding shower late afternoon so I munched on some party appetizers and by the time I got home I was so exhausted. My mom cooked grilled chicken, sweet potatoes, and green beans but I was so zoned out, full from the shower and ready for an early bed. I ate a sweet potato and headed up for bed.
Hi I'm Kristina LaRue, RD (registered dietitian nutritionist), Peloton addict and mama to two active and hungry boys. On Love & Zest, you'll find healthy-ish recipes that fuel the whole family. I'm all about veggie-filled breakfast, meal prep recipes, healthier sweets, and easy weeknight dinners made in the Instant Pot or sheet pan.
Did you make one of my recipes?? Leave a review in the comments and tag @loveandzest #loveandzest on Instagram!
If you're a modern mama– I'd love for you to join my Facebook group A Modern Motherhood Collective!