Pizza night is a hit around here! We usually have friends over to share in the pizza making fun. Everyone brings their favorite ingredient, and we end up with some one of a kind pies! What makes the pizza so delicious is homemade dough. It only takes a few minutes to whip up the dough at home, and it will save money too!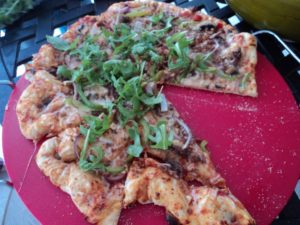 Making pizza dough at home is so simple, you only need 4 ingredients–flour, yeast, water, and salt! It makes a crispy crust on the outside and is soft on the inside.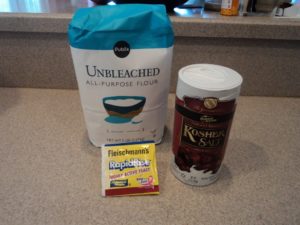 Homemade Pizza Dough
(Makes 4 1-lb loaves)
3 cups warm water (100 degrees F)
1 1/2 tablespoons active dry yeast
1 1/2 tablespoons course kosher or sea salt
6 1/2 cups all purpose flour, unbleached and unsifted
cornmeal (for dusting baking pan)
To make the dough I use a Kitchen Aid mixer with the dough hook attachment. Although I have never tried it, this dough does not require a mixer and can be made in a big bowl with a wooden spoon.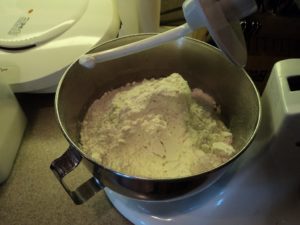 Heat water to 100 degrees F (This temp is needed to activate the yeast, but not kill it). Combine yeast and kosher salt in mixing bowl. When the water is to the right temp, add it to the yeast and salt, and stir until combined. Add all of the flour to the mix and begin to stir until incorporated. A sticky dough will begin to form.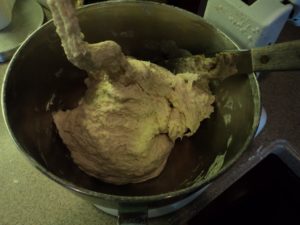 The next step is to allow the dough to rest. Cover the dough loosely and place it on the counter for about 2 hours. After it has risen, refrigerate the dough for a few hours. It is easier to work with if it's cold before you shape it.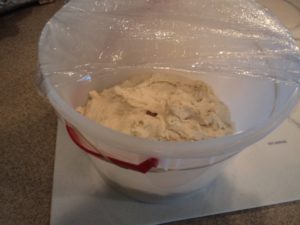 Prepare pizza stone or baking sheet by sprinkling it liberally with cornmeal. This keeps the dough from sticking and gives it a crispier crust.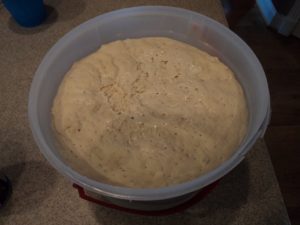 Sprinkle top of dough with flour and using a serrated knife cut out a chunk of dough (grapefruit sized), and shape it by wrapping the sides of the dough and tucking it underneath to make a uniform dough. Let it rest for 40ish minutes before baking.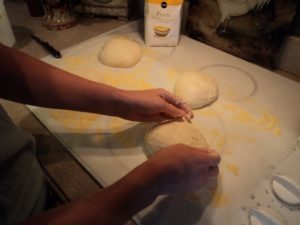 Preheat oven to 450 degrees with a baking stone on the middle rack (if not using a baking stone just preheat the oven).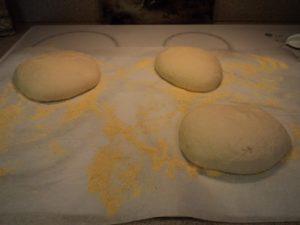 Roll dough to desired thickness and place on a prepared baking sheet/stone. Distribute your favorite toppings over the pizza. Careful not to overload with sauce or ingredients, trust me less is more in this case.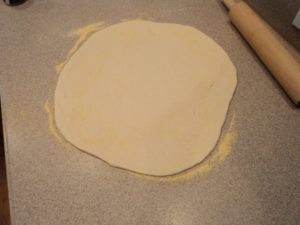 My favorite toppings: marinara sauce, fresh garlic, italian seasonings, mozzarella cheese, italian sausage, green bell pepper, onion, mushrooms, arugula (topped after baking). Enjoy the fresh bread.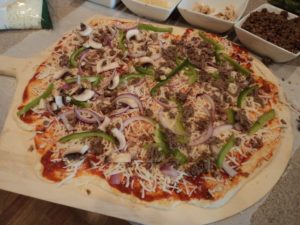 PS. My favorite secret about this dough–> Since this recipe makes 4 loaves, I freeze the rest for a quick weeknight meal. After the loaves have been shaped into the round balls, place them on baking sheet lined with parchment paper and pop them into the freezer. After the dough is frozen, put them into a freezer bag, and they are good to go! Enjoy guys!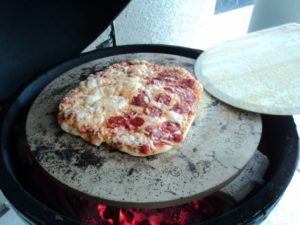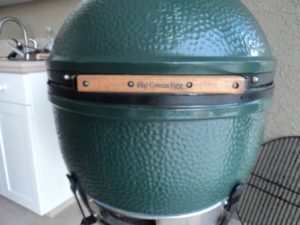 Try them on the grill! Dad's Big Green Egg makes the best pizzas! Yum!
Hi I'm Kristina LaRue, RD (registered dietitian nutritionist), Peloton addict and mama to two active and hungry boys. On Love & Zest, you'll find healthy-ish recipes that fuel the whole family. I'm all about veggie-filled breakfast, meal prep recipes, healthier sweets, and easy weeknight dinners made in the Instant Pot or sheet pan.
Did you make one of my recipes?? Leave a review in the comments and tag @loveandzest #loveandzest on Instagram!
If you're a modern mama– I'd love for you to join my Facebook group A Modern Motherhood Collective!