What lights your fire? How do you get motivated? How do you keep the momentum?
Many of the people I work with are excited when they are talking with me about revamping their diet, and they are just so antsy to get started. And then,
Life happens.
I totally understand the difficulties of keeping a healthy lifestyle. With our crazy jam packed schedule, it can be really tough to tread above water, much less cook a healthy dinner and exercise consistently.
We can have all the knowledge about what we need to do to to reach our goals, but that only gets us so far.
We must be realistic.
As much as I want to be a morning exerciser. This time in my life, I am just not. I do really good with coming home from work and strapping on my running shoes, and that is okay!
My husband does really good when he doesn't come home from work first, but he takes his workout clothes with him and we meet for a run. And that is awesome!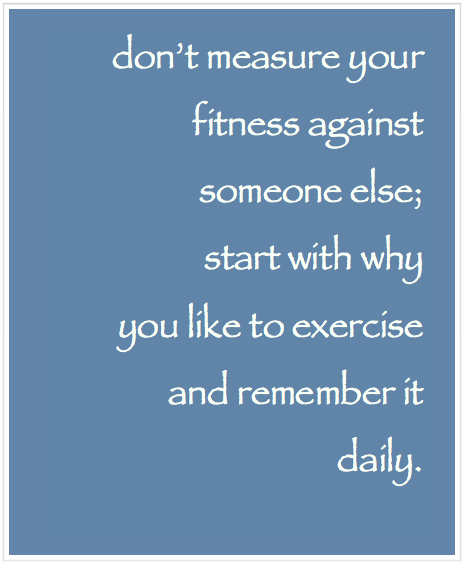 We must find out what works for us. Everyone is different, and we shouldn't beat ourselves up about it. I know it's frustrating. I can say I have tried really hard to get up in the morning to workout, and the days I do it, I feel amazing and tell myself I should do that every morning, but that is unrealistic and just sets me up for failure which then leads to feeling guilty.
Who cares. I don't care if elitist runners, think I'm lazy for running after work because they 'seize the day' and get their routine done in the morning. Has anyone else felt like this before, or am I ranting? I actually enjoy running when the sun is shining instead of running in the darkness of the morning.
I recently read this article about consistency in exercise. It asks questions to help you determine what exercise routine would be best for you. Check it out!
The things that I answered yes to are:
1. Love to connect with nature
2. Solitude is something I seek
3. I like mornings, but truly love to read and sip my coffee
4. Meditative time is important to me
5. Do I like to challenge myself? Sometimes… we've discussed this already.
6. I have moderate amount of control over my schedule.
After answering these questions I can totally see why running outside in the daylight is key to my workout success. It's a space for me to think and be free. It keeps me going and excited about lacing up my shoes.
Nature is BIG for me, and I think that is why I've always dreaded pool workouts, but really like the open water swims in a triathlon. We now have an outdoor pool in our neighborhood so I'm excited to give that a try once the weather warms up.

I really am interested because it seems that people really struggle with finding the right routine for them. Please share, how do you stay consistent with your exercise routine? What type of exerciser are you? What motivates you?

PS- check out my guest blog "So you want to be a Nutritionist" on A Nutritionist Eats!
Hi I'm Kristina LaRue, RD (registered dietitian nutritionist), Peloton addict and mama to two active and hungry boys. On Love & Zest, you'll find healthy-ish recipes that fuel the whole family. I'm all about veggie-filled breakfast, meal prep recipes, healthier sweets, and easy weeknight dinners made in the Instant Pot or sheet pan.
Did you make one of my recipes?? Leave a review in the comments and tag @loveandzest #loveandzest on Instagram!
If you're a modern mama– I'd love for you to join my Facebook group A Modern Motherhood Collective!