Thanks to everyone for the great feedback and encouragement on my latest article on MyFitnessPal, How Mindful Eating Can Help You Lose Weight + 5 Tips to Get Started. If you missed it check it out with that link.
One of my very first TV apperances was on this topic of eating "too clean". When I was looking back at my notes on this topic I can't believe it's been nearly 2 years!! Boy does time fly. I thought I'd do a little coffee date today and answer Q&As on when eating clean is taken too far. So go grab a cup of coffee or make one of these Coffee Lover's Protein Shakes.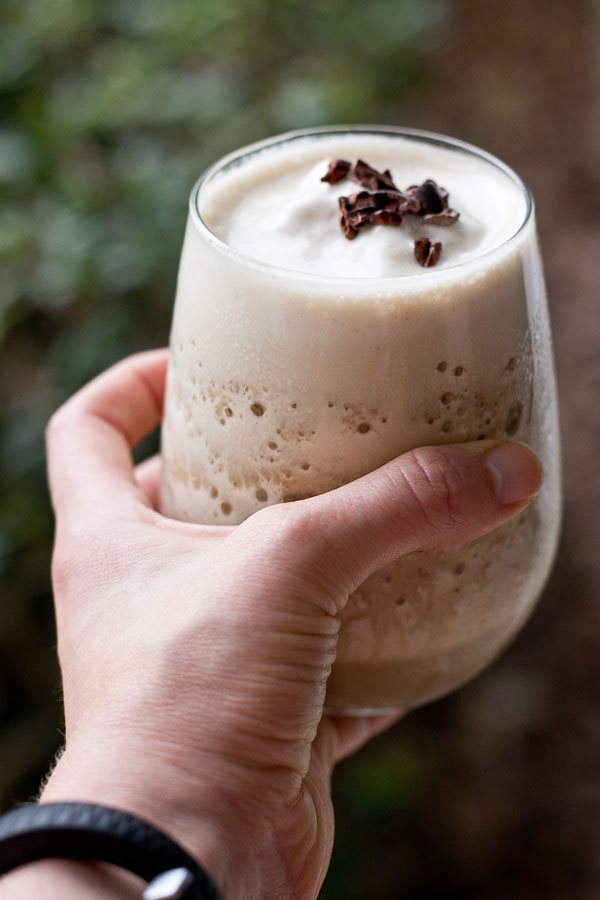 The point at which eating clean and pure interferes with normal living and socializing it's given the term "orthorexia". I'm going to sort through what I think about this new trend that we are seeing in this post.
What is orthorexia?
To put it simply, orthorexia is an obsession with eating healthy foods. People that fall into this category can often go under the radar because they may be of a normal weight or even over weight. The behaviors are often idolized by friends and family, which feeds the obsession.
Why is it on the rise?
In today's world people are saturated with messages of eating healthy. They are constantly reminded that they should be eating healthy whether magazines, billboard, Facebook, twitter– it's everywhere. And I don't think that's a bad thing, but it causes some people form an unhealthy relationship with food and their body.
I think people are also fearful of becoming overweight because of the stigma that it can create, and this leads to an obsession with only eating healthy foods.
Is it possible to be "too healthy"?
Low carb, high protein, gluten free, ketogenic, vegetarian, and vegan. What is eating healthy? There are an exhausting amount of opinions out there on the way that we should eat and it's easy to fall into the trap of beginning to fear food in general and more restrictive eating. People that are following these diet trends to clean up their diet do not think that it's a problem, because it's all in the name of health.
Eating healthy is important (whatever your definition is), but a key part of that equation is balance. When eating healthy becomes an obsession and takes over your life, it can lead to problems—socially and nutritionally.
What are some signs of orthorexia?
–       eliminating entire food groups
–       tracking for life, obsession with fats, carbs, fiber, protein
–       social isolation- avoiding restaurants that are deemed unhealthy
–       Fad diets- raw food, juicing, keto, paleo, eliminating food groups
Who are the people that are most at risk for developing the disorder?
Truly, no one is immune from developing this obsession. The two groups that we see most probably, middle-aged women and men and college students. The reason I think we are seeing it in these populations because as the become more health focused with exercise, maybe a little overweight or want to "lean up" they begin to restrict and "eat really clean", and sometimes too clean.
How do you treat orthorexia?
I would encourage someone that is struggling with this problem to talk with a dietitian specializing in eating disorders who can give them healthy options without harming your body, and often a therapist as these issues are emotionally charged.
As a dietitian, we work to normalize all foods, no food is good or bad. It's okay to allowing yourself to have a cupcake or slice of pizza; we help to dispel the myths with the science of nutrition.
Question: Do you think it's possible to eat too healthy, and when does it cross the line in your book? Also, is there another topic that you'd like me to discuss in Q&A format on the blog?
Hi I'm Kristina LaRue, RD (registered dietitian nutritionist), Peloton addict and mama to two active and hungry boys. On Love & Zest, you'll find healthy-ish recipes that fuel the whole family. I'm all about veggie-filled breakfast, meal prep recipes, healthier sweets, and easy weeknight dinners made in the Instant Pot or sheet pan.
Did you make one of my recipes?? Leave a review in the comments and tag @loveandzest #loveandzest on Instagram!
If you're a modern mama– I'd love for you to join my Facebook group A Modern Motherhood Collective!