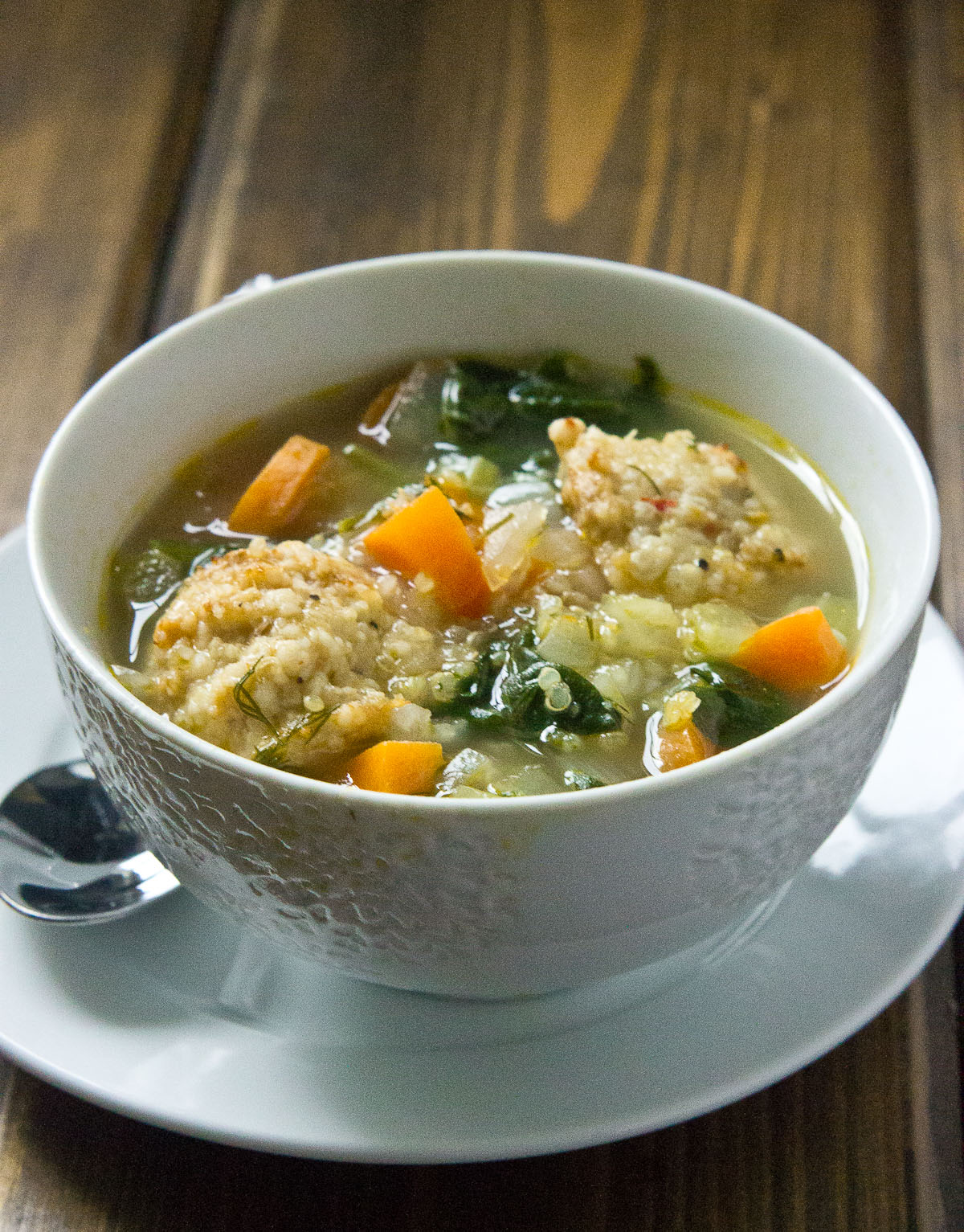 We are on a streak. An eating at home streak. Eric and I like the convenience of eating out a few times a week but to be honest it's frustrating when we do a budget review because it adds up so flipping quickly. We aren't giving up our Saturday morning breakfast dates, that's for sure but just trying to trim back a bit and I'm pleased that it's working.
I planned our menu this week with a few recipes from Ina Garten's "Barefoot Contessa Back to Basics". This Italian Wedding Soup stood out to me because I was in the mood for a lighter summery soup and I wanted to make popovers like my friend Jackie.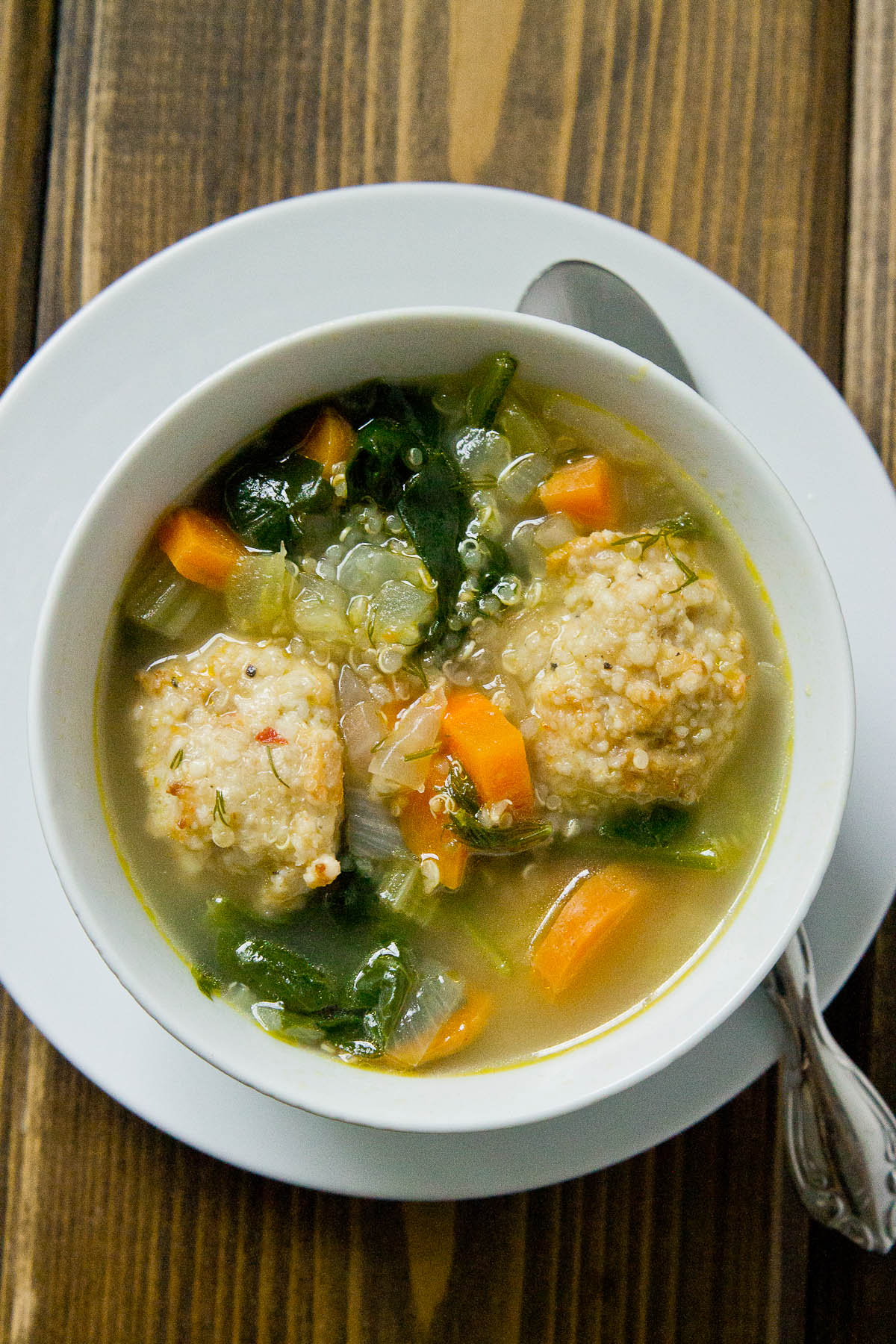 These recipes are new to me, and I felt like stepping outside my comfort zone in the kitchen and try something new. It's adventurous and fun!
Meatballs have been a staple in our home since I started meal prep. All types of meatballs, and so yummy that we eat them before I have time to snap an image. One day, I promise. This week's serving of meatballs are super moist in this Italian Wedding Soup.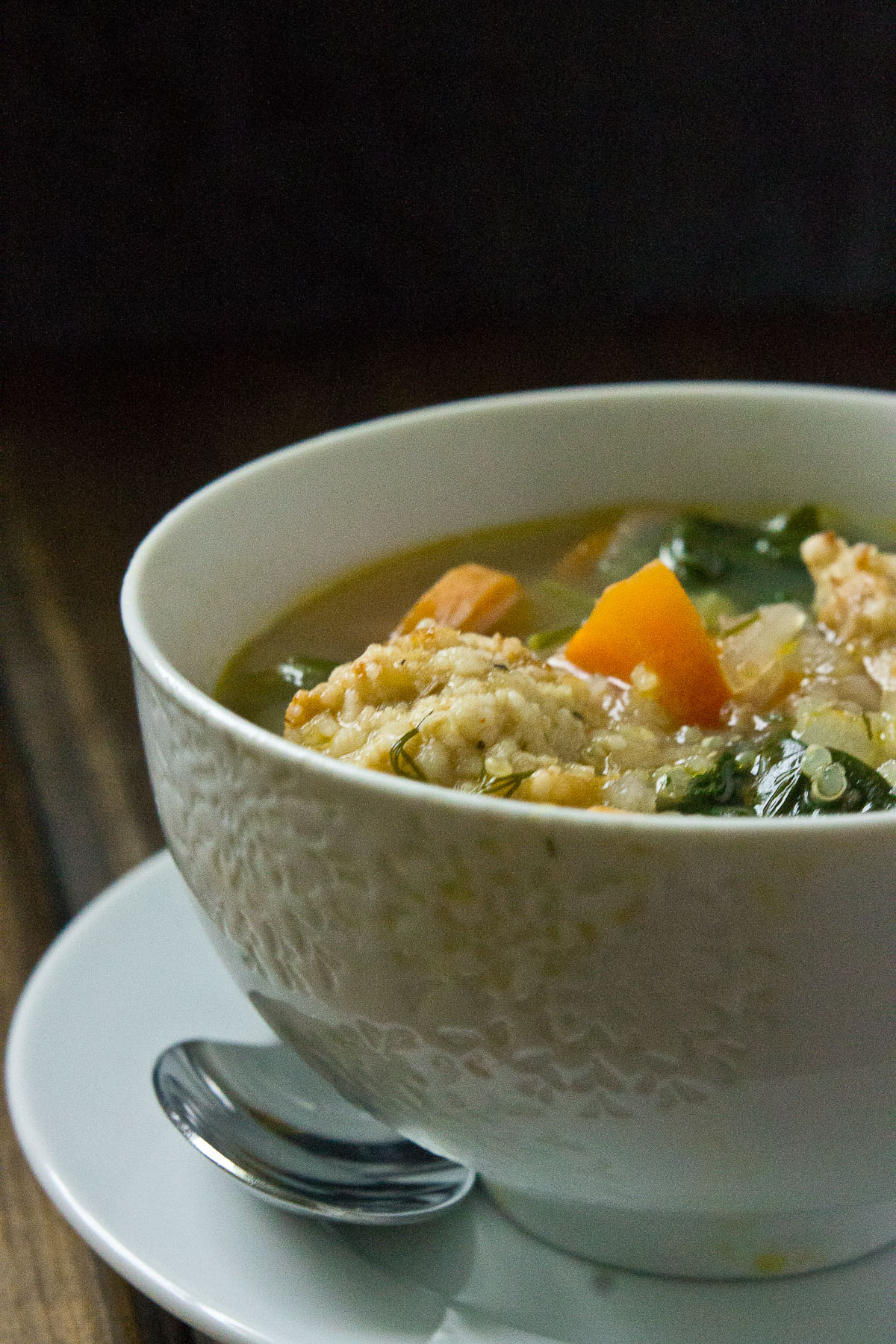 I adapted Ina's recipe to include quinoa for a gluten free whole grain and more common ingredients that I have on hand. It makes a lot for us so I froze half of the recipe for a later week. My freezer is starting to fill up with foods that I've prepped! Success!

Italian Wedding Soup with Quinoa
Italian Wedding Soup made with quinoa and packed with kale. Perfect for a weeknight or quick lunch.
Author:
Kristina LaRue adapted from Barfoot Contessa Back to Basics
Ingredients
FOR THE MEATBALLS
¾ pound ground chicken breast
½ pound hot italian chicken sausage, casings removed
⅔ cup breadcrumbs
2 teaspoons minced garlic
3 tablespoons chopped parsley
½ cup freshly grated parmesan cheese
3 tablespoons milk
1 large egg
sea salt and freshly ground pepper
FOR THE SOUP
1 tablespoon olive oil
1 cup diced yellow onion
1 cup diced carrots
¼ cup diced celery
64 ounces chicken stock
1 cup white wine
½ cup uncooked quinoa
¼ cup fresh dill
12 ounces baby spinach
Instructions
Preheat oven to 350 degrees F; line baking sheet with parchment paper.
Place all ingredients for meatballs in a bowl and mix together with a fork just until combined.
Using a cooking scoop or spoon, form meatballs onto a sheet pan lined with parchment paper. (It makes about 30 meatballs).
Bake for 30 minutes, until cooked through and lightly browned. Set aside.
In a large soup pot, heat olive oil over medium heat.
Add onion, carrots, and celery to pan and sauté until softened.
Add chicken stock and wine to pot and bring to a boil.
Add quinoa to the boiling broth and cook for about 10-15 minutes until tender.
Add the fresh dill, meatballs, and spinach to soup and simmer for 1 minute.
Season with salt and pepper.
Nutrition Information
Serving size:
⅛ recipe
Calories:
269
Fat:
11g
Saturated fat:
4g
Carbohydrates:
22g
Sugar:
4g
Sodium:
528mg
Fiber:
3g
Protein:
22g
Cholesterol:
81mg