Goodbye Bar Exam! We have made it through… it's been a tough couple of months with Eric studying 24/7. We don't get the official results until September 18th. (This is the room he took his exam in… #intimidating)
So we took a little vacation.
I met Eric in Tampa around dinnertime so we stopped at P.F. Changs; then headed over to the beach house in Indian Rocks.
When we got to the beach house it was really hot because the AC was broken. We knew this going into the trip but figured it wouldn't be too bad with all the fans we had.
So we dropped off our stuff and headed to the grocery store to stock the kitchen. We made sure to load up on waters. It was one HOT night without air flow.
We had a fun morning grabbing donuts and coffee from Lighthouse and walking the beach. Highlight of our walk: 20+ parrot spotting. They were so beautiful. There were lots of other birds around too which were totally fun to look at. So different from Orlando.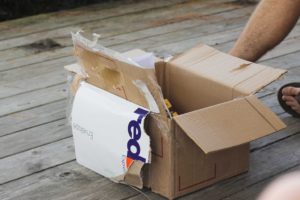 We came up for a snack and found this box. E's boss sent such a thoughtful gift of goodies.
Btw, if you haven't tried this hummus flavor. Go get some.
After a night spent in the heat, neither of us wanted to spend a second in the kitchen cooking. So we had a fresh summer salad with grilled chicken and a side of Naan.
After dinner we looked at each other, and we both knew what the other was thinking. Neither of us wanted to sleep in the heat. We quickly packed up and headed to our parents house which is half the distance to Orlando. I know, sad to leave the beach, but being comfortable was more important to us. And we got in some good family time which really helped Eric to relax.
I'm excited about this new adventure. Eric is back to work and our lives are more "normal" than they've ever been. I've got my husband back!