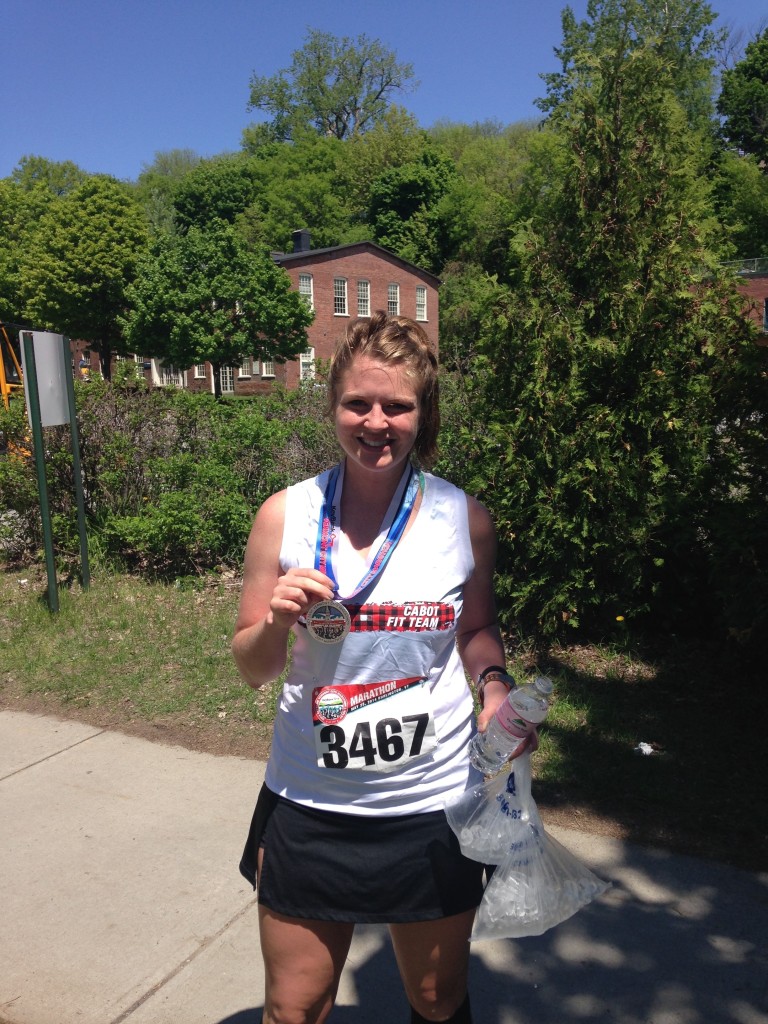 First off, I'll be the first to admit I'm not very good at training for a marathon. The marathon requires some serious dedication. By nature, I'm a weekender. There is nothing more that I'd rather do on a Saturday morning than to wake up causally and pop over to the Farmer's market with Eric and enjoy a cup of coffee. So when I was invited to be a part of the CabotFit team this year to run the Keybank Vermont City marathon (my 3rd and his 2nd) we decided to do our long runs on Sunday.
Well, that worked for the first few weeks until we went out of town for the weekend or something came up to where we couldn't do a long run in the morning so we'd have to go out in the afternoon, and it's downright near impossible for me to crank out 15+ miles in the Florida heat and humidity.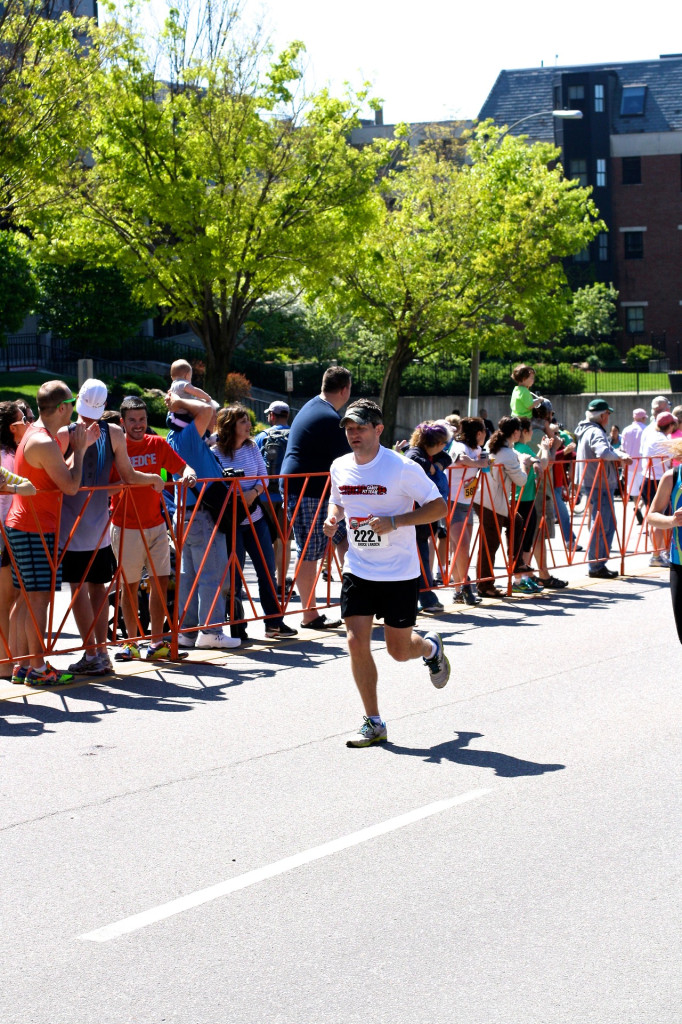 Initially, I set a goal to do this marathon in 4:30, albeit my past finish times were about an hour more than this I thought I could do it based off my track workouts and half marathon finishes. While I do know that I can run at that pace as I did for the first 18 miles of the race… I just didn't put in the training miles to keep it up.
About two weeks before race day I woke up from my sleep in a deep panic about the impeding marathon. "What am I doing? I was only able to make it to 14 miles during training!" And the doubts creeped in… "I'm not ready for this race" and "Is it safe for me to do this race?"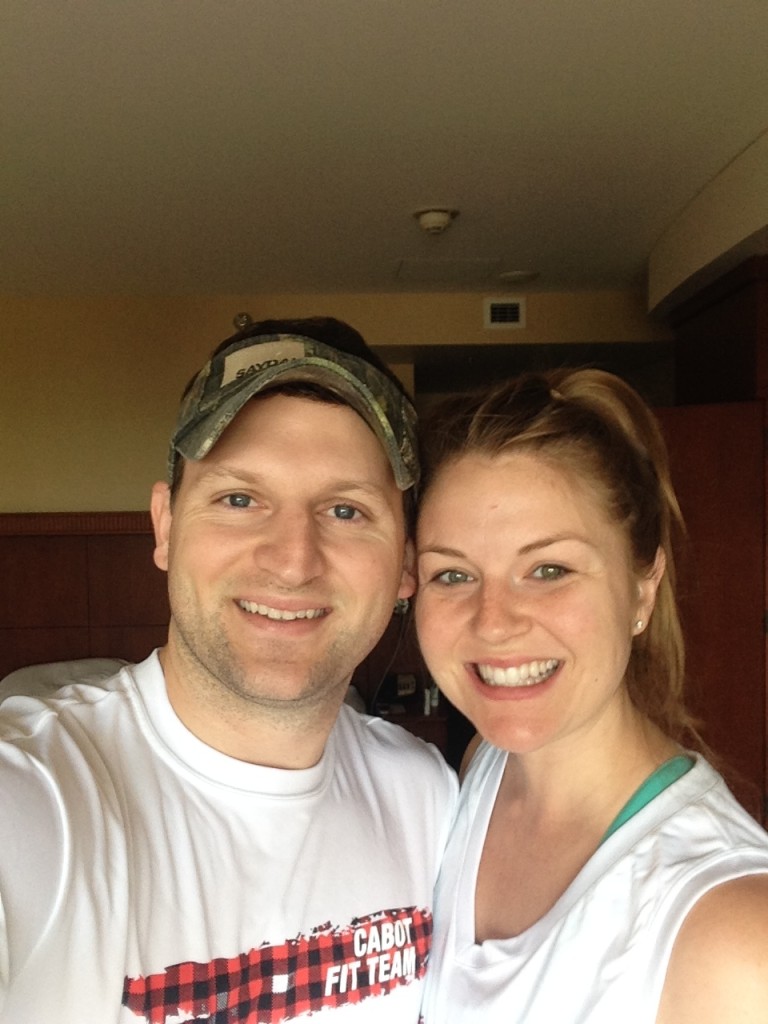 I've mentioned before that CrossFit has really given me a new perspective on marathoning. I really enjoy running, causally without structure and I like the balance of lifting weights. During this whole process of training for this marathon, I learned that I like the idea of running a marathon but I loath the training and pressure. I hate the word stress, but marathoning stresses me out.
I felt like I had a lot pushing against me, the anxiety and doubts, ankle soreness, fever and daily headaches leading up to marathon day. Needless to say the time goals were tossed by the wayside and I just wanted to cross that finish line. Deep down I knew I could finish the race, and that it was all about perserverance. I just needed to listen to my body.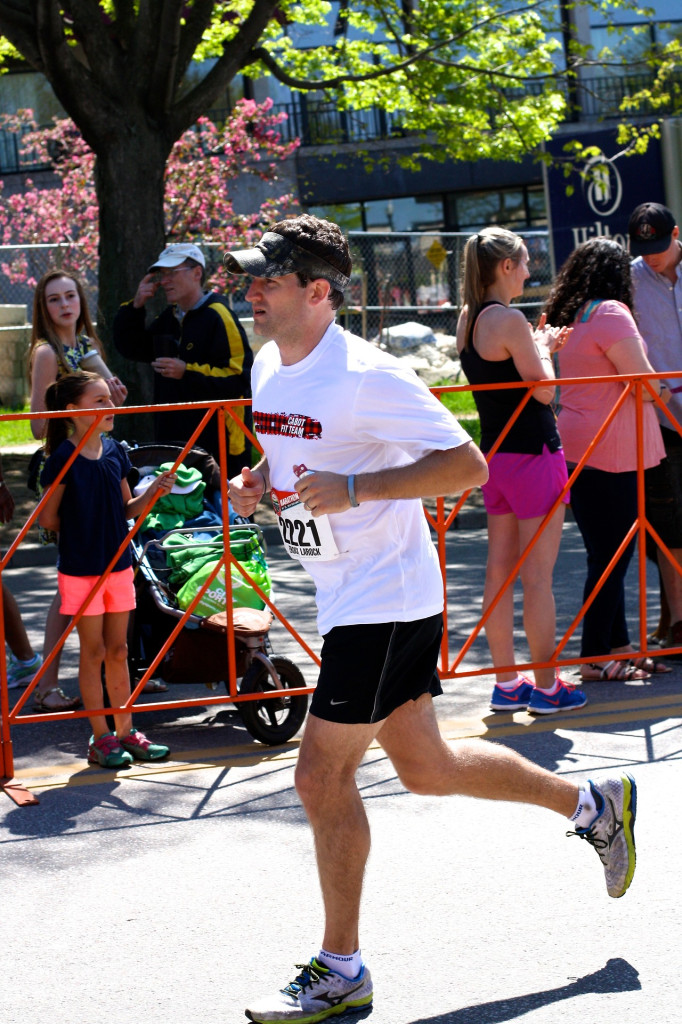 So I bought new shoes and compression socks, got an extra massage before the race, and chocked down a packet of The Right Stuff (a high electrolyte and zero sugar sports drink)… I don't know if I'll ever get use to the taste but I knew I needed to try to gain whatever competitive edge I could get. I was banking on a cooler race start on my side since my training was in the heat. My race day nutrition included oatmeal with blueberries + The Right Stuff, I drank 1-2 Gatorades at each water stop and took 1 gel and 1/2 a bar over the course of the race.
Finishing this marathon was a HUGE feat for me. The race was super hot (for a marathon) and hilly, and my legs were so not trained for that type of terrain. The crowd support and scenery were amazing and breathtaking (or maybe that was the mileage?). I knew I needed to start out slow in the beginning, especially because I didn't know how long my legs were going to take me and if they were going to cramp up after mile 13 like they did during training. After mile 10.5, my body was saying to take a walk break so I listened. I loved it, and continued to take 60 seconds walk breaks every mile and began to stop at the water stops instead of running through. At the end of the race I learned that Eric also took walk breaks after mile 22 (in case you were curious).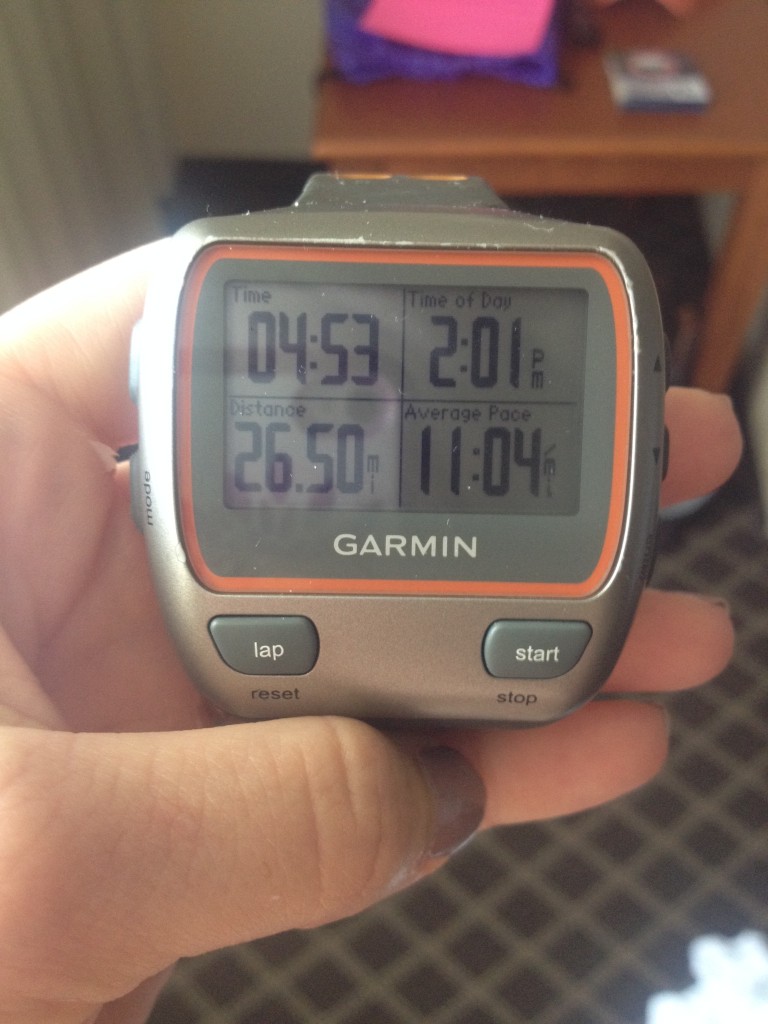 I finished with over a 30 minute PR and broke 5 hours with a finish time of 4:53!! Eric also PR'd by 25 minutes with a finish time of 4:30. I am so proud of how we persevered and pushed through despite the obstacles that we faced during training.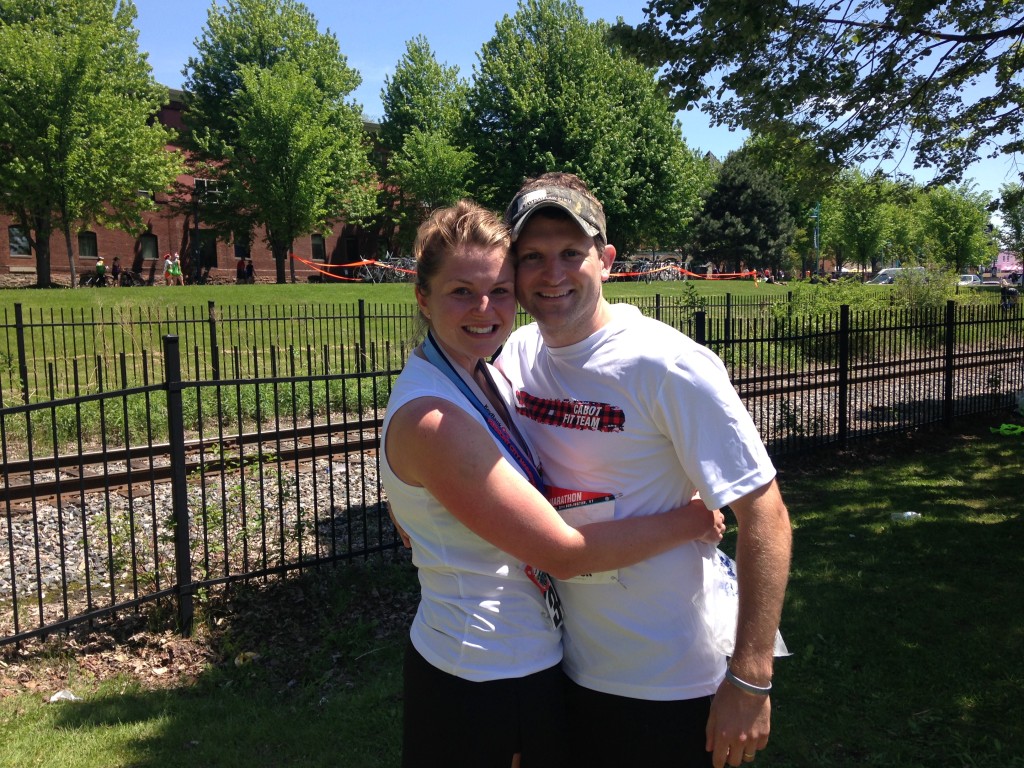 I don't know if or when I'll do another marathon, but all I know is that I'm currently relishing in "life after marathon training". I know I'll do at least a couple half marathons before the year is up because I love that distance and I really want to enjoy this time of running without the pressure of logging major miles on the weekend while continuing to give balance to my fitness routine with CrossFit.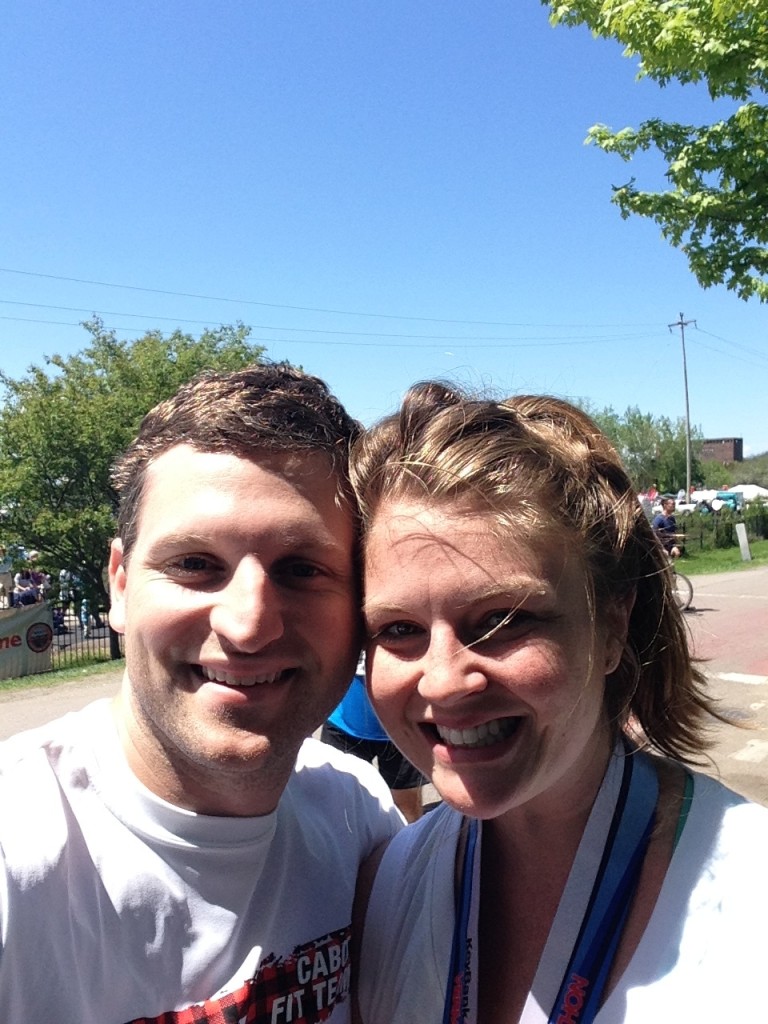 I feel immensely blessed to be able to run this marathon with the Cabot Fit Team and without all of their cheering and support, the miles would have been so much tougher. I've always said, nothing worth achieving comes easy and the marathon embodies that assumption. Despite the difficulties that I had leading up to the race, The Vermont City Marathon is in the books as one of the best race experiences I've ever had. 

Also, another thanks to Regan Jones for taking these pics of Eric on the course!
Hi I'm Kristina LaRue, RD (registered dietitian nutritionist), Peloton addict and mama to two active and hungry boys. On Love & Zest, you'll find healthy-ish recipes that fuel the whole family. I'm all about veggie-filled breakfast, meal prep recipes, healthier sweets, and easy weeknight dinners made in the Instant Pot or sheet pan.
Did you make one of my recipes?? Leave a review in the comments and tag @loveandzest #loveandzest on Instagram!
If you're a modern mama– I'd love for you to join my Facebook group A Modern Motherhood Collective!