If you need a solid and easy nighttime skincare routine, check out some of my favorite natural skincare products and what order to use them in.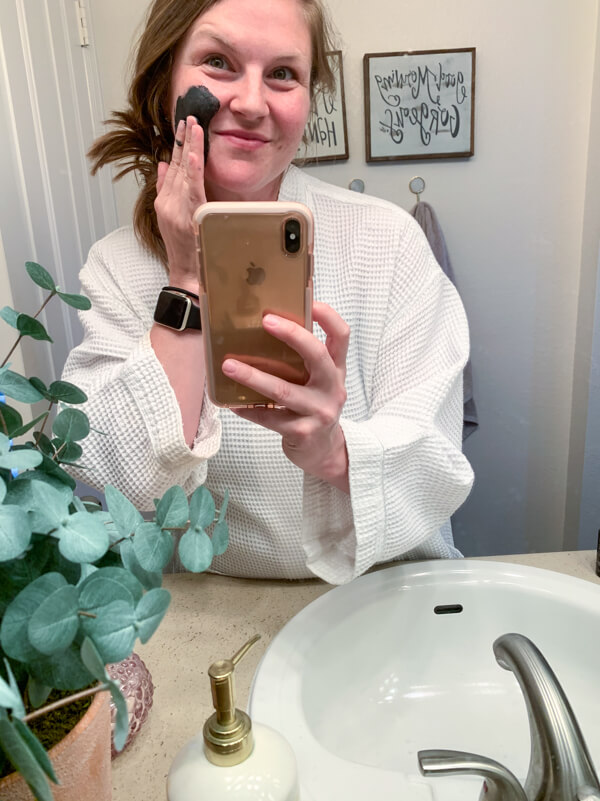 Nighttime routines. Often when moms think of night time routines, we instantly think bath, bottle, book and bed right? And while I'm all about that kid bedtime routine so that I can be off mom duty, lately I've been thinking more about Me, Myself and I.
Mama.
How can I take better care of my skin, fitness routine, mental health, and hormone balance. Hello… breastfeeding or pregnant for 4 years straight… and haven't slept much. So you know, that's a recipe for everything to be a little crazy and off.
Ya'll know I'm not a beauty blogger, but I'm all about experimenting with different natural skincare products and when I share them on Instagram, everyone is interested so I figured I'd put it in blog post form to share here too.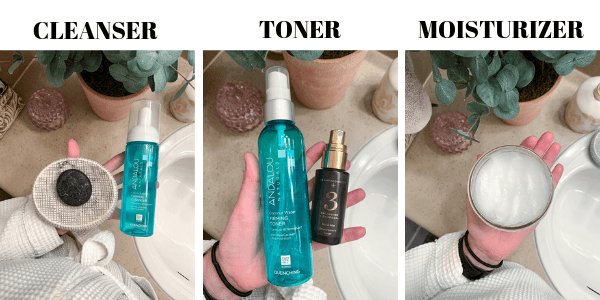 Nighttime Skincare Routine in 3 easy steps!
I use the word routine loosely because I honestly don't do this every single night, because sometimes I'm lazy. But most nights, here's my easy 3 step process. This 3 step process is basic and can be used by anyone that wants to streamline their nighttime routine and up their skin game.
Cleanser.
Before I start this step, if I have any makeup on my face, I'll often use coconut oil on a cotton ball to remove any mascara or eyeliner. Then I will gently wet my face with lukewarm water (not cold not hot) and then use my cleanser and work it into my skin gently in circle motions as to gently exfoliate, removing any makeup or sunscreen that I put on that morning. I'll also cleanse my neck during this process. If I get the luxury of showering at night (#momlife) I will sometimes do this step in the shower.
Then I will wash off the cleanser with lukewarm water again. I gently blot the sides of my face with a towel after cleansing, but overall leave my skin somewhat damp, just not dripping. I learned recently from @DrDrey, a dermatologist/YouTuber shoe has lots helpful well-researched info videos on skincare that it's best not to to use hot or super cold water or towel dry the face because they can both be very drying and dehydrating to the skin so to keep the skin nice and hydrated it's best not to use extremes temps or too much towel drying. Interesting, right?
Toner.
Then I apply my toner. And no I'm not talking about those astringent pads we all used in high school. This step is actually something that I caught on to within the past year or so and it's amazing. When you go for a mist or spray toner you will see why! It really perks up the skin and gets it ready for moisturizer. Toners apparently help to reset the skin PH and shrink pore size. I think if feels amazing and feels like it kinda gives life back after cleansing.
Moistuizer.
Then I will apply my moisturizer. And I put on a lot, all over my face and neck. I just love me some lotion. If you like serums, like me I apply this right after my toner and before the moisturizer step.
Natural Skincare Products for PM
Now for my favorite natural skincare products that I use at night? Girls, I do change it up a bit. I get free products here and there, or likely I will leave something at home on a trip and have to pick up products at Trader Joes or Whole Foods… so ya know, I get around. But I'm excited to share with you some of my favorite natural skincare products that are tried and true.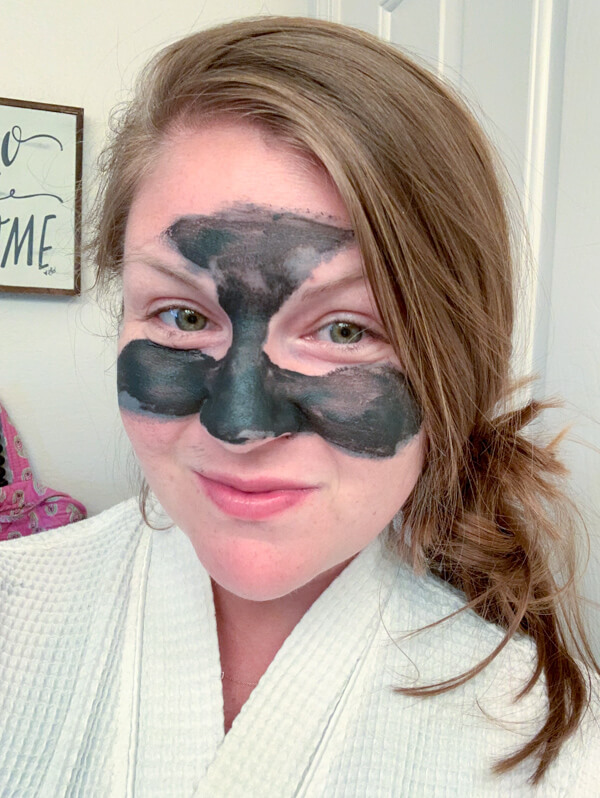 Also, a little about my skin. I have combination skin, so I get oily in the t-zone and dry on forehead and sides of face. I don't tend to get breakouts but more prone to blackheads in the t-zone. Also, I live in hot and humid Florida so while I have to take extra care from the sun other than that the humid climate does help with keeping skin more moist. (Or at least this is my experience when I travel I see how dry my skin is in more dry climates). Saying all this because products that work for me might not work for everyone.
Also, I do use some Beauty Counter products– no I'm not a sales rep or get any commissions on any products I'm sharing in this post I just wanted to share what I used with you in an honest way. You probably know someone that sells beauty counter but if not I'm happy to share my friends contact that keeps me stocked.
Natural Cleansers.
I cleanse my face with Beautycounter Charcoal bar or Andalou Naturals Coconut Water Firming Cleanser. About once a week (er couple times a month), I'll use the Beauty Counter Charcoal mask in my t-zone to help with blackheads. 2-3 times a week I will use a cleanser with gentle exfoliate because of my blackhead prone skin. I've heard that for blackheads it's good to use a 2% salicylic acid wash– and if you have a good one I'd love to know.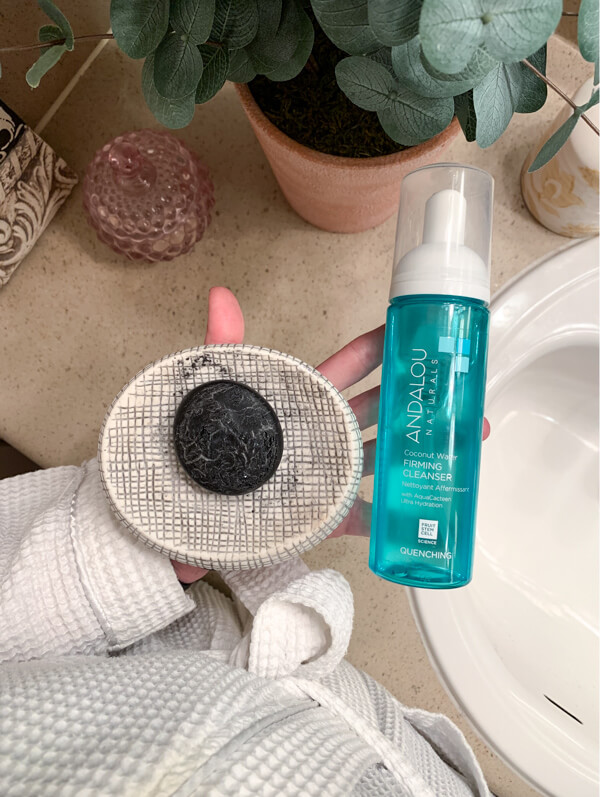 Natural Toners.
Then I use Andalou Naturals Coconut Water Toner. I love the smell of this, and I may or may not have convinced the hubs to use this after shaving 🙂 It feels so good. I will also use this balancing charcoal toner from Beautycounter 🙂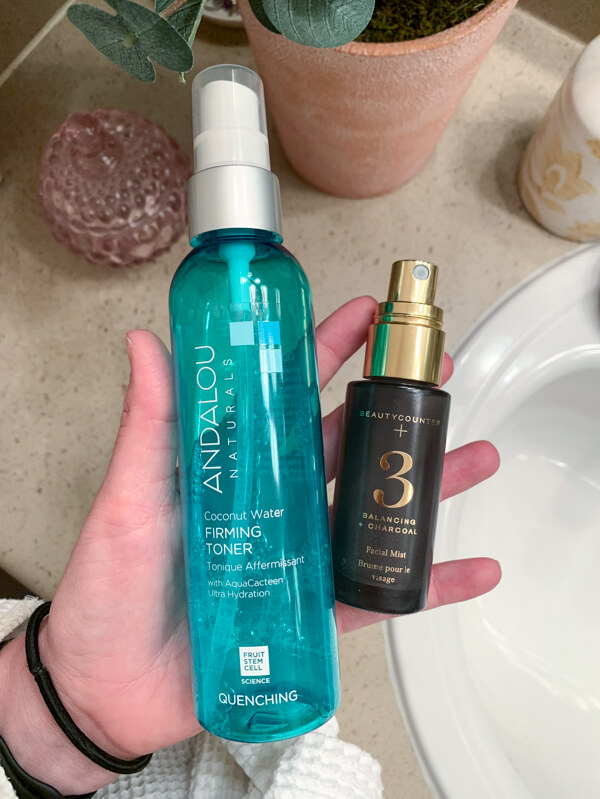 Natural Moisturizers.
I pretty much use coconut oil here, ahh my nighttime skin loves me some coconut oil. I know it doesn't work for everyone but I put coconut oil all over my skin at night and it works well for me. I love to use the Beautycounter Balancing Face Serum. I am currently out of this and missing it! I do love this product, but it is a little expensive so it's a treat and I'll apply this serum right before the coconut oil.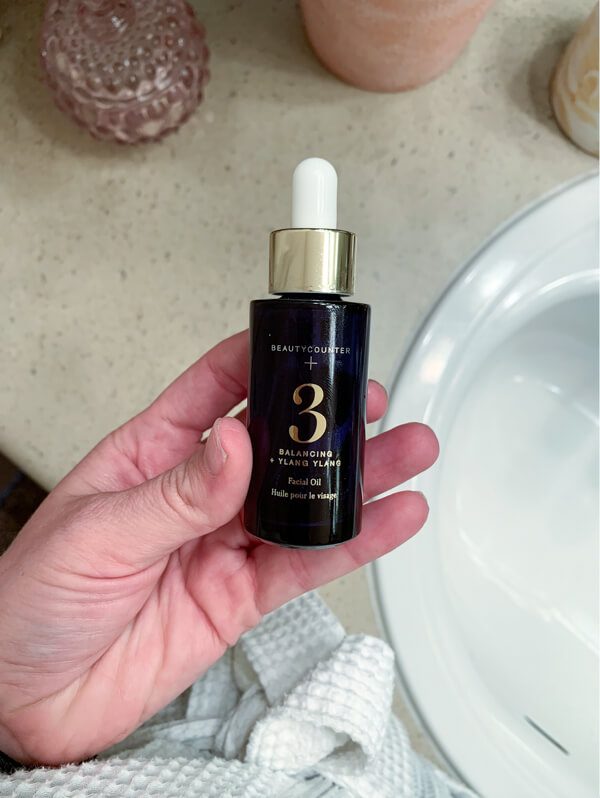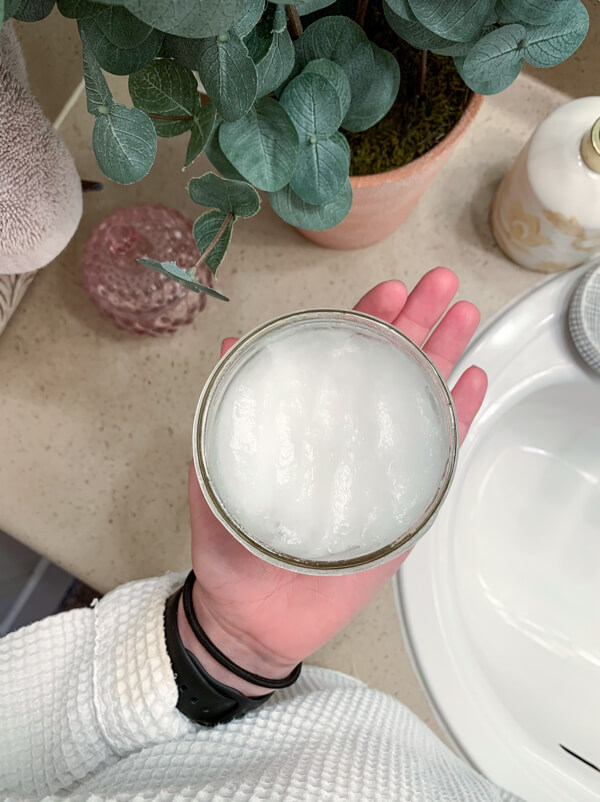 And one more thing, this post was the last in our blogger collaboration series so be sure to check out my friends posts too for more beauty routines for the PM.
Well, that's about it folks. I'd love to hear what you think and if you have any favorite natural skincare products or a nighttime skincare routine– drop them in the comments below.
Hi I'm Kristina LaRue, RD (registered dietitian nutritionist), Peloton addict and mama to two active and hungry boys. On Love & Zest, you'll find healthy-ish recipes that fuel the whole family. I'm all about veggie-filled breakfast, meal prep recipes, healthier sweets, and easy weeknight dinners made in the Instant Pot or sheet pan.
Did you make one of my recipes?? Leave a review in the comments and tag @loveandzest #loveandzest on Instagram!
If you're a modern mama– I'd love for you to join my Facebook group A Modern Motherhood Collective!