The last of summer is upon us, and you know I'm ready for fall. But I saw the most beautiful okra at the Farmer's Market a few weekends ago. It was pretty early in the morning and we were still planning on walking around a bit so I marveled at their green beauty and said I would come back later.


What do you know… when we got back around to the stand, they were gone! I vowed I'd be there first thing the following weekend to scoop some up. And so I did.
I needed an okra fix, extra crispy please. I've grown up eating okra, fried of course. What do you expect I was raised in the "South".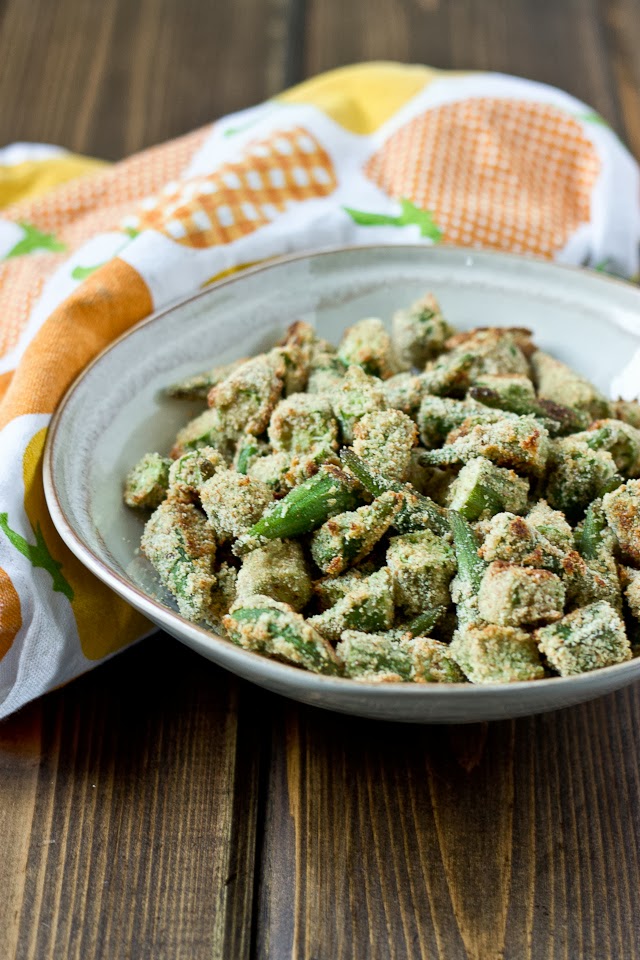 Florida isn't the deep south, but the town I grew up was without a doubt country. When I say country, I mean "cuuun-tree", you've gotta hold the vowels. Well, my mom was raised in Alabama so I guess that makes me half-southern.
The truth is vegetables were not common place unless they were fried or canned. I really don't think I really knew how fresh vegetables tasted until I got married and started getting a more adventurous with cooking.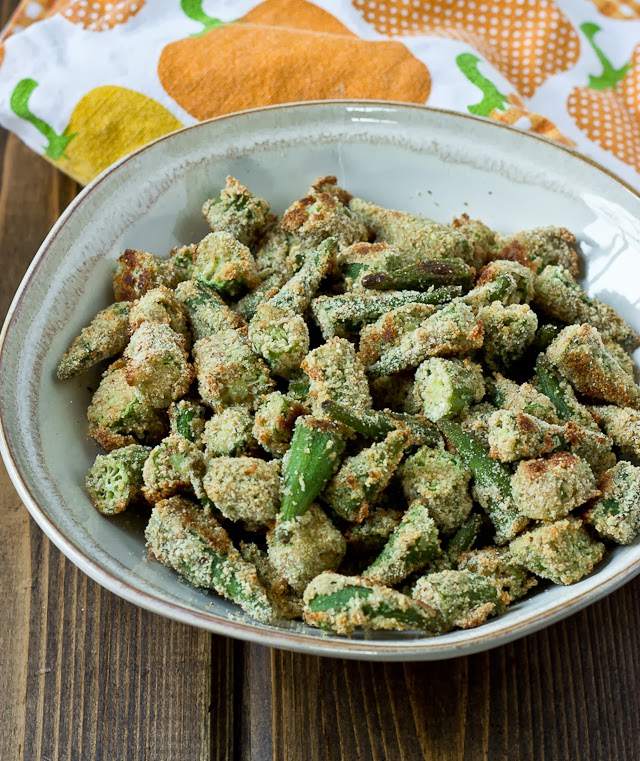 Let's be honest, I don't know many people that are going to gnaw on okra like an apple. That sounds pretty gross. But okra lightly breaded and oven "fried", now that's more like it! A healthy southern side dish. Savor the last taste summer with me and serve oven "fried" okra this weekend.
Do you like fried okra? Are your current eating habits different from those of your childhood?
Oven 'Fried' Okra
serves 4
4 cups diced fresh okra
1/2 cup whole grain breadcrumbs
1/4 teaspoon garlic powder
1/8 teaspoon kosher salt
1/8 teaspoon freshly ground pepper
1 egg
Preheat oven to 375 degrees F. In medium bowl, whisk bread crumbs, garlic, salt and pepper together. In separate medium bowl, whisk egg. Toss okra with egg to lightly coat. Then, gently toss okra in breadcrumbs mixture to coat. Spray
rimmed baking sheet
with cooking spray. Spread okra onto baking sheet and spray tops with cooking spray. Bake for 15 minutes until crispy. Serve immediately.
Nutrition Facts per serving
: 90 calories, 1.5g fat, 0g saturated fat, 45mg cholesterol, 95mg sodium, 15g total carbohyd
rate, 4g dietary fiber, 2g sugar, 5g protein, 8% vitamin A, 35% vitamin C, 8% calcium, 8% iron
Hi I'm Kristina LaRue, RD (registered dietitian nutritionist), Peloton addict and mama to two active and hungry boys. On Love & Zest, you'll find healthy-ish recipes that fuel the whole family. I'm all about veggie-filled breakfast, meal prep recipes, healthier sweets, and easy weeknight dinners made in the Instant Pot or sheet pan.
Did you make one of my recipes?? Leave a review in the comments and tag @loveandzest #loveandzest on Instagram!
If you're a modern mama– I'd love for you to join my Facebook group A Modern Motherhood Collective!