Today I'm introducing you to a newNutrition for Runners Program written by my friend and fellow dietitian Anne Mauney from fANNEtasticfood and running coach Jason Fitzgereld from StrengthRunning.com. I'm trying to think back to when I first met Anne. It was a few years ago, either at a FNCE after party or the CabotFit team when we raced Beach to Beacon together. Either way, she's become a really good RD blogger friend as we've gotten to hang out on different trips and conferences.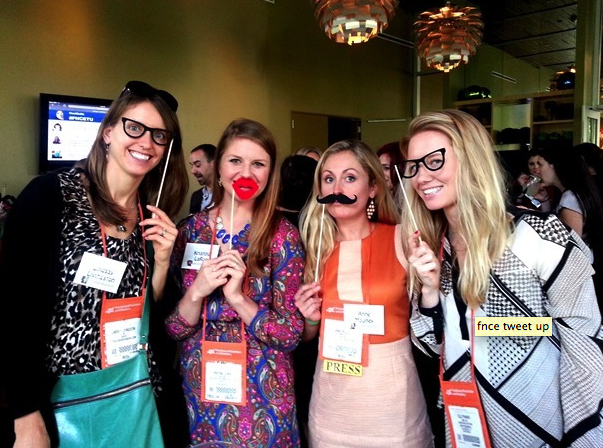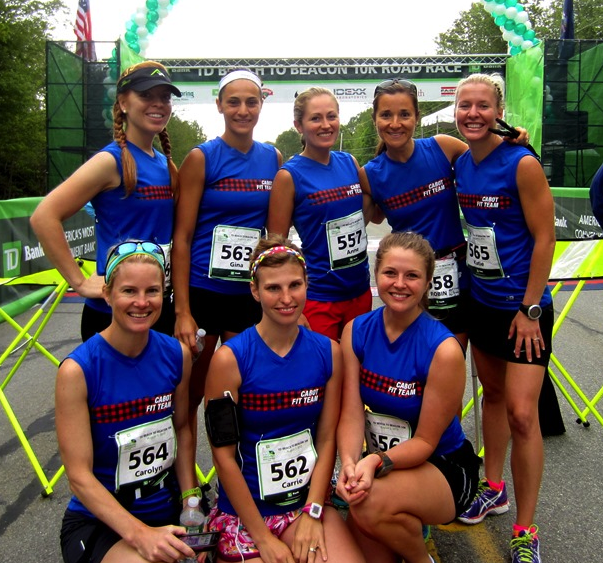 When Anne asked me to do an expert interview awhile ago for her new program/e-book, I was super excited. As part of the main Nutrition for Runners program, Anne and Jason include interviews with experts in the sports nutrition field, and I'm honored that I'm one of them!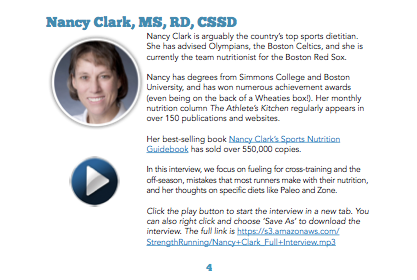 Little did I know that my interview was going to be in the line up with Nancy Clark, only the sports dietitian legend!! I remember reading her stuff in college and dreaming of one day becoming a sports dietitian. We did a Skype call with Jason and had a lot of fun talking about sports nutrition for runners, focusing on inflammation and food sensitivities. Ya'll know I'm super passionate about food sensitivities, and if you didn't or forgot, check out my blog on "why I had to change my diet", AND buy the Nutrition for Runners program to learn a bunch more.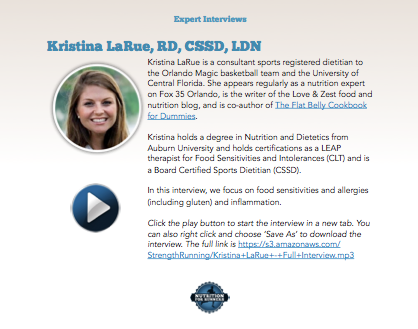 Now that Anne's Nutrition for Runners program is out, I wanted to get the DL from her and share it with you guys, so we did a little Q&A interview to give you the deets.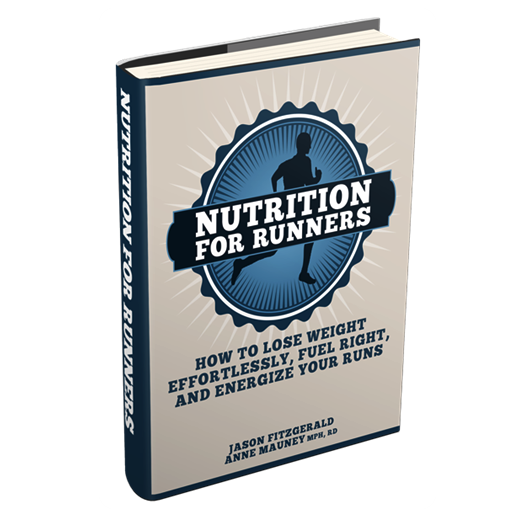 Who would benefit from buying your Nutrition for Runners program?
This is a program for runners that want to learn how to fuel their bodies for training in a simple, non-complicated, non-calorie/macro counting manner. When Jason and I were researching and starting to write the program last spring, we found that the other sports nutrition for runners resources all focused on complicated calculations and unsustainable exact planning. We wanted to offer a program that would show runners how to fuel right, lose weight safely, and energize their runs, but in a way that didn't make them crazy.
What makes this Nutrition for Runners book different?
The book is founded on the intuitive eating approach for runners, which is unusual! Often running related nutrition books are all about calculating everything, but we wanted to focus more on the intuitive eating approach because it's something you can do your whole life. Maybe counting calories for a little while will work, but in the long run it won't be sustainable. This book is not a diet for runners, it's a lifestyle. The only time we recommend counting calories is DURING runs – and only initially, until you get a general idea of your needs. Intuitive eating doesn't really work when you're 15 miles deep into a long run, and it's dangerous to underfuel!
Another thing that makes Nutrition for Runners unique is that it combines training plans and a meal guide/nutrition in one, and the meal guides are focused on what TIME of day you run. We found that runners really wanted specific advice on how to fuel (in a simple, non complicated way) based on what time of day they ran, so we wanted to make sure to include that. As for the training plans, there are training plans for every distance, as well as for weight loss. We don't recommend training for endurance AND trying to lose weight at the same time, so these plans are separate.
How does intuitive eating work for runners?
Intuitive eating is all about getting back to how we ate when we were little kids – eating when you are hungry and stopping when you are full. It has you start paying attention to your body's cues, learning what hunger and fullness feel like for you, and making sure to eat when you are just getting hungry, not waiting until you are starved. Treats are certainly allowed (and encouraged!), but you want to make sure it's a "worth it" situation – that you are having the treats/alcohol because you really want them and will enjoy them and focus on the experience, not because you are bored/stressed/in a habit/need a distraction.
What type of recipes are in the book?
The book is filled with simple recipes that aren't going to have you in the kitchen for a thousand years. You won't find weird ingredients or complicated directions. Because the book is founded on intuitive eating, you also won't find any calorie counts (except on recipes specifically meant for during exercise, as mentioned before). We also provide a ton of simple meal ideas that don't even require a recipe. The book is founded on balance at each meal, from carbs, protein and healthy fats to help with satiety, plus lots of volume from veggies.
I asked Anne her thoughts on if people say they don't like veggies (I know, shocker but I hear it ever day) and I LOVE her response.
"When people think healthy food, they often think boring grilled chicken with steamed veggies. Everyone does like healthy food, they just need to find recipes that are actually tasty!" She often recommends veggie haters to experiment by taking something that is a little heavier and replacing half the carbs with veggies so that they are getting same volume of food, and not feeling deprived. This works great with pasta! Also, try roasting veggies instead of steaming them, or adding a little extra veggies to your favorite sandwich. Healthy does not mean lacking in flavor. When you eat foods in a different way, you'll have a totally new experience with food, that can be enjoyable!!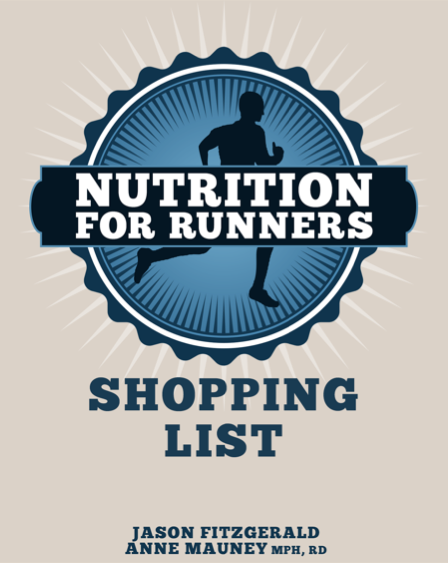 What I love about the book.
Comes with a shopping list that is filled ideas on how to use the foods + why ingredients are helpful for runners.
Teaches people how to garden instead of just giving them food — e.g. it gives people skills to develop meals for themselves. You won't find meal plans in this book, just meal guides that talk about pairing essential nutrients together based on WHEN you run.
Personalized coaching! Along with the program, there is also a limited time offer for group coaching with Anne & Jason. (NOTE: this offer expires THIS FRIDAY 2/13). These two are highly sought out for their running expertise, so I love that they are offering a coaching program.
Nutrition for Runners Options + How to Buy the Program!
This program took Anne & Jason a full year to research, write, do expert interviews, and get it ready to hit the market. I love that they have so many options for you.
($79) Lowest Tier— the main e-book complete with fueling and nutrition strategies. It's 70 pages and includes 5 principles of nutrition for runners + the shopping list + dietitian Q&A at the end of the main e-book.
($169) Middle Tier— the full Nutrition for Runners program— training plans, expert interviews, recipes and meal guides, shopping list, and of course the full e-book.
($299)Top Tier— the whole shebang + support via 4 phone calls with Jason and Anne (limited to the first 20 people that sign up, and again expiring on FRIDAY 2/13).
Buy the program & e-book –> Nutrition for Runners
NOTE: if you want to hear my expert interview on Inflammation and Food Sensitivities — buy the Middle or Top Tier options. Also, if you get the book through
this link
(or the link on my side bar), I'll get a little kick back 🙂
Thanks for reading friends.
Hi I'm Kristina LaRue, RD (registered dietitian nutritionist), Peloton addict and mama to two active and hungry boys. On Love & Zest, you'll find healthy-ish recipes that fuel the whole family. I'm all about veggie-filled breakfast, meal prep recipes, healthier sweets, and easy weeknight dinners made in the Instant Pot or sheet pan.
Did you make one of my recipes?? Leave a review in the comments and tag @loveandzest #loveandzest on Instagram!
If you're a modern mama– I'd love for you to join my Facebook group A Modern Motherhood Collective!