Last month Eric and I ran the Run for the Trees 5K. It was our first year running this local race and we had so much fun!!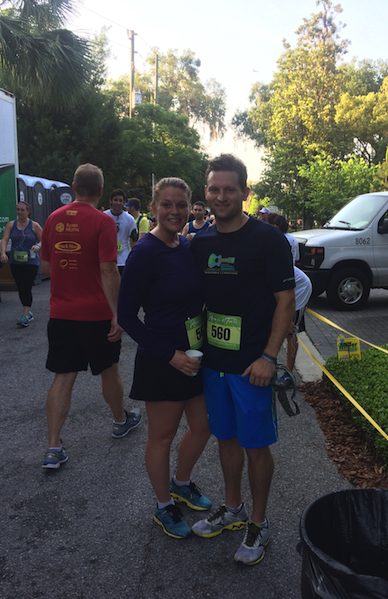 The event is put on by Track Shack and it's held in Winter Park, FL, pretty close to our new neighborhood. We didn't pick up our packets early, so we had to stop at the booth before the race to pick up our bibs. We were in a bit of a hurry to get to starting line for the 7:30AM start, but we made it in just enough time for a small local race. We don't usually like to get there too early anyway.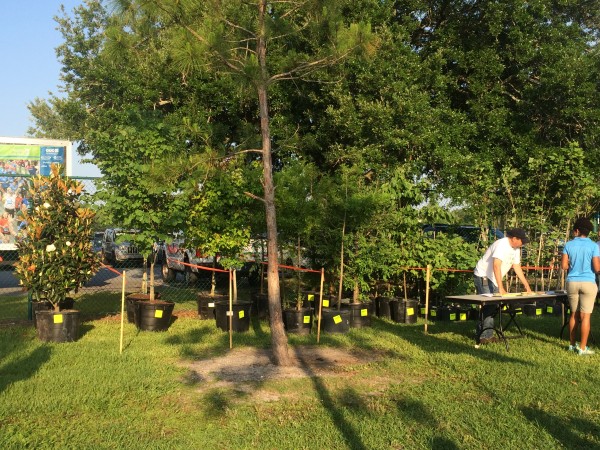 That morning I had my signature pre-run breakfast— gluten free waffle with peanut butter, cinnamon and honey. Sometimes I'll top it with a banana or blueberries too for extra sweetness and texture.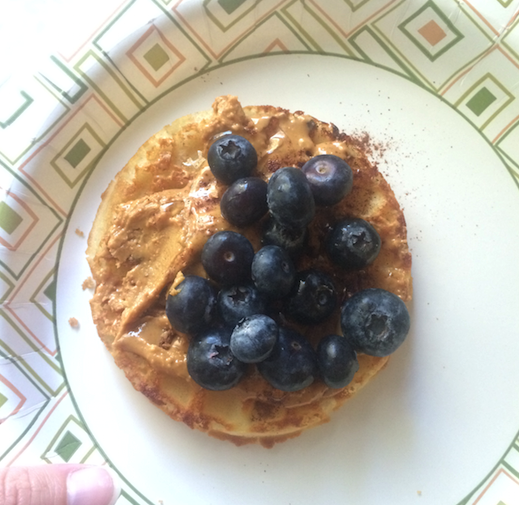 At the race start, Eric said he was going to run with me but pretty soon after we started running he broke off to run his own race. I love when he does that too because I want him to get a time that he's happy with. He's such a competitor. I just ran the race for fun. I was a cooler morning for Florida, that I was able to wear long sleeves and it just felt really good to get out in the morning to exercise.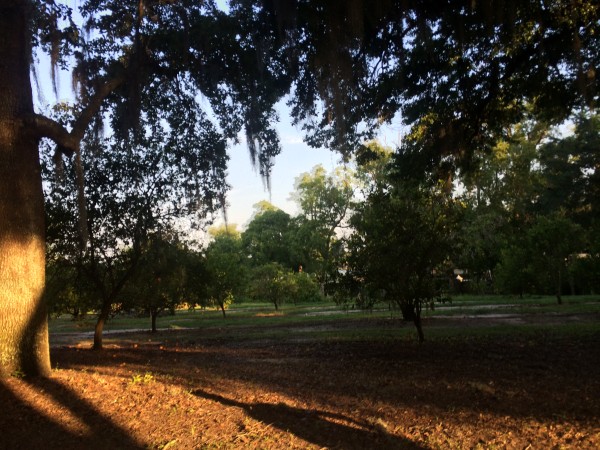 The course was gorgeous. We ran through beautiful neighborhoods that I've never explored before which got me more excited to move to Winter Park. The last mile on the course was along Genius Drive which is a private drive filled with lush nature— big oaks and spanish moss that provide lots of shade on the dirt road, orange trees, a peacocks!!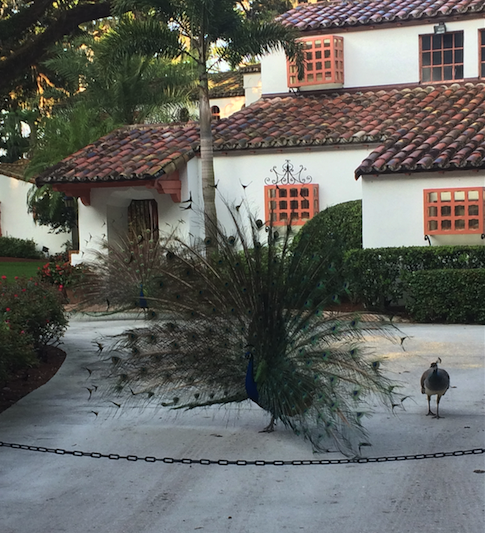 Yes, peacocks. They are an icon for the city of Winter Park but I had no clue peacocks filled this nature preserve. I spotted one about 1/2 a mile from the finish line. This beautiful bird was boldly showing off all his feathers to the runners. I had to stop to take a quick picture and gawk at how fantastic he was.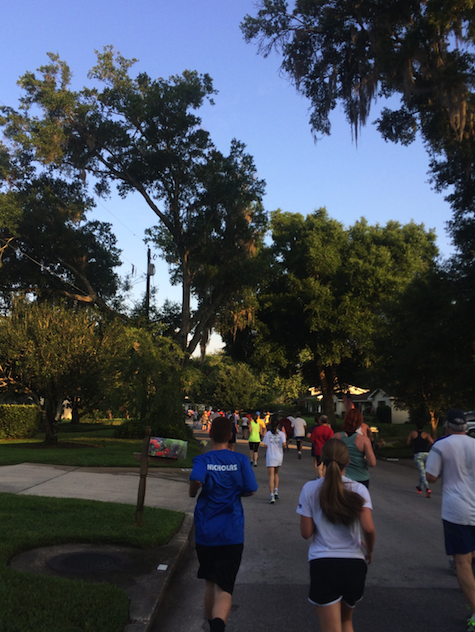 I felt like I pushed it pretty hard on the course, even though I didn't have that great of a finish time for me. I finished in around 30 minutes, tired and rejuvenated to be running at the same time.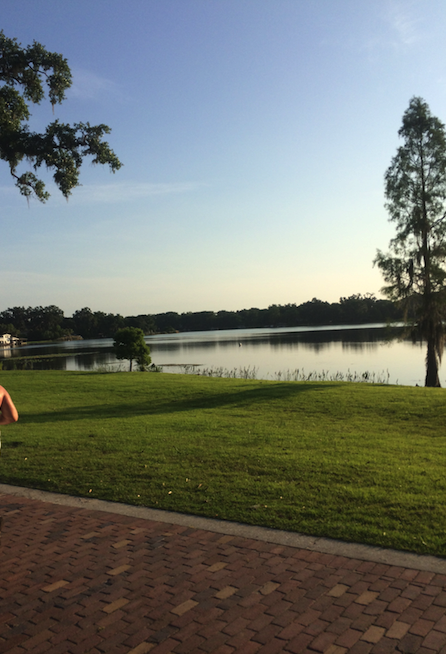 When we crossed the finish line we had to jump on a bus which shuttled us back to the start line where we picked up our finishers medal: a tree!! After all the race is called "Run for the Trees". Eric and I both snagged a river birth tree and hope to plant them somewhere at our new house.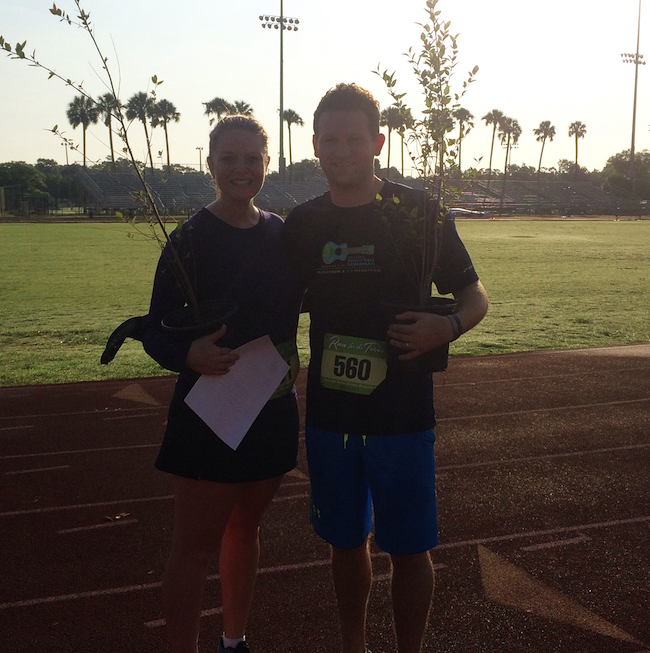 We stopped at the finishers area to take a look at our times, and noticed that in the shuffle of picking up our packets and running to the start line, our bibs got mixed up. So according to the record, I actually set a PR with a finish time of 22:49. Eric ran the race pretty fast, and I "officially" got all the credit since our bibs got swapped. OOOPS and lessons learned.. always double check to see if we have the right bibs.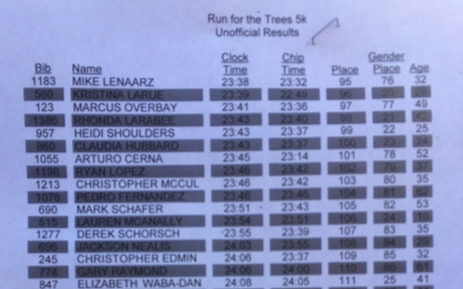 Overall— we had a great time running the Run for the Trees 5K and will hopefully get a chance to run it next year too!
Hi I'm Kristina LaRue, RD (registered dietitian nutritionist), Peloton addict and mama to two active and hungry boys. On Love & Zest, you'll find healthy-ish recipes that fuel the whole family. I'm all about veggie-filled breakfast, meal prep recipes, healthier sweets, and easy weeknight dinners made in the Instant Pot or sheet pan.
Did you make one of my recipes?? Leave a review in the comments and tag @loveandzest #loveandzest on Instagram!
If you're a modern mama– I'd love for you to join my Facebook group A Modern Motherhood Collective!