"For those who hope in the Lord will renew their strength.
They will run and not grow weary; they will walk and not faint." Isaiah 40:31


Eric and I left Orlando at 10:00 pm on Wednesday night and headed to Savannah with my parents for the marathon. My dad drove the RV up, so we pulled over at a rest stop in Jacksonville to get a little sleep and finished the drive in the morning. We got to Savannah around 8:00 the next morning, so we had a full two days of kicking it around town before the big run.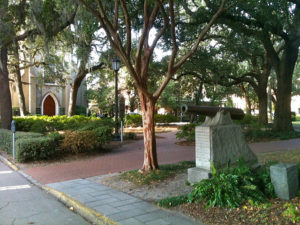 The weather was so wonderful; just perfect for being outside and exploring a new town. We rode bikes around the city which was a great way to travel and sight see, especially before a race.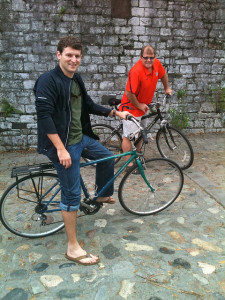 Thursday afternoon we headed over to the race expo to pick up our packets.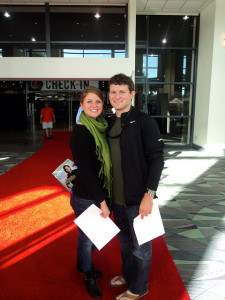 Dad was a total nut at the expo.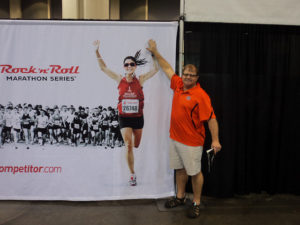 Do you think they thought he was a runner? 😉
He ended up with a race bag too.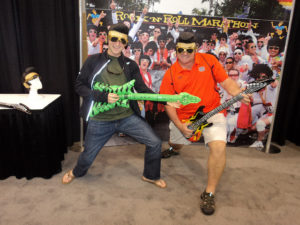 Marathon morning we woke up at 4:00, had some bagels and
peanut butter
,
coffee
, and water. With all the hype about how much traffic there was going to be downtown, we headed out at 5:00 to make sure we were able to get to where we needed to be in enough time. We didn't have a problem getting downtown or parking, so we decided to keep warm at the Starbucks a street up from the starting line.
Just before Eric and I headed to the race, we noticed my parents car was missing! We got towed! To our defense the police told us that we could park there, so my parents rode in style to the police department to find out where their car went.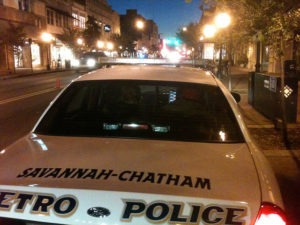 Eric and I headed to the starting line. I could tell he was a little nervous about the race. He has been going through a lot of knee issues, and we didn't know if his knee was going to hold up.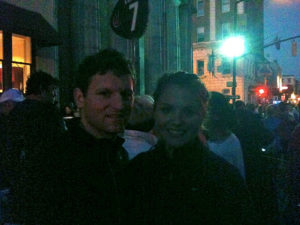 We crossed the starting line together, but shortly after mile 4, I dropped back and Eric moved up ahead of me. We didn't plan on leaving each other, but for some reason I just couldn't hang onto the pace. My parents were on their bikes the whole race; they meet us at several spots along the course, so I got updates on how Eric was doing.
I struggled a lot during this run. It did not go as planned to say the least. My goal was to run a better race than I did last year in Jacksonville (my first- 5:23), and I did have a vague time goal of 4:30-4:45, but surely under 5 hours, which was achievable per long training runs this season.
Mile 13 I began to cramp. Severe cramps in my entire legs. This was odd to me, cramping at 13 miles?? I had done this length plenty of times before, and I have never had issues like this. I stopped at the medical tent to get some pain reliever, and kept trucking along. I had to stop and stretch, do my yoga breaths, and some downward dogs many times on the course. Oooouchh.
I saw my parents at mile 16, and I was practically in tears. I did not think I was going to make it, I actually considered a DNF. Really? I did, I thought I was going to have to quit because at this point I still had 10 miles to go.
Then I saw this on the back of a girl's shirt. "I will run and not grow weary". I meditated on this passage from Isaiah 40, and I put one foot in front of the other. I can do this, I know I can do this and I will not waiver or worry about the pain in my legs.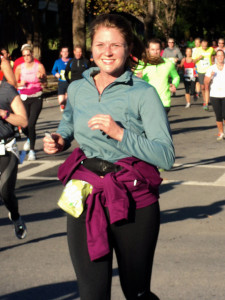 My parents caught up with me at mile 21. They commented on how strong I looked now, and that Eric was doing awesome and putting down a good pace on track to finish 4:15!!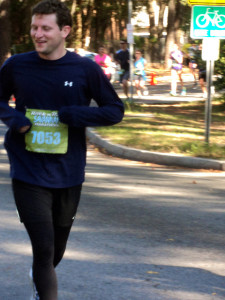 This was a turning point for Eric, he began to experience pain. It was muscular pain, not the same knee pain he had prior training runs. The sharp pain in his leg muscles forced him to stop and walk. Those last 6 miles took him 1.5 hours to finish. He was bummed about that too.
Mile 23. I stopped at took a bathroom break (my first potty break on a course before), oh well. And then, things changed for me. A man just ahead of me, fainted. He hit his head and was bleeding too. We were screaming for medical attention. He wasn't breathing, and they immediately began CPR. (Sadly, we learned later that he passed away.)
I was very nervous after this episode. I began to walk, and somewhat hyperventilate, checking my pulse to make sure I was not going to faint. I walked for a long time trying to get my pulse down, but the added stress of that event and the fact that I just ran 23 miles, it wasn't dropping. I immediately called my Dad (I carried my phone with me in case we had problems finding each other after the race) to check on Eric to make sure he was okay. He said that Eric was there at the finish line waiting on me. At this point I only had 2 miles to go.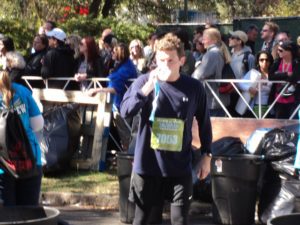 Then I remembered the other part of the verse…. "I will walk and not faint". It was like a secret promise that God was sending me. He was saying do not worry, you will not faint, you can walk and you will not faint. I rested in this promise as I continued to walk. I met some other walkers who gave me encouragement to continue running to the finish. I did, slowly I began to run again. My dad met me on the course again, and rode with me until I got to the finisher's shoot. I was so happy to see Eric at the finish line.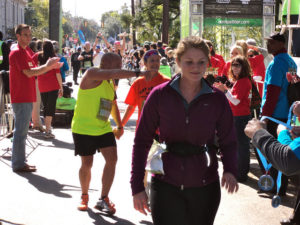 | | | | | | | | |
| --- | --- | --- | --- | --- | --- | --- | --- |
| Pace | 5Km | 10 Km | 10 Mi | Half | 20 Mi | ChipTime | ClockTime |
| 12:40 | 31:47 | 1:05:15 | 1:47:44 | 2:24:49 | 3:59:52 | 05:32:04 | 05:39:04 |
Eric LaRue
| | | | | | | | |
| --- | --- | --- | --- | --- | --- | --- | --- |
| Pace | 5Km | 10 Km | 10 Mi | Half | 20 Mi | ChipTime | ClockTime |
| 11:05 | 30:58 | 1:01:56 | 1:39:17 | 2:11:00 | 3:24:46 | 04:50:15 | 04:57:15 |
My total chip time was 5:32:04. and Eric's was 4:50:15. Even though I didn't make my goal time, and it was physically and emotionally exhausting, I am proud to say I completed my second marathon and that Eric finished with me. I battled and made it through on the other side. I am thankful that God has "renewed my strength"; I am holding those promises he sent me during the race tight to my heart.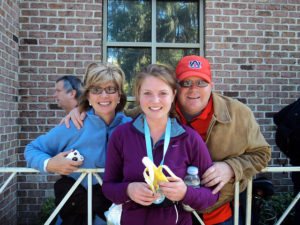 Hi I'm Kristina LaRue, RD (registered dietitian nutritionist), Peloton addict and mama to two active and hungry boys. On Love & Zest, you'll find healthy-ish recipes that fuel the whole family. I'm all about veggie-filled breakfast, meal prep recipes, healthier sweets, and easy weeknight dinners made in the Instant Pot or sheet pan.
Did you make one of my recipes?? Leave a review in the comments and tag @loveandzest #loveandzest on Instagram!
If you're a modern mama– I'd love for you to join my Facebook group A Modern Motherhood Collective!