These Soft Baked Oatmeal Chocolate Chip Bars are soooooft and oooh so gooooewy. Healthy enough for a breakfast bar or enjoy as snack or dessert any time of day. Love the chocolate chunks in every bite! Vegan and Gluten Free.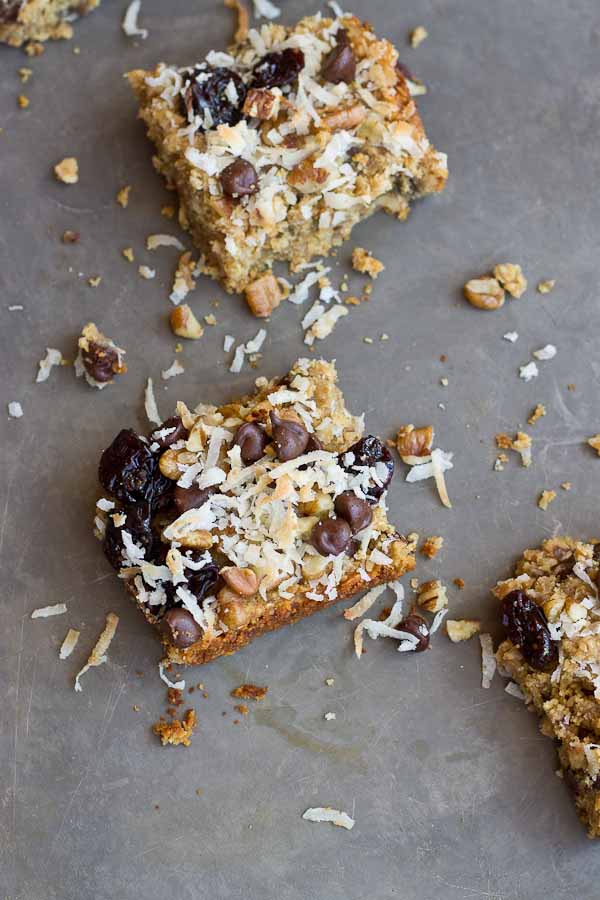 Oh my, it's been one of those days where you just want to plant your face into the pillow and not have to answer to no body.
The baby isn't letting up. It's a good thing he is cute and my little sweet man. This guy is full throttle and always on the go, and when he's tired he get's mad. It's like kid, why can't you just close your eyes and go to sleep? Why do you feel the need to SCREAMMMMM yourself there? Too bad you can't reason with a baby.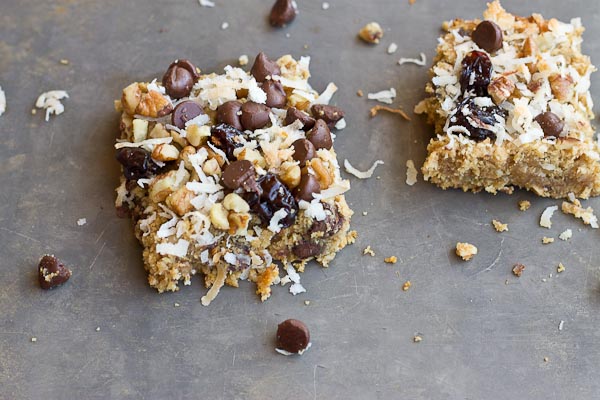 Today was going to be super productive. I had my planner ready and to do list and everything together. I felt like I rocked the morning, cleaned every speck of the house, well sorta– dusted, vacuumed, mopped the floors so things smell nice. Parker was pleasant, and took a 1.5 hour nap. As soon as he woke up, it was errand time (read: Target run).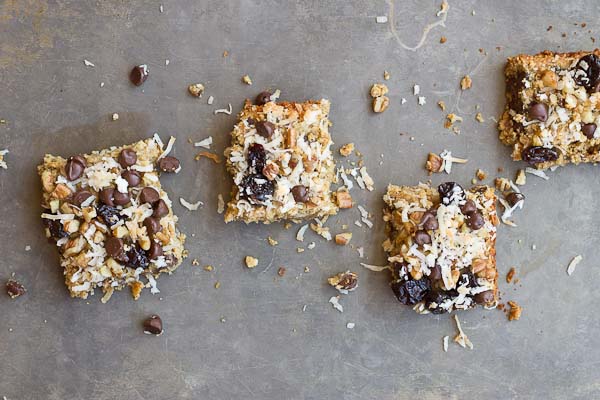 And then splat.
My iPhone was face down in the Target parking lot. Cracked screen… check. Let's chalk it up to doing too many things at once. Talking on the phone, caring a big diaper bag, and trying to range a squirmy 5 month old. We think we can do all the things but seriously can't. So my afternoon was spent at AT&T store.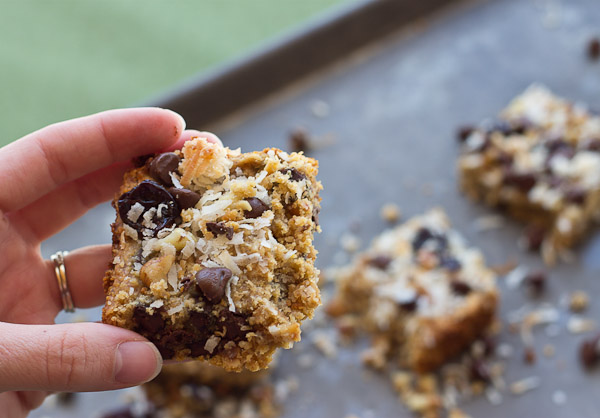 Yes, so that face in the pillow is real. really real. and just saying my prayers that baby will decide it's time to sleep too. #momlife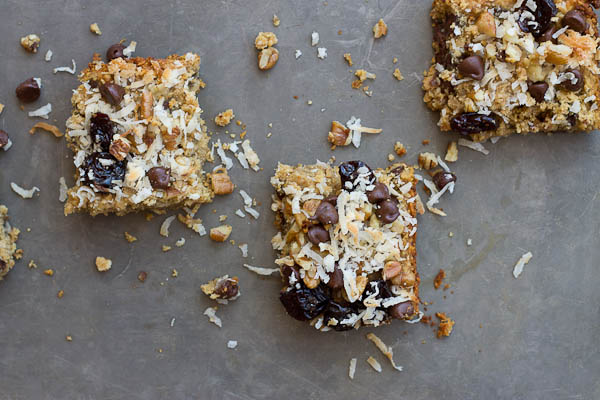 I adapted these Soft Baked Oatmeal Chocolate Chips Bars from my Almond Butter Blondies. I've really been into almond butter lately. You've got to make these bars– they are so good!
Soft Baked Oatmeal Chocolate Chip Bars
Ingredients
¼ cup coconut oil
¾ cup natural almond butter
3 tablespoons ground flaxseed
1 banana, ripened and smashed
¼ cup honey
1 teaspoon baking powder
¼ teaspoon kosher salt
1 cup old fashioned oats, ground
½ cup semi-sweetened chocolate chips, divided
¼ cup chopped pecan
¼ cup dried tart cherries
¼ cup shredded unsweetened coconut flakes
Instructions
Preheat oven to 350 degrees F. Coat 8 inch square pan with small amount of coconut oil or cooking spray.
In large bowl, mix together coconut oil, almond butter, flaxseed, banana, and honey.
Stir in baking powder, salt, oats, and ¼ cup chocolate chips.
Pour batter into pan and spread evenly.
Top with ¼ cup chocolate chips, pecans, tart cherries, and coconut flakes.
Bake for 25 minutes and allow to cool for 45 minutes before slicing. Slice into 16 bars
Nutrition Information
Serving size:
1 bar (1/16 recipe)
Calories:
191
Fat:
13g
Saturated fat:
5
Unsaturated fat:
7
Carbohydrates:
17g
Sugar:
8g
Sodium:
46mg
Fiber:
3g
Protein:
4g