I'm not a movie buff, and I typically don't really enjoy watching movies. Most of the time I don't have the patience to watch a movie all the way though, or we start them too late and I fall asleep. On the contrary, movies are like one of Eric's favorite past times, and he LOVES to stop by RedBox and then persuades me to watch them with him.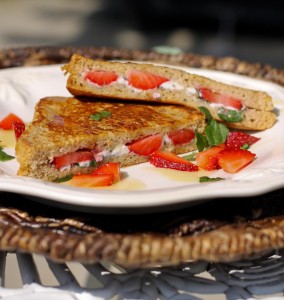 There is a movie I don't need persuasion to watch. Taken. I get so into that movie and Liam Neeson is a stealthy dude. I get so excited and pumped up everytime I see it. We have yet to see Taken 2 though. Have you watched it?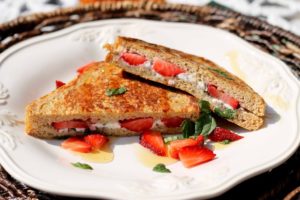 On the topic of TV, another show that Eric has gotten into is the Americans on FX, and I've been watching it too. It's a pretty interesting show, full of suspense and I've begun to appreciate it more and more. True confession, it were only me in the house I probably would have no need for cable, so this is unusual for me to get into a TV show.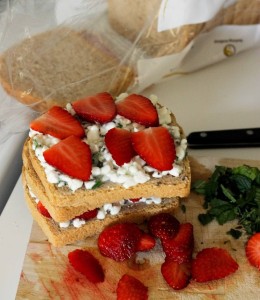 Do you have a favorite show or would you rather keep the TV off? How good is Taken 2… should we go rent it this weekend?
Stuffed French Toast w Cottage Cheese & Mint
1 tablespoon fresh mint, chopped
1/2 teaspoon vanilla extract
8 slices whole grain bread
2 cups strawberries, sliced
In small bowl, mix cottage cheese, honey, mint and chia seeds together until combined. In separate bowl, whisk together eggs, milk, cinnamon, and vanilla.
Smear one slice bread with cottage cheese mixture, layer with strawberries, and top with another slice of bread, like making a sandwich. Repeat.
Heat non-stick skillet or griddle over medium-high heat, about 6 on the dial. Coat evenly with butter until melted. Dip prepared sandwiches into egg mixture to coat, ensuring not to soak or they may become soggy.
Place each coated sandwich on not skillet or griddle and cook 2 1/2 to 3 minutes on each side until evenly browned. Gently smash sandwich together.
To serve, slice in half, top with strawberries and drizzle with maple syrup.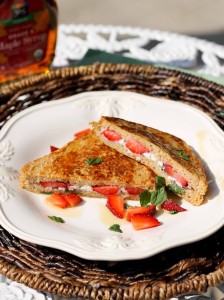 Hi I'm Kristina LaRue, RD (registered dietitian nutritionist), Peloton addict and mama to two active and hungry boys. On Love & Zest, you'll find healthy-ish recipes that fuel the whole family. I'm all about veggie-filled breakfast, meal prep recipes, healthier sweets, and easy weeknight dinners made in the Instant Pot or sheet pan.
Did you make one of my recipes?? Leave a review in the comments and tag @loveandzest #loveandzest on Instagram!
If you're a modern mama– I'd love for you to join my Facebook group A Modern Motherhood Collective!