The Early Riser. Beets, Carrots, Pineapple, and Lemon make a tangy and tart juice that will wake you up and put a pep in your step.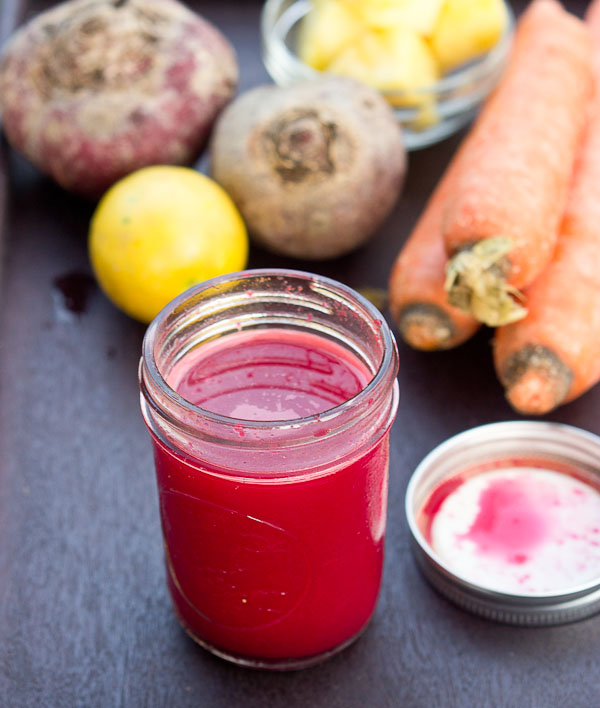 It's Friday friends! After lots of time off over the holidays, I'm welcoming the weekend! Aside from a conference call tomorrow and a TV segment on Sunday morning, we really don't have much planned. Priority is to take down our Christmas tree and decor. We did remove the garland and wreath from the front door last week, but I'm still loving lighting the Christmas tree early in the morning and in the evening. We're holding on to the last of the season as much as possible.
I mentioned that my parents gave us a juicer for Christmas, so you'll likely be seeing juicing recipes pop up here on the blog and I have one of our new favorites to share with you today! I'm totally loving the quality of the juice it's making, and it's a fun little project.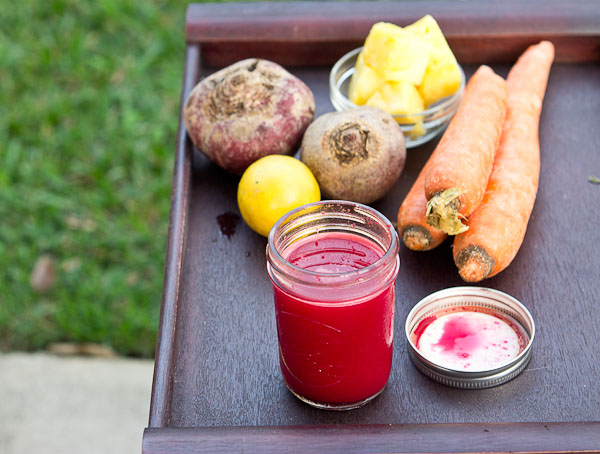 One problem that I'm having is making a big batch of juice and storing them in mason jars, doesn't seem to work because it makes the juice so bitter. I thought that I would prep ahead on the weekend and have juices ready to go but this doesn't seem to work. Anyone have tips for this?
So after tossing several bottles of fresh (once yummy juice), I decided we'd just juice when we were ready to drink it. To make it easier, I have all the veggies peeled and sliced, ready to be juiced. This seems to work nicely and the juice tastes sooo good!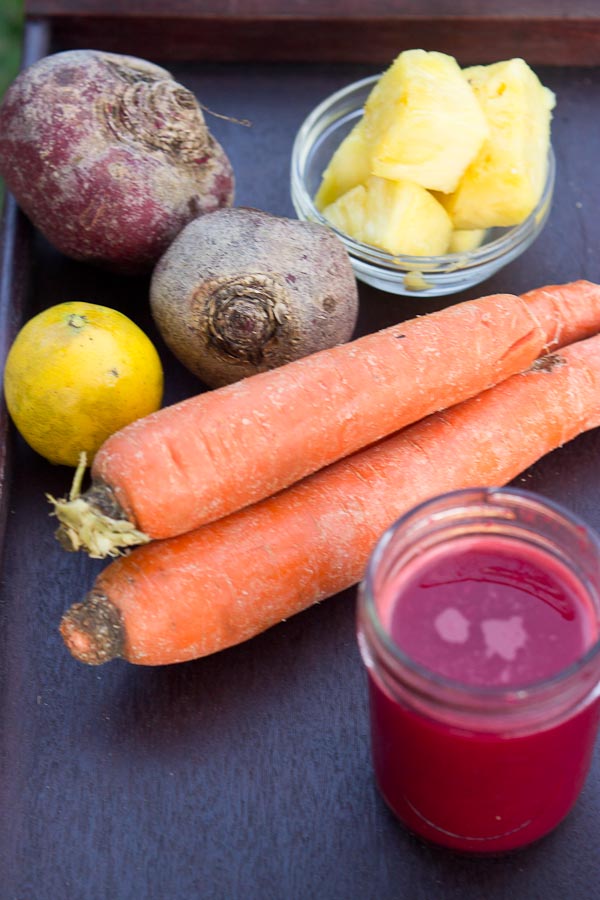 One of our favorite combos is beet, carrot, lemon, plus said sweet fruit for balance. Yesterday I also tossed in a few strawberries and a banana and it was ahhhhhmazing. Even though bananas really don't juice well, I adore the creaminess banana gives to juice. I'll be sure to write up that recipe to share it with you all.
But for now here is one of our staples :) Enjoy.
Questions: Anything on tap for the weekend? If you juice, is it possible to store fresh juice without it getting bitter? Do you have a favorite juice combo we should try?
The Early Riser: Beet, Carrot, and Pineapple Juice
The Early Riser. Beets, Carrots, Pineapple, and Lemon make a tangy and tart juice that will wake you up and put a pep in your step.
Ingredients
1 beet, peeled
2 carrots, roughly peeled
1 cup pineapple
1 lemon
Instructions
Cut veggies and fruit into pieces small enough to fit in juicer.
Remove visible seeds from lemon but keep peel on it for an extra zip.
Slowly add produce to juicer, one by one, until you've juiced it all!
Enjoy chilled.
PS-- I like to keep my produce refrigerated prior to juicing to get a nice cool drink!
Hi I'm Kristina LaRue, millennial mom of two active and hungry boys, which makes me an around the clock milkmaid and cheerio picker upper. Here on Love & Zest, I share (mostly) healthy recipes to fuel the whole family and real life stories of modern motherhood.
Did you make one of my recipes?? Leave a review in the comments and tag @loveandzest #loveandzest on Instagram!
If you're a modern mama– I'd love for you to join my Facebook group A Modern Motherhood Collective!