We live in a small garage apartment, and the grounds around us are very lush, and provide a little too much shade for my herbs. Last summer snails were chomping up the basil leaves, so the herbs were moved to the balcony which I've found gets more sunlight.
The author writes about taking it slow and not planting everything at once to allow yourself small successes at growing. I like it cause it's authentic. It blooms with you.
I picked up some frenleaf dill, petite orange peppers, allyssum, rosemary.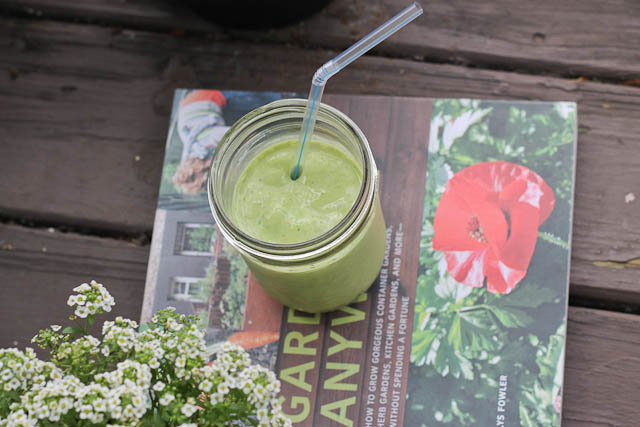 The following morning I planted the new plants and began reading through this book on the balcony while slurping on a green smoothie. It was so delightful and scrumptious.
Green Smoothie
serves: 1
1/3 cup frozen pineapple
1 frozen banana
1/3 cup plain greek yogurt
1/2 cup soy milk
1/2 cup fresh spinach
1 tsp vanilla
dash of cinnamon
Blend all ingredients together until smooth and creamy.
Have you ever tried a green smoothie? It sure is a great way to get veggies at breakfast!