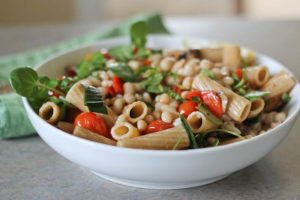 Yesterday, I took a day off. Well, my work schedule has been adjusted to include a day off ;). I am so thrilled with the space that this day brings.
Lately, I have been feeling quite overwhelmed with working a 40-hour week at my day job. I love what I do, but I also enjoy keeping my hands in other things too. Eric and I have been talking and praying about me cutting back one day, so that I can do things like blogging, reading, house-keeping, crafting (hopefully one day I will find space for you again). I miss the little things.
If you didn't know, I work for a grant funded program. This year the grant did not have the funds in the budget for two dietitians to work full-time, so we are now working 4 days a week. I felt so blessed, and relieved, when I heard this news. God placed it in my heart to find space and balance, and I am thankful that this is the direction that he is guiding me toward.
I'm excited about this new venture! In the space that this one day creates I hope to do more…
*blogging at a coffee shop in the middle of the day
*sewing pretty things
*decorating our house
*testing new recipes, and baking..something that I haven't been able to do lately
*reading in the park… my booklist is growing
*studying, learning, and seeking supervision in eating disorder nutrition therapy
*tidying the house
*playing with my camera and lightroom
*slow morning walks soaking up the fresh sun
*yoga
*relaxing with breakfast, coffee, and quite time
Yesterday I got to do a few things that I love..including lunch at home. I'm serious, I missed the simple things. It was fantastic; purely refreshing.
Mediterranean Pasta Salad
Makes 4 servings
2 cups 100% whole wheat rigatoni noodles
4 stems leeks, washed and chopped
1 large red bell pepper, sliced
1/2 cup plum tomatoes, whole
5 baby bella mushrooms, sliced 3 T olive oil
1 cup watercress, roughly chopped
1 can navy beans, no salt added, rinsed and drained
fresh basil, chopped for garnish
1/3 cup feta cheese, crumbled


Boil noodles and cook until al dente. In heat 1 T olive oil in large skillet, and saute leeks, bell pepper, mushrooms, and tomatoes until slightly softened. Season with salt and pepper.


Layer up! Scoop pasta in bowl and drizzle with olive oil, top with feta, watercress, sauteed veggies, beans, and garnish with fresh basil.
This pasta is quick..and is ready for assembly when the noodles are cooked!
Lunch for me and dinner for E.