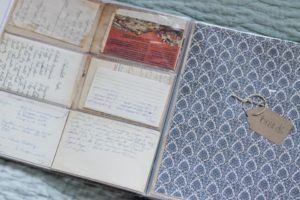 Many of you know I got married the weekend after graduating from Auburn University and started my dietetic internship that summer of 2010. We were blessed with lots of gifts including a fully stocked kitchen, but I really had no idea how to use these kitchen tools to prepare and cook a meal.
I started watching the food network, learned some basic cooking skills and begin to cook meals at home for the two of us. I found new recipes on the internet and in cookbooks too. And this is when I discovered food blogs,
My Baking Addiction
was one of the first blogs I found and was fascinated that people with my interests were sharing their recipes through blogging. My mom has my Granny's old recipe cards; they are even more beautiful with my Granny's handwriting and all of the food stains. You can sure tell which ones she used the most!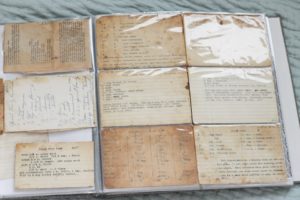 My Granny was a baker, cook, and from what I learned an idyllic housewife. She had 7 kids and raised them on a farm in Alabama so she obviously cooked a lot! My mom says there was always a dessert on the counter for the kids to eat when they had a sweet tooth and Granny would often cook elaborate family dinners. I can't imagine how life was back then, but I sure like the slowness of the South.
Growing up I remember my Granny cooking us blueberry pancakes for breakfast and all the grandkids gathered fresh blueberries from her backyard. I have fond memories of trips to Granny's house and looking over her old recipes recipes inspired me to share recipes with my family like she did with us. So I started writing this blog.
Being
nutrition
oriented I was not about to put lard in my cupcakes like Granny did, bless her heart. So I started adapting her recipes to suit my lifestyle. Along with sharing recipes and stories about our life through this blog, I intended to contribute
nutrition
info. While I have slightly weaved
nutrition
through my blog with health-focused recipes, it has not be a big topic of discussion. I genuinely believe if you want others to eat healthy you must lead by example. For many people healthy food is a turn off, they just want food to taste good! My desire through this blog is that you can be inspired to learn to cook, and that eating well doesn't have to be a sacrifice. All food should be enjoyed and taste delicious.
Every Wednesday I will be writing about
nutrition
, and answering those tough
nutrition
questions that you may be pondering. I intend for this to be a starting point, so that you can find this blog to be a credible resource for
nutrition
information.
I really want to hear from you. Do you have a nutrition question that you'd like me to answer on this blog?
Post here in the comments section or leave a message on
Facebook
,
Twitter
, or
Instagram
.
Thanks for following along! You rock!
Hi I'm Kristina LaRue, RD (registered dietitian nutritionist), Peloton addict and mama to two active and hungry boys. On Love & Zest, you'll find healthy-ish recipes that fuel the whole family. I'm all about veggie-filled breakfast, meal prep recipes, healthier sweets, and easy weeknight dinners made in the Instant Pot or sheet pan.
Did you make one of my recipes?? Leave a review in the comments and tag @loveandzest #loveandzest on Instagram!
If you're a modern mama– I'd love for you to join my Facebook group A Modern Motherhood Collective!