This post is sponsored by the Cherry Marketing Institute.
Vanilla Bean Greek Yogurt Pancakes stuffed with Dried Tart Cherries and Sweet Pecans and topped with a drizzle of Tart Cherry Maple Syrup.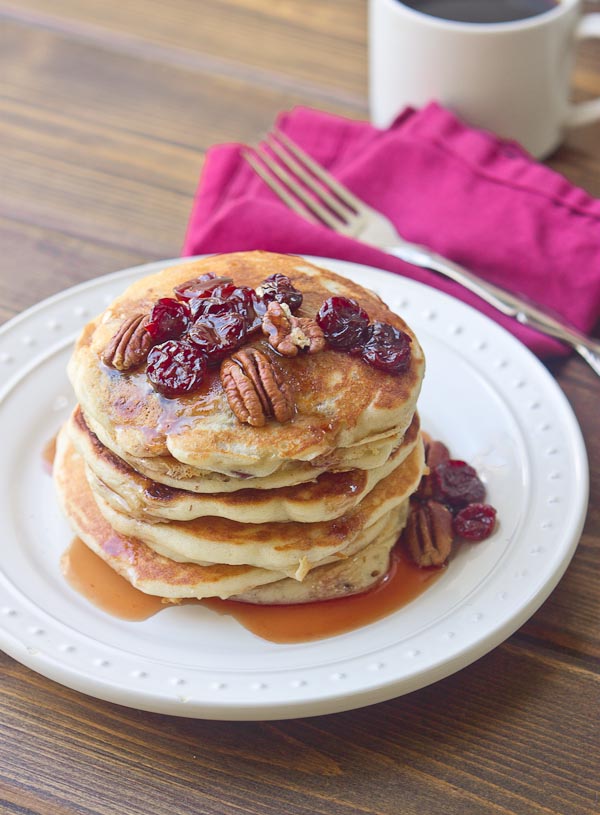 If you've been around this blog long enough, you know about my love affair with dried tart cherries, long before I began working with the Cherry Marketing Institute.
If you're new here, consider yourself caught up to speed.
I'm excited to finally share my first recipe of the year for a series of posts that will be featuring the beloved Montmorency tart cherry.
Many thanks to the Cherry Marketing Institute for believing in this blog and helping me share this treasured fruit with all of you.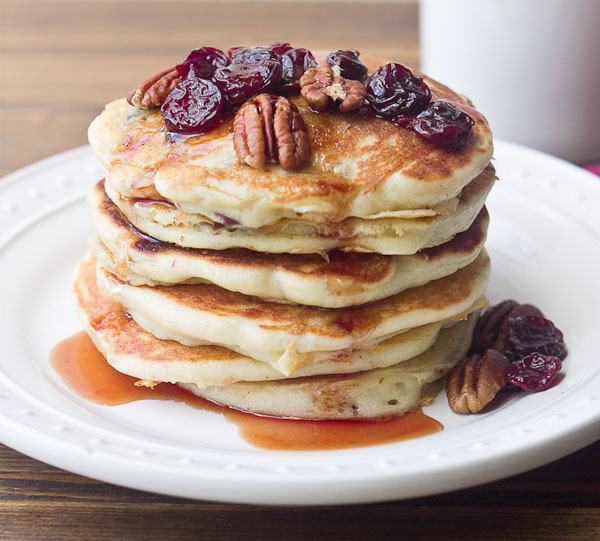 With the New Year, many of you might be trying to fit in a balanced breakfast, because you've heard before that it's the most important meal of the day. :)
Research has shown that breakfast eaters have a healthier weight, increased energy, and enhanced performance.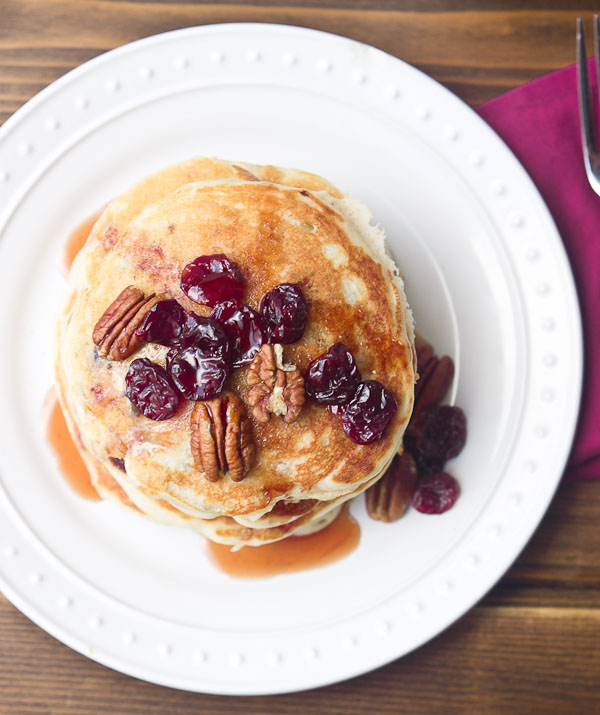 I'm all about trying to punch up my breakfast with color by including fruits and veggies. If you think about it, why are all typical American breakfast staples beige—oatmeal, pancakes, toast, cereal, and granola bars? While all of these breakfasts can be part of a healthy diet, we need to balance it out with a pop of color.
Enter ruby-red tart cherries.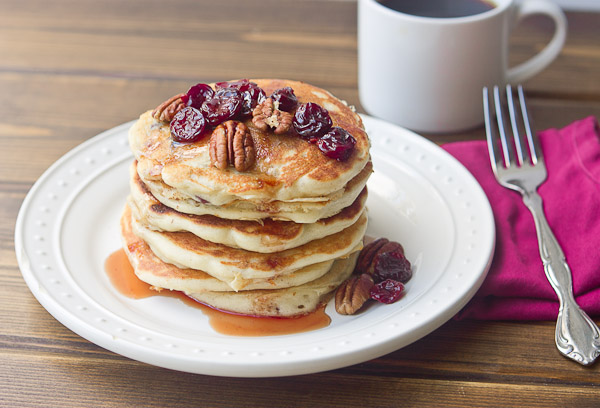 I added these beauties to my favorite gluten free pancake recipe for a burst of bright tartness that also packs a nutritional punch! I think I love tart cherries so much because they have that sweet and sour yumminess that make my lips pucker and body dance all at the same time. The health benefits from the anthocyanins and vitamin A are an added bonus IMO.
To learn more about tart cherries and find other recipes and ways to add cherries to your breakfast, check out ChooseCherries.com.

Tart Cherry Greek Yogurt Pancakes with Tart Cherry Maple Syrup
Vanilla Bean Greek Yogurt Pancakes stuffed with Dried Tart Cherries and Sweet Pecans and topped with a drizzle of Tart Cherry Maple Syrup. Gluten Free.
Ingredients
2 cups all-purpose gluten-free flour, sifted
1 teaspoon baking soda
1 teaspoon salt
2 large eggs, slightly beaten
2 tablespoons coconut oil, melted
1 ½ cups nonfat vanilla Greek yogurt
½ cup 2% milk
½ cup dried tart cherries
½ cup pecan halves, chopped
For Syrup
½ cup 100% pure maple syrup
1 tablespoon tart cherry concentrate
dash of cinnamon
Instructions
In large bowl, whisk together flour, baking soda and salt.
In separate bowl, whisk together eggs, oil, yogurt, and milk.
Pour wet ingredients into dry ingredients and stir just until combined.
Fold in cherries and pecans.
Ladle ¼ cup of batter per pancake onto hot lightly greased griddle.
Cook pancake until it bubbles on one side, and flip.
Cook until golden brown on other side.
To make syrup, combine maple syrup and tart cherry concentrate in a small pot over low heat. Whisk in cinnamon until blended and keep warm until ready to serve.