Avocado Chicken Caesar Salad made with a simple mayo and egg free dressing thanks to creamy AVOCADOS.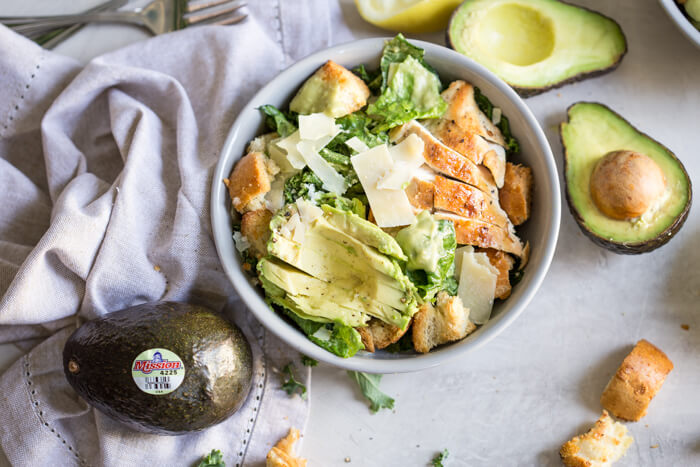 You guys I'm totally all about this salad right now. It's creamy and dreamy and filled with lots of protein, healthy fats, loads of lettuce and comforting homemade croutons for carbs– basically it's a salad meal.
I love me a good MEAL salad!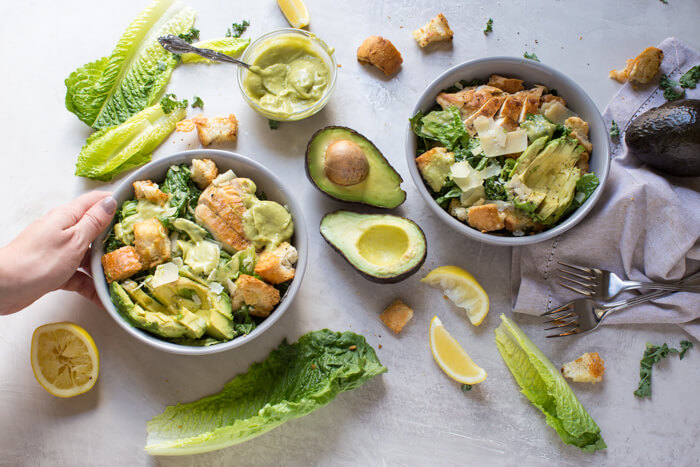 And this Avocado Caesar Dressing is life. I'm all about a zesty lemony caesar dressing so I made sure to get a full lemon into this one. But it so simple to make and very nourishing too– avocados, lemon, parm and a few other ingredients whooshed together in the blender. Easy peasy.
And this dressing actually keeps in the fridge if you make it in advance for meal prep because the lemon juice keeps the avocados from turning brown. Score!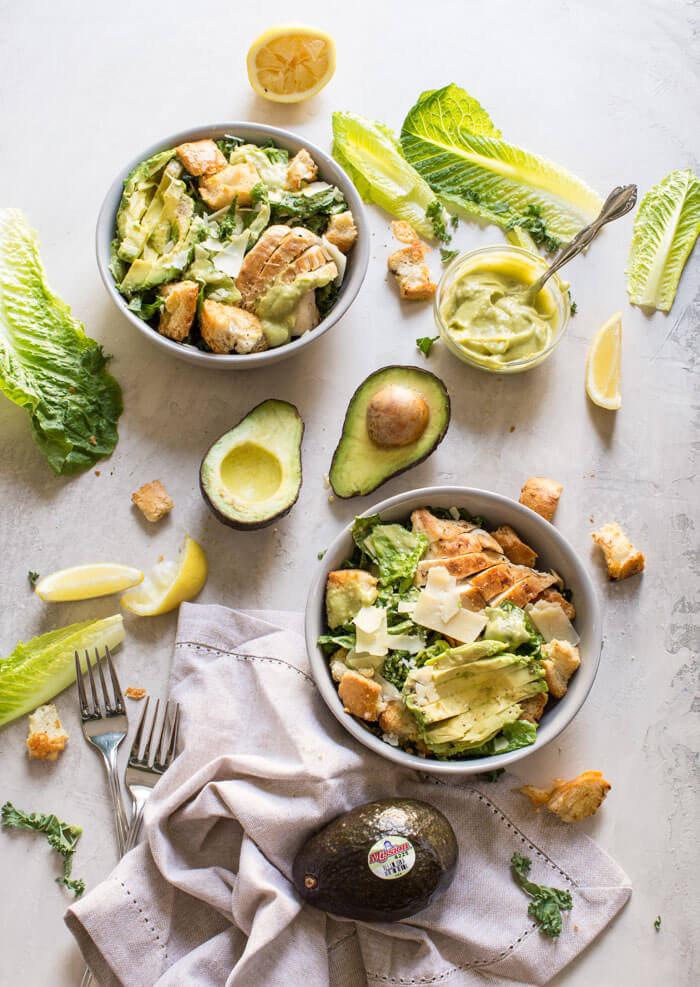 When I developed this recipe we had so much extra dressing so it was a round for a week or so before I could eat it all up, and if you follow me on Instagram you know I've been making this salad on repeat for lunch. It's just so delish.

Hope you guys love this Avocado Chicken Caesar Salad as much as we do! If you make it send me a pic or tag your pic or stories with #loveandzest @KrisitnaLaRueRD on Instagram.

Avocado Chicken Caesar Salad
Ingredients
For Salad
3 cups packed shredded kale
5 cups packed chopped romaine lettuce
12 ounces grilled chicken breast, sliced
1 Mission Avocado, sliced
½ cup shaved parmesan
1 recipe homemade croutons
1 recipe Avocado Caesar Dressing
For Homemade Croutons
2 cups diced sourdough bread
1 tablespoon lemon juice
1 tablespoon olive oil
2 tablespoons shredded parmesan
For Avocado Caesar Dressing
1 Mission Avocado (or ½ cup mashed avocado)
¼ cup lemon juice (about 1 large lemon)
1 large clove garlic
2 teaspoons Worcheshire Sauce
1 teaspoons Dijon Mustard
2 tablespoons shredded Parmesan
2 tablespoons olive oil
⅛ tsp salt
Freshly ground pepper to taste
Instructions
To make Homemade Croutons: Preheat oven to 400 degrees F; line baking sheet with parchment paper. In small bowl, toss together bread, lemon juice, olive oil and parmesan cheese; working lemon juice and oil into bread. Pour prepared bread on baking sheet and cook croutons for 8-10 minutes until golden brown. Set aside.
To make Avocado Caesar Dressing: Combine all ingredients for salad dressing into a blender or food processor and process until smooth and creamy. Set aside.
To assemble salad In large bowl, toss kale, romaine, and croutons with avocado caesar dressing; working dressing in to coat leaves. Pour salad greens into 4 bowls and top each with chicken breast, avocado slices, and parmesan cheese.
Notes
This recipe was developed for Mission Avocados.