Blueberry Muffin Granola tastes like a warm coffee shop-like blueberry muffin, with a healthy twist of course; no refined sugar or flour here. The best part is that comforting smell of homemade blueberry muffins fills the house while the granola bakes!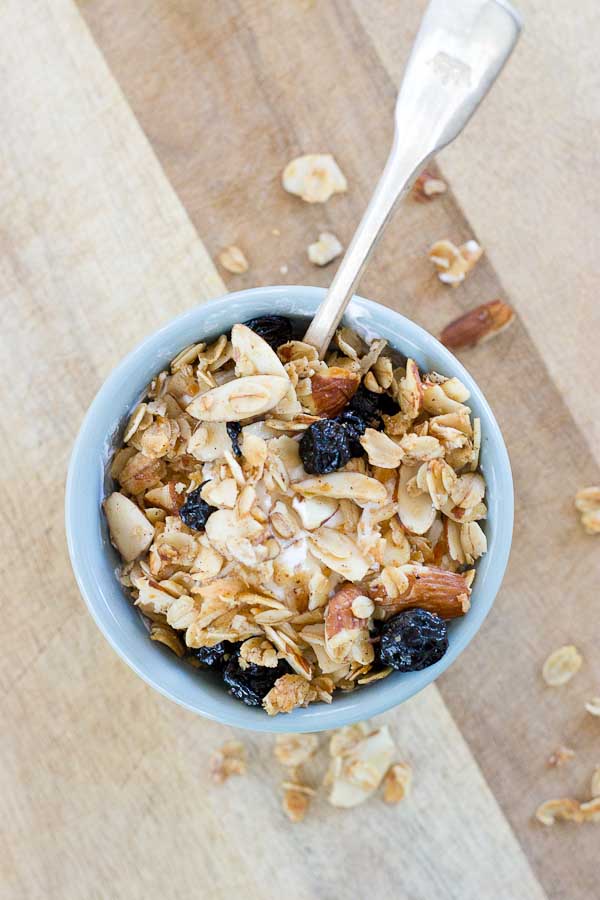 Hey friends, it's Friday and you know what that means?! THE WEEKEND is here!
So I have a quick recipe for you today that you should totally whip up this weekend and store it in a mason jar for a quick snack or breakfast.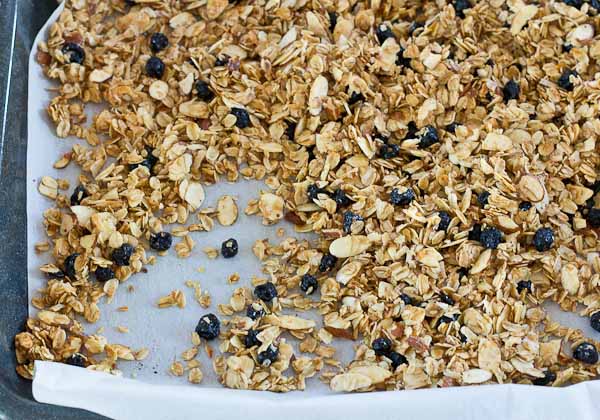 We (or I should say Eric, specifically) has been really craving granola lately. He would buy a couple bags a week to stock the office and house and while there are many brands on the market that are healthy… buying granola by the bag is a pretty penny.
I think he paid close to $6 for a bag of granola one week.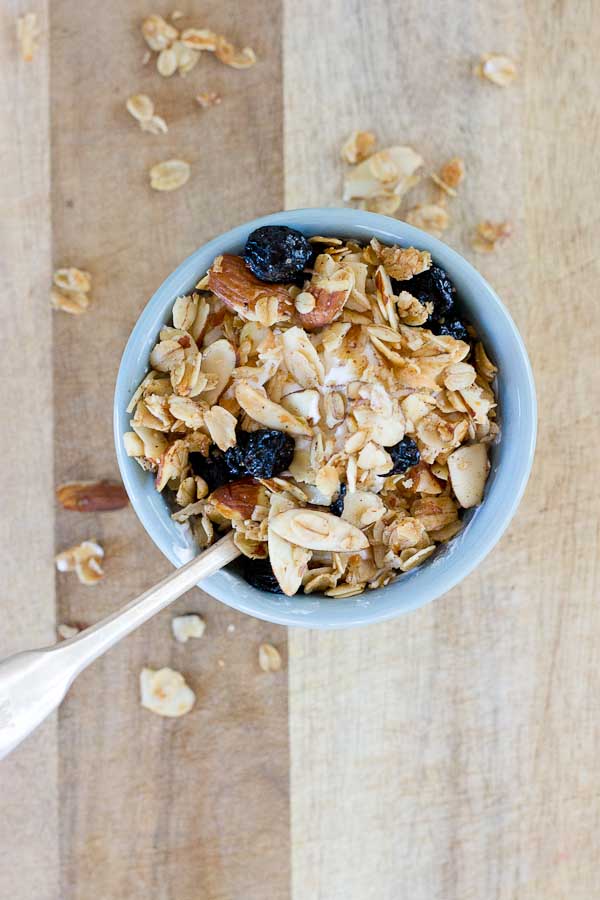 I'm like immmmmmm… hello, I we can make granola pretty quickly and it will save us a whole lot of money because we already have all the ingredients on hand, plus you can control the sugar content and ingredients that go into it. I showed him how simple it is to make granola by himself so that he can whip up a batch anytime we are getting low. Seriously, just get out a bowl and a baking sheet, and as long as you know how to turn on the oven you can make a pretty delicious granola.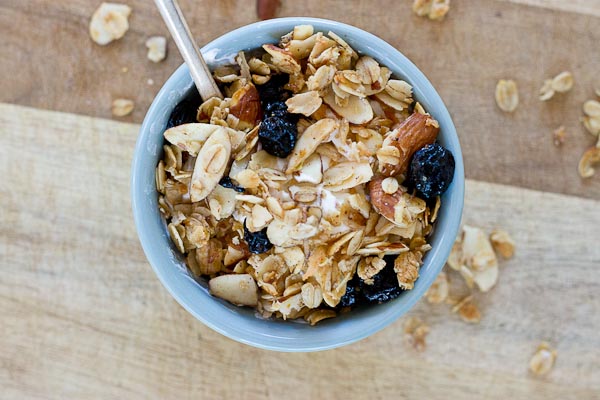 I know you have enjoyed my granola recipes in the past, so this Blueberry Muffin Granola is a new one that I tweaked from my past recipes, Coconut Quinoa Granola, Maple Pecan & Ginger Granola, PB Oats & Honey Granola. I love taking my go to base recipes and swapping ingredients around to create a newly inspired treat.
Hope you enjoy and have a great weekend!

Blueberry Muffin Granola
Ingredients
2 cups raw old fashioned oats (use certified gluten free oats if GF)
1 cup raw sliced almonds
¾ cup dried blueberries
½ cup unsweetened shredded coconut
½ teaspoon ground cinnamon
¼ teaspoon sea salt
1 teaspoon vanilla extract
2 tablespoons creamed honey
2 tablespoons coconut oil
Instructions
Preheat oven to 300 degrees F. Line baking sheet with parchment paper.
In large bowl, mix together oats, almonds, blueberries, coconut, cinnamon, salt, and vanilla extract.
In small bowl, stir together honey and coconut oil.
Stir coconut oil honey mixture into oat mixture and toss to coat.
Spread granola evenly on baking sheet; Bake for 30 minutes, stirring half way through.
Allow to cool completely before storing in air tight container.
Nutrition Information
Serving size:
1/12 recipe
Calories:
199
Fat:
12g
Saturated fat:
5g
Carbohydrates:
24g
Sugar:
10g
Sodium:
39mg
Fiber:
3g
Protein:
4g
Cholesterol:
0mg